Madrid Open 2012: The Blue Clay Makes Defensive Tennis Impossible
May 11, 2012

Mike Hewitt/Getty Images
Rafael Nadal is out of Madrid losing to Fernando Verdasco for the first time in 14 matches. Novak Djokovic is out, losing to Janko Tipsarevic for the first time while in a healthy state. 
David Ferrer is–less surprisingly–also out, losing for the 13th consecutive time to Roger Federer. 
The remaining four semifinalists: Federer, Tipsarevic, Juan Martin del Potro and Tomas Berdych are not your usual suspects at the tail end of a clay court Masters. 
No Spaniards among them, no Nadal, no Ferrer, no Djokovic. 
Still, they can all play on clay. And they all hit the ball pretty big and kept rallies short (Tipsa less so). 
Madrid has always been a strange clay court tournament. A tournament where Federer plays Nadal closer than elsewhere on clay and has even beaten him. 
The high altitude explains that, making the ball move faster through the court, and thus favoring offensive tennis more than the usual clay court. 
The blue clay favors offensive tennis in a more indirect way. It makes it next to impossible to defend. 
Sure, you can get to one ball, but the players cannot turn around as quickly and get themselves back to a neutral position.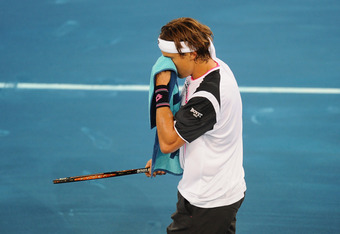 Mike Hewitt/Getty Images
Whereas you would normally need to hit three-four 'winners' to win a point against Nadal, Djokovic or Ferrer—three of the four best defenders in the game (Murray being the fourth)—one or two "winners" can get the job done on the blue clay. 
This is why Berdych can annihilate another great defender, Gael Monfils, 6-1, 6-1 losing just four points on serve (caveat: Monfils just came back from injury). 
This is why Ferrer can only win six points off Roger Federer's serve (out of 46 points played) despite winning 34 out of 97 on Raonic' serve in Barcelona a couple of weeks back. Ferrer simply doesn't recover well enough on the blue clay to trouble Roger on serve. 
And this is why Nadal and Djokovic, probably the two best defenders of the whole bunch, can lose to players they would never lose to otherwise.
The key to their games are not the point-ending shot (though they can both hit one), but the war of attrition and consistency. And movement and defensive retrievals are a completely necessary ingredient to that.  
Obviously, both can dictate as well and at his best, Djokovic does exactly that. But he also runs and scrambles and do splits. 
Said Nadal: "The movements are very important for me and here I cannot move so I cannot hit the ball the way that I want."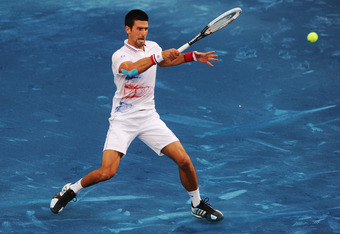 Mike Hewitt/Getty Images
Madrid essentially robbed him and Djokovic from their most distinguishing feature and weapon compared to the rest of the tour: the ability to get to any ball and hit it back with interest. 
The slippery clay is not the only problem for the defenders though. 
If we are to trust Federer's judgement, Madrid is not only a fast clay court, but 'one of the fastest courts out there on the moment on tour,' as he said in the presser after the Raonic match (quote from his official website, membership needed to access). 
All in all, had we known just how slippery and fast the court is, we wouldn't be as surprised by this weeks semifinalists. 
Even Tipsarevic, probably the less offensive-minded of the four, hit 30 winners in his straight sets win against Djokovic. He essentially knew what the conditions required and made the most of it. 
Judging from Djokovic' comments about the clay, he's probably just happy he got out of it without getting hurt.