Washington Redskins: The Shanaplan Continues
May 11, 2012

Patrick McDermott/Getty Images
Let's forget his name is Mike Shanahan for a moment. Two years into a head coach's tenure and he only wins 11 games. Entering the third year, would you consider him to be the "hot seat"? Almost on any occasion, my answer would be yes.
Professional football is a production business; if you can't get the job done, they will find someone else to do it. That applies for players, head and assistant coaches and front office employees. Being an NFL head coach is not the most secure job in the world, either.
So why does Mike Shanahan get a pass? Well, if he wasn't a two-time Super Bowl-winning coach, I don't think he would be given the benefit of the doubt. Though his player development hasn't been very good (an example would be his complete mismanagement of both Donovan McNabb and Albert Haynesworth), I think he has done a great job in the draft thus far.
Being the head coach for the Washington Redskins, under the most impatient owner in the NFL in Dan Snyder, would seem daunting, yet there's not a worry about Shanahan being on thin ice. Here's why: It's Shanahan's plan, or as I like to call it, "The Mike Shanaplan." That—with a core group of healthy, intelligent, young, talented players, oh, and a quarterback with limitless potential–takes years to make.
It took three years to develop a roster that Shanahan and company hand-picked, and the few leftovers from the Vinny Cerrato days. On a side note, it must suck to be Vinny Cerrato. How does it feel to be a main contributor to a team that has been insignificant due to a lot of your terrible decisions? How do you have a radio show in Baltimore? How could anyone take you seriously?
OK, let's move on. In my humble opinion, here's what should happen: Forget about the playoffs this year. That's not going to occur. The Giants are coming off a Super Bowl victory, the Eagles will come back motivated and ready to prove everybody wrong and the Cowboys always look good on paper. Is it realistic to believe the Redskins are flat-out better than the three teams mentioned above? It pains me to say this, but I would say no.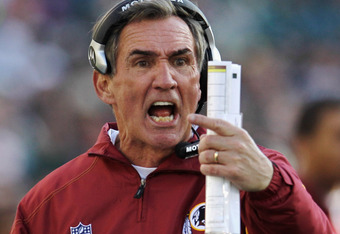 Rob Carr/Getty Images
Right now, the offense, and the entire franchise for that matter, needs to be molded to make Robert Griffin III a star. I've stated this many times, but the NFL has become a quarterback-driven league and quarterbacks that frequently change head coaches or coordinators tend to struggle due to the lack of continuity. (Think Alex Smith and Jason Campbell.)
So what's going to keep Mike Shanahan in office? For one, a greater improvement of talent, competition and the handling of the emerging RG3. I think finishing the season at 8-8 or 9-7 is quite an accomplishment considering their record the past two seasons and that we won't see anymore performances like the debacle on Monday Night Football against the Eagles two years ago, or getting shut out in Toronto against the Bills, or getting swept by the Cowboys again.
Those can't happen again. Now, I'm not saying the Redskins can't lose a game, because of course they will, but the way they've lost over the past few years is what is frustrating. The lack of effort and the offensive and defensive flutters that have been shown upon Shanahan's arrival need to stop.
They've drafted receivers, running backs, offensive linemen, linebackers, defensive linemen and now a quarterback. At this point is when results and consistency need to be shown. In the past two seasons, the Skins have substantially struggled late in the season after a hot start. Those games are almost meaningless if we aren't going to perform well in November and December.
Yet despite all of that, I know this is what is best for the Burgundy and Gold. Mike Shanahan knows football and is a great evaluator of talent. However, if there is one flaw about him, it's his inability to motivate. Think of high-energy coaches like the Harbaugh brothers in San Francisco and Baltimore or Jim Schwartz in Detroit.
Their players are willing to run through a wall for those men. I know Shanny is not that kind of coach, which is fine. He's an X's and O's type of guy who is typically always prepared. So what needs to happen is that the players need to buy into their coach's system.
That has been claimed in the past, but their record has deemed otherwise. With two years remaining on Shanny's contract, he won't be going anywhere and should become the first Redskins head coach in the Snyder era to live out his contract.
Regardless of everything, this is an exciting time to be a Redskins fan. People can nitpick Robert Griffin III all they want, but it's hard not to like someone of his caliber. With the combination of a proven winner and a much-improved defense, we should finally see it start to pay its dividends. If not, well, losing is something that us fans are more than accustomed to.