Chicago Bulls: How Thibodeau's Extension May Be Affected by Loss to 76ers
May 11, 2012

Jonathan Daniel/Getty Images
When the offseason starts for any NBA team, there are always questions to be answered before the start of the next season.
After their heartbreak and season-ending 79-78 loss to the Philadelphia 76ers on Thursday, the Chicago Bulls have quite a few questions of their own that they need to address.
Player personnel aside, one of the biggest looming queries revolves around a new contract for current Bulls head coach Tom Thibodeau.
When originally acquired by Chicago in the summer of 2010, Thibodeau was given a two-year deal with a third-year team option, a pretty standard deal when you look at the Bulls' recent history with head coaches.
In his first year, Thibdoeau surprised the NBA world and probably even the Bulls organization by not only improving the team's accomplishments but finishing with the league's best record, winning Coach of the Year and getting back to the Eastern Conference Finals for the first time since 1998.
Thibodeau used the 2011-12 season to prove that his inaugural year was no fluke by repeating his regular season success despite a variety of injuries to key players that resulted in numerous missed games, including 27 contests by Derrick Rose.
So with all of this instant improvement, what is the hold up with giving Thibodeau a new deal?
The answer to that question lies not in the regular season, where Thibodeau has shown great success, but in the postseason, where his management has been very questionable at times.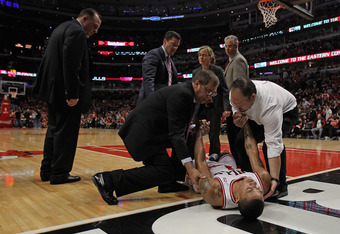 Jonathan Daniel/Getty Images
If nothing else, Thibodeau is a model of consistency when it comes to how he's been managing the Bulls. However, that consistency turns into detrimental stagnation once the playoffs arrive.
The most glaring issue in the postseason run of the 2010-11 season was Thibodeau's over-dependence on Rose.
Granted, Chicago was not stacked with much offensive firepower last year, but Thibodeau made no effort to develop a scheme that would allow Rose to be effective during a game's entire duration. Instead, he simply put the ball in Rose's hands and let the young point guard figure it out for himself.
This lack of creativity allowed the Miami Heat to zero in on Rose, nullify Chicago's attack and wrap up the Eastern Conference crown in five games.
Chicago's most recent series against the Sixers raised even more questions about Thibodeau's ability to adapt his strategy for the playoffs.
Game 1 of that series was spectacular for the most part. The Bulls played a balanced game where Rose didn't have to dominate for his team to pull out the double-digit win.
Tragedy struck late in the fourth quarter, though, when Rose went down with a torn ACL, effectively ending his season and a Chicago title run.
All hope was not completely lost, however, because it was still believed that Chicago could win the series without Rose. Yet Thibodeau failed to make any meaningful adjustments to compensate for his MVP's absence.
The Bulls' entire offensive attack after Rose went down was high pick-and-roll and staggered screens for Rip Hamilton and Kyle Korver.
Missing a creator and facilitator like Rose should have had an impact on Chicago's offensive options, but it should not have reduced the entire scheme to a couple of basic sets.
A defense as adept as Philadelphia's did not take too long in adapting to Thibodeau's basic presentation, and it used that simplicity to limit Chicago to bad jump shots and limited free throw attempts.
In a series with two defensive-minded teams, shot selection and easy points are a premium.
Thibodeau's offensive faltering in this year's first round series was compacted by his rigid rotation.
There were too many instances, especially in Games 2-4, where certain players were not producing, and Thibodeau refused to use his bench in search of a spark.
His stubbornness, more than anything else, was most responsible for the team finding themselves in the insurmountable 3-1 deficit to begin with.
While the regular season has accentuated Thibodeau's strength as a head coach, the playoffs have amplified his flaws. The damaging thing is that those flaws are what have led the Bulls to consecutive disheartening playoff exits.
Whether or not Thibodeau is a good coach is not a debate, because he is a good coach. However, he has not and will not be offered an extension any time soon because of his poor postseason management.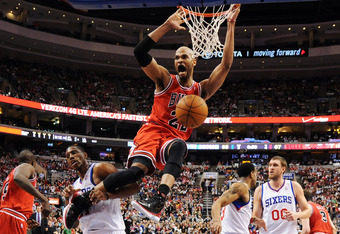 Drew Hallowell/Getty Images
The most logical outcome of this extension situation is for the Bulls to pick up Thibodeau's third-year option and use that season to determine whether or not to lengthen his tenure.
Thibodeau already has an uphill climb for 2012-13 since Rose will miss significant time as he recoups from his ACL injury and Deng potentially misses some time due to the torn ligament in his left wrist.
If Thibodeau can show some signs of evolving his approach to the game, he will be extended and have more time to transform this team from not-quite-ready to bona fide champions.
However, if Thibodeau shows those same obstinate, harmful tendencies, expect him and the Bulls to part ways and his coaching status to be downgraded from a man who can lead a team to NBA prominence to a transition coach who can turn teams on the cusp into winners but not much else.