Brandon Phillips Is Tired of the Bryce Harper Hype, Too
May 11, 2012

John Grieshop/Getty Images
Last Sunday, Cole Hamels took it upon himself to welcome Bryce Harper to the major leagues and take the hugely touted rookie down a peg by launching a fastball right into his back.
It was old school baseball, according to Hamels. Big leaguers have to earn their hype. It shouldn't just be thrown into the air by excited media and fans like confetti. 
Apparently, he's not the only one who feels that way. 
The Cincinnati Reds host the Washington Nationals this weekend at Great American Ball Park for a three-game series. But much like the Phillies a week ago, the Reds aren't too thrilled with the Bryce Harper hype train rolling into town.
At least that's how Brandon Phillips feels, as this Tweet indicates.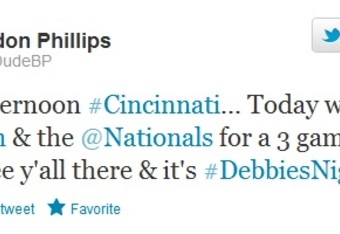 Ooooh, burn! Babe Ruth! I don't think Phillips is talking about Xavier Nady.
The Reds second baseman is clearly feeling pretty saucy after knocking out six hits (6-for-12, two doubles) in his last three games. 
But I can imagine it must be grating to see a player who's only appeared in 11 major league games get so much more attention and acclaim than veterans who have been producing at the game's highest level for years. 
Not to mention that opposing players are probably getting asked frequently about what they think of Harper before matching up with the Nationals.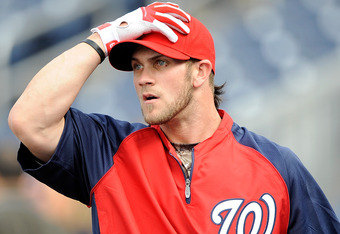 Greg Fiume/Getty Images
As impressive as Harper's been in terms of athletic talent, respect for the game and all-out effort, his numbers aren't mind-blowing. It's not like he's hit eight home runs in 11 games. 
Twitter provides a quick outlet to blow off some steam. I've certainly done it, as I'm sure many of you reading this also have.
But maybe it's a good thing Phillips isn't a pitcher. Harper probably doesn't need any more bruises on his lower back. Scratches from snarky Tweets heal much faster.
(via @AComak)
Follow @iancass on Twitter