NBA: LeBron James Is a Better Player Than Kobe Bryant
May 23, 2012

Mike Ehrmann/Getty Images
LeBron James and Kobe Bryant both entered the NBA straight out of high school. Considered a top talent, it was surprising to see Kobe Bryant fall to the mid-first round. He was drafted by the Charlotte Hornets but was immediately traded to the Los Angeles Lakers.
Seven years later, the "Chosen One", LeBron James became the No. 1 pick of the 2003 NBA draft. Although LeBron and Kobe followed similar paths to professional basketball, their game and style of play is completely opposite. Multiple reports have compared the two, usually ending in a split decision.
Here's the truth: LeBron James is a better all-around player than Kobe Bryant.
In 1996, while Michael Jordan was still the God of basketball, Kobe Bryant was trying to make his mark. In his rookie season, Kobe started six of 82 games, playing in 71 of them. He finished averaging 7.6 points per game, 1.3 assists per game and 1.9 rebounds per game.
The next two years of his career got somewhat better but not by a wide margin. He had tripled every stat category within those years.
Kobe Bryant started his career very slow. On the other hand, LeBron James didn't. Immediately in his rookie season, LeBron jumped to the top with 21 points per game, 5.5 rebounds per game and 5.9 assists per game. LeBron played almost more minutes in one season than Kobe did in his first two years.
The argument that many people continue to make is that Kobe Bryant has more championships than LeBron James, therefore making him a better player. TEAMS win championships, not players.
Kobe is a great player, but he has been handed everything in his career. The best coach in NBA history? He had him. One of the most dominant centers in history? He had him too. The list goes on and on.
Kobe has more championships because he's been benefited with better teams. LeBron James, who has won the MVP three times now, has no championships. Here's a good point. When Michael Jordan, the greatest of all time (for now), was 27, he had no rings and one MVP.
LeBron's already ahead of him at that age. LeBron led a team in Cleveland to the No. 1 record in the league. When he signed with Miami, the Cavaliers went from first to worst in one season.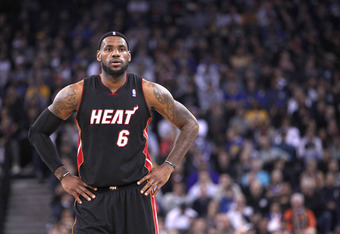 Ezra Shaw/Getty Images
Many experts have stated that LeBron James is the NBA's best passer next to Steve Nash. He resembles Magic Johnson because of his lengthy frame, allowing him to read the court very well.
Kobe Bryant has never been known to be a great passer. Truthfully, Kobe has never been known to pass the ball that often. Rebounding is also another category that LeBron excels in, and Kobe does not.
James is better in every aspect of the game than Bryant.
LeBron James Career Stats: 27.6 points per game, 7.2 rebounds per game, 6.9 assists per game. 48 percent field goal percentage, 33 percent three point percentage. He averages 40 minutes a game.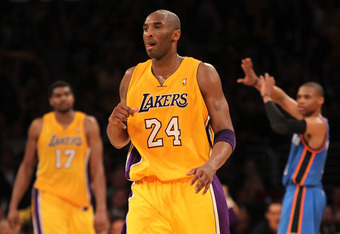 Stephen Dunn/Getty Images
Kobe Bryant Career Stats: 25.4 points per game, 5.3 rebound per game, 4.7 assists per game. 45 percent field goal percentage, 34 percent three point percentage. He averages 36 minutes a game.
Kobe Bryant in his first eight years averaged over 25 points per game in only three of the years, and he never shot above 47 percent.
LeBron James in his first 8 years averaged over 25 points per game in seven of the years and shot 50 percent and above in two. It took Kobe over a decade to receive an MVP. It took LeBron nine years to receive three.
When you talk about the first eight years of each player,  Kobe has the rings to show his team's success, but LeBron has the stats and trophies to show his success.
As much as people say "Kobe has the rings, and that's all that matters," what they're saying is Kobe has had better team success than LeBron has had over their careers. What they don't mean is
Kobe is better than LeBron.
Move the rings aside from Kobe, there is no argument. LeBron doesn't even have a ring, and there is an argument for why he is better. Most Laker fans will never say LeBron is better. Most Heat fans will never say Kobe is better. Facts are facts and stats are stats. They can't be overlooked or denied.
LeBron is still young, he's got even more time to prove himself. In the end, LeBron James is an all-around better player than Kobe Bryant.