2012 NBA Playoffs: Important Dates and Players for Celtics vs. 76ers Series
May 12, 2012

Elsa/Getty Images
The Boston Celtics and Philadelphia 76ers are all set to do battle in the conference semifinals of the 2012 NBA playoffs. 
Few expected the 76ers to make it this far, but they had some luck go their way and capitalized off it. The Celtics had a good challenge in the first round, and now they're on a mission to prove all those who doubt them.
This should be an exciting series, despite the fact Philadelphia is the No. 8 seed. Both teams are highly motivated to advance, which will amplify the intensity of this series. 
With that said, here's the important dates of the series along with top players and my prediction. Be sure to drop a comment and give me your thoughts on this series. 
Dates
Game 1: Sat., May 12 at 8 p.m. ET on TNT in Boston
Game 2: Mon., May 14 at 7 p.m. ET on TNT in Boston 
Games 3-7: TBD
Keep a watch here NBA.com for the revealing of the rest of the dates for this series. 
Boston Players to Watch 
Rajon Rondo 
In just five games against Atlanta, Rondo averaged 16.8 points, 11.8 assists and 5.6 rebounds per game. 
He's an unstoppable force, and Boston fans everywhere are hoping he keeps his cool with the refs. They all know he's going to continue to perform at a high level, that's just what he does. 
He runs the show for the Celtics, and if he can keep his composure, Rondo should have no trouble leading Boston to the next round.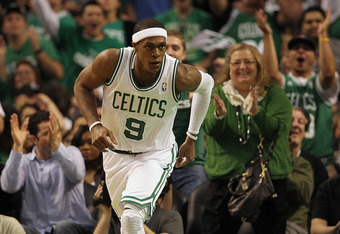 Jim Rogash/Getty Images
Paul Pierce 
The main man for the Celtics, Pierce will be needed in clutch situations once again. He had some rough moments against the Atlanta Hawks, shooting poorly in Game 1.
He bounced back though and ended up leading the team in scoring, averaging 21.2 points and also 6.3 rebounds per game. 
Pierce is the leader of the team and the face of the franchise. He's a bit banged up but will likely keep fighting through the pain to help the Celtics win. 
Philadelphia Players to Watch
Andre Iguodala 
The top player for the 76ers, Iguodala will be heavily relied on in this series. 
Not only does he have to step up and perform better on offense, Iguodala will asked to shut down Pierce, which is certainly no easy task. 
If Philadelphia is going to keep pulling off upsets, the 76ers need Iguodala to shoot better and keep his great defensive skills going.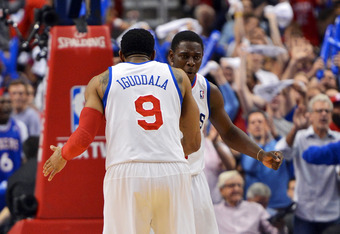 Drew Hallowell/Getty Images
Jrue Holiday 
Holiday lead the way for the 76ers in the series against Chicago. With Derrick Rose out, he was able to take full advantage of that and put on one heck of a show each night. 
However, now Holiday has to go up against Rondo. This will be a true test for him, and I highly doubt he leads the team in scoring in this series. 
Holiday averaged 18.2 points per game in the first round, and the 76ers desperately need that type of production from him again. Unfortunately, with Rondo guarding him, I'm afraid that won't happen, but Holiday definitely has a chance to prove all those who doubt him wrong
Prediction
As impressive as the 76ers were in Round 1, they're going have a much harder time against Boston. Should the Celtics stay healthy the entire series, Philadelphia is in for trouble. 
I do think the 76ers will step up and play strong, as they know they can, in fact, beat the Celtics. They'll keep games close, but finishing them out will be difficult. 
In the end, I have the Celtics winning in five games. They're the better team and had more experience, which will help them edge past the 76ers in the close games.