UFC 148: A Complete Case for Uriah Faber vs. Renan Barao
May 11, 2012

With Dominick Cruz out with injury, UFC president Dana White swears that Urijah Faber will fight—as soon as he finds the right man for the job.
Unfortunately, Renan Barao has a bout scheduled for July at UFC 148 against Ivan Menjivar. Admittedly, shuffling the fighters around a bit to have Barao fight Faber would be tricky—and absolutely worth it.
The first point is obvious: Barao is the No. 3 bantamweight and to move anyone else in to fight Faber would simply be wasting time.
Barao is coming off of a spectacular win against Scott Jorgensen at UFC 143, thus extending his record to 30-1-0-1. What's more impressive is that his one loss was also his first fight in 2005. With the exception of a NC in 2007, Barao enters the ring with a 30-win streak.
Nothing like that can be said for any other top-rated bantamweight. The only other who comes close is, of course, Dominick Cruz. But the options with Cruz injured are limited, and while knowing who could win the best-of-three between Cruz and Faber is both entertaining and profitable, knowing that Barao could dominate both is the new reality of the bantamweight division.
A victory by Barao against Faber would do wonders for the bantamweight division, essentially allowing it to reset and place the rest of its top fighters into a battle for contention.
With Brian Bowles' losses to both Faber and Cruz, he lost some stock despite his enduring status as one of the best in the division. If the top three positions change, Bowles might have more reason to reappear if for no other reason than to prove his strength within the ranks of the bantamweights.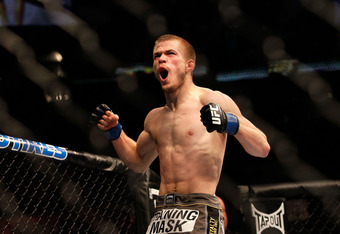 Kevin C. Cox/Getty Images
All of this also answers another important question: what to do with Michael McDonald? He could easily fight Faber at UFC 148, but the UFC will probably let him develop in the public eye first (much like Rory MacDonald's recent fight against Che Mills). This kind of time spent can be frustrating, but it does wonders for the fighter's identity and value. With a boost of both, McDonald could establish his presence and set all questions about contention aside.
The great news is that Menjivar can be that test. Menjivar brings veteran experience that will undoubtedly prove McDonald's capabilities in the division, especially after his recent victory over Miguel Torres.
Both fighters would enter the ring with momentum, and while the winner will enjoy obvious title contention, the loser will likely stay close behind in the running.
All in all, allowing Barao to take Cruz's spot against Faber will not just be the best match for fighters and fans, it may be the best thing for the bantamweight division.