30 Summer Athletes in Their Bikinis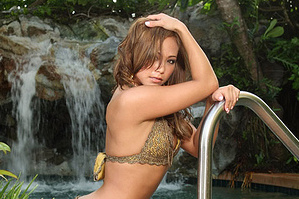 Image via images.mitrasites.com
There's nothing quite like summer. The scorching rays, feisty waves and bikini-clad women.
Since looking at pictures of the sun and ocean can get tedious, let's get ready for 30 pics of summer athletes fashioning just a two-piece and a calm smile.
After months of boredom, drooling and constant feening for sand, we're finally moments away from yet another memorable stroke of heat.
These scintillating athletes make it that much steamier.
Open that window...waiting...OK, good, now let's get started.
Begin Slideshow

»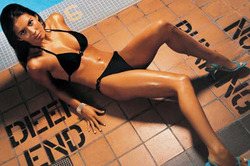 Image via facenfacts.com
After becoming the youngest female to finish the Hawaii Ironman, Lokelani McMichael decided to take her talents to the modeling industry.
And we're quite thankful for her decision.
Image via athleticbeauties.blogspot.com
She may only rank No. 18 in the world, but Slovak tennis bombshell Daniela Hantuchova has been a mainstay on the sports scene since appearing in the 2009 Sports Illustrated Swimsuit Edition.
Sheer focus and stellar form are leading her to the top of the beauty chain.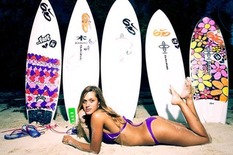 Image via freaksurfmag.com
Sure, this Hawaiian surfer has appeared on a Gatorade billboard with Serena Williams in downtown L.A., but it's her carefree attitude that has us intrigued.
Just another sexy surfer living the dream.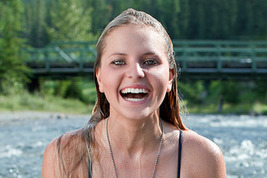 Image via sportsillustrated.cnn.com
The 2011 Sports Illustrated swimsuit issue was quite the launching pad for Brazilian surfer Bruna Schmitz.
Although with a name like that, we'd expect her to be twirling pizza dough and frying zeppoles.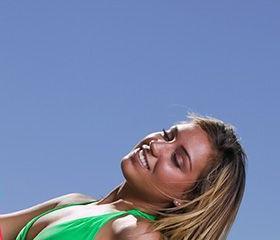 Image via sportsinferno.com
She may be knew to the beach bum scene, but Florida surfer Christa Alves has all the tools to become a superstar in the sports business.
The scouts are jotting down notes as we speak.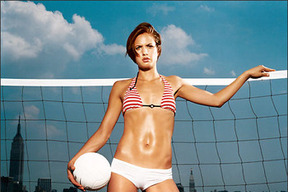 Image via brobible.com
She's been on the scene since the 2000 Olympics, but we have yet to lose interest in the ferocious Logan Tom.
A prolific volleyballer and tough-nosed beauty, Tom's stare keeps us thinking she's ready to tear her opponents to shreds.
But enjoying every moment of it.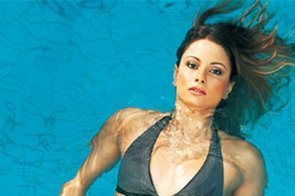 Image via sports.popcrunch.com
Not only is this Brazilian sparkplug an Olympic and national record-holding freestyle swimmer who won the silver medal in the women's 50-meter freestyle at the Pan American Games, but she looks great under water.
Easy career choice.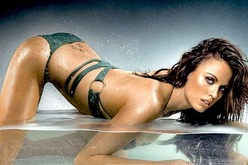 Image via sports-wired.com
She may be deadly on camera, but Amanda Beard is just as dominating underneath the water.
A seven-time Olympic medalist and two-time American Swimmer of the Year Award winner, Beard always keeps us clapping.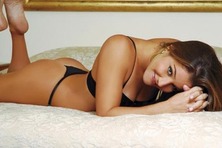 Image via hot-female-athletes.blogspot.com
Two gold medals at the 2008 South American Swimming Championships may be the only athletic accomplishments that this Brazilian diver can brag about, but she's got plenty of skill in front of the camera to make up for it.
Climbing the charts one shot at a time.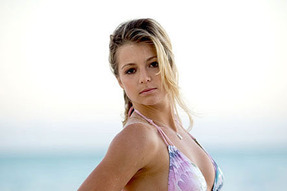 Image via nhlsnipers.com
With a career record of 305–215, Russian tennis beauty Maria Kirilenko has quietly flourished on the court.
But away from it, she's become a superstar. Just ask star NHL boyfriend Alexander Ovechkin, who seems to have found his musical side.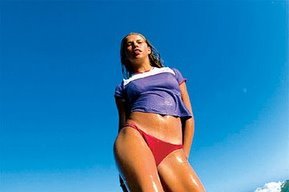 Image via hottiesincleats.com
While this dripping bombshell is naturally another surfing babe, she's got an intriguing talent that few know about.
Missy Gibson is the lead singer and songwriter for the group Breech. Musical and athletic, what a combination.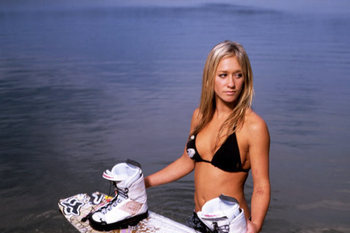 Image via dallasfriday.com
Few women possess the ability to halt nature.
But clearly, water forgets to flow when this sexy wakeboarder is around.
And she knows it.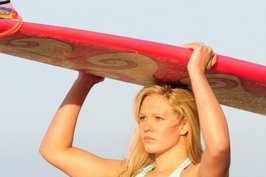 Image via babesofsports.com
While we are presented with yet another water dweller, the beautiful Chloe Sutton is in a league of her own.
The long-distance swimmer has captured five medals (three gold) between the Open Water Championships, the Pan Pacific Championships and the Pan American Games.
We're officially paying attention...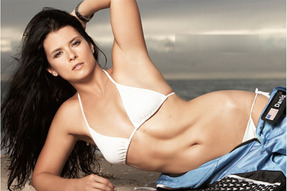 Image via unathleticmag.com
For gentlemen losing sleep over those buzz-killing GoDaddy commercials, we have your answer right here.
This is what we've all been waiting for from the most accomplished female driver on the planet.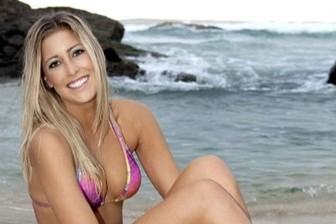 Image via grindtv.com
Having graced the Newport beach surroundings since she was a young surfer, Erica Hosseini is no stranger to vicious waves.
Nor the eager paparazzi that follow her around.
Image via allsuperstars.blogspot.com
If you've ever researched Australian swimmer Stephanie Rice, you'll see that most of her pics are smiley and full of joy.
That's because she holds the world record in the 400-meter women's individual medley and has three gold medals from the 2008 Beijing Olympics.
With shots like this, she keeps her audience smiling just as widely.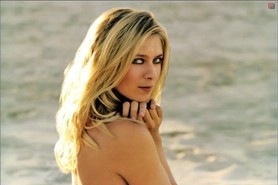 Image via trivedi88.hubpages.com
While she is a former World No. 1 tennis star, Maria Sharapova earns this spot for her unquestionable flair for the dramatic on camera.
With her Mona Lisa-esque smile, Sharapova is giving fans plenty to study.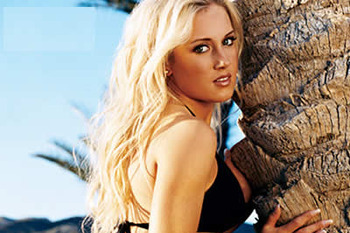 Image via holytaco.com
There have been whispers of this sexy golfer sparking a relationship with male counterpart Dustin Johnson.
If true, Natalie Gulbis could dominate the entire back-nine.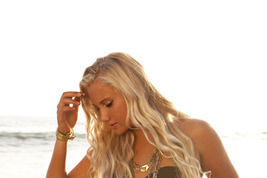 Image via lanidoherty.com
Few surfers don't look like trained supermodels, but Lani Doherty is also quite talented away from the lenses.
The slight curling of her hair is a tactic used by many camera dwellers, and to be honest...we're kind of impressed by it.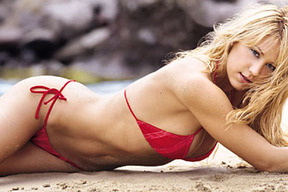 Image via tennishotpicshub.blogspot.com
Our feelings toward athletically unspectacular, yet very sexy Russian tennis player Anna Kournikova are similar to those regarding Skip Bayless.
We're tired of the cliched repertoire, but we can't seem to stop watching.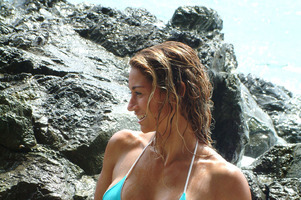 Image via surfersvillage.com
She's a nine-time national surfing champ in Panama, a breathtaking looker and in her late 30s.
Take a second to regain your breath.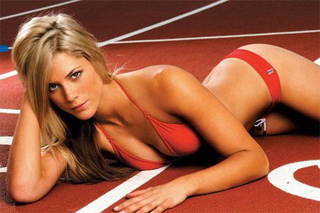 Image via guyism.com
Allison Stokke seemingly started the pole-vaulting fad, but Australia's Melanie Adams is certainly completing it.
And she's far from finished, as the sexy pole vaulter is apparently clawing at Miss Universe.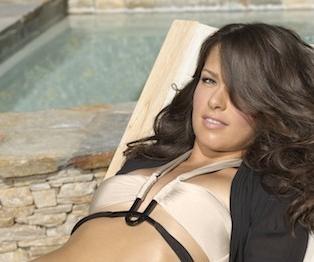 Image via obsessedwithsports.com
Aggressive on the court and breathtaking away from it, Serbian tennis beauty Ana Ivanovic has yet to lose our attention.
Down under golfer Adam Scott is one lucky bloke for catching this sexy crocodile.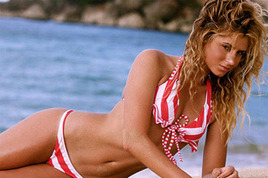 Image via enthuzed.com
While she may not be as well-known as accomplished peer Alana Blanchard, scintillating surfer Anastasia Ashley is climbing the beauty charts just as quickly.
Her name is almost too perfect for the sunny-delight climate she is known to frolic.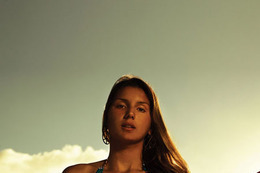 Image via lemondrop.com
Winning the ESPY award for Best Female Action Sports Athlete is clearly a major victory, but surfing the biggest wave ever by a female is perhaps the sexiest achievement we've ever heard of.
A 45-foot wave at Dungeons (a big wave surf spot in South Africa) was the scene of the crime.
The word rebel doesn't quite suffice.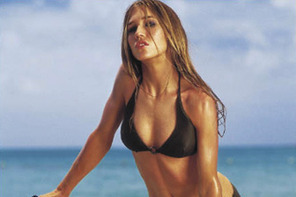 Image via nikigudex.com
This Australian mountain biker has been peddling through our minds for some time now, and it's quite clear she's nowhere near finished.
Although Niki Gudex is just as prolific while parked.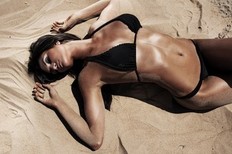 Image via coedmagazine.com
Model first, average athlete second, Leryn Franco remains an anomaly.
She's accomplished little as a javelin thrower, but is renowned among the best for her breathtaking presentations away from the playing field.
Franco has the sports world at her fingertips.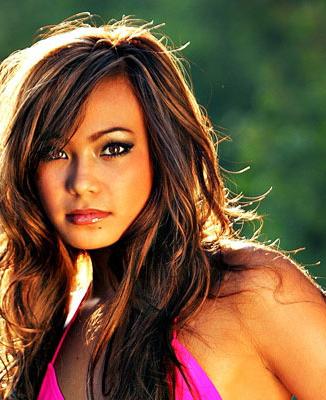 Image via guyism.com
There's nothing sexier than a Karate Hottie who can effortlessly tear through opponents.
Michelle Waterson's got a Black Belt in American Free Style Karate, is trained in WuShu and Muay Thai and is currently the No. 5-ranked female atomweight (106 lbs) fighter in the world, according to the Unified Women's MMA Rankings.
She can't be stopped.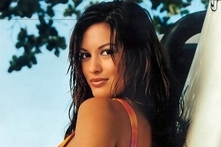 Image via californiacoastal.blogspot.com
A melting pot of beauty, surfing extraordinaire and former Lilo and Stitch, consultant Malia Jones has Hawaiian, Spanish-Filipino and German roots.
Breathtaking culture shock every time we're introduced.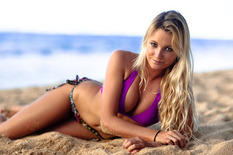 Image via totalprosports.com
Easily the sexiest and perhaps the most beloved surfer currently perusing California beaches, Alana Blanchard makes domination look effortless.
Just subtle acknowledgment of the camera makes the crowd go wild.