Everton Player Grades for the 2011-12 Season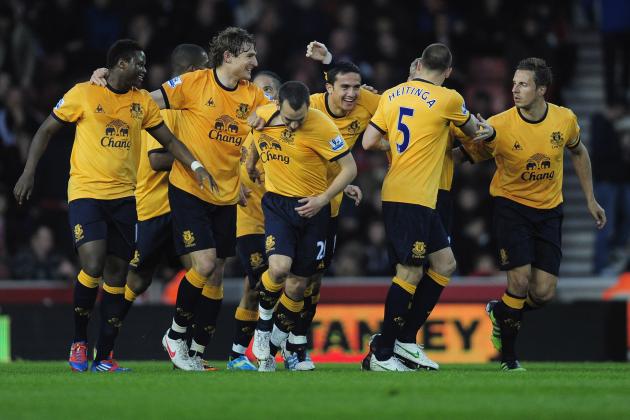 Jamie McDonald/Getty Images

With only one fixture left in the 2011-12 Premiership season, it might be a good time to hand out some end-of-the-year grades.
It's been a campaign of two halves for this iteration of Everton Football Club. At times this year, the Toffees hovered near the drop zone, only to claw back once the calendar changed to perhaps finish seventh—if Sunday goes right.
In true Everton fashion, the club did it not with high-priced international talent, but with bargain-bin transfers and loaners. David Moyes once again turned his island of misfit toys into top-flight material, molding mud into marble sculptures, cream into butter, and Denis Stracqualursi into a striker.
So how did Moyes' men do? As it would be unfair (and/or pointless) to grade players for only a handful of performances, I'm only including players who stepped on the pitch 10 or more times for Everton this year. Sorry Ross Barkley fans, maybe next year.
Oh, and any player who didn't finish the season with Everton is excluded. As well as Landon Donovan played, he is ineligible, though it's clear what mark he would have earned (Hint: He's an American).
Assuming everyone plays to average form against Newcastle, here are the Everton player grades for the 2011-12 season.
Begin Slideshow

»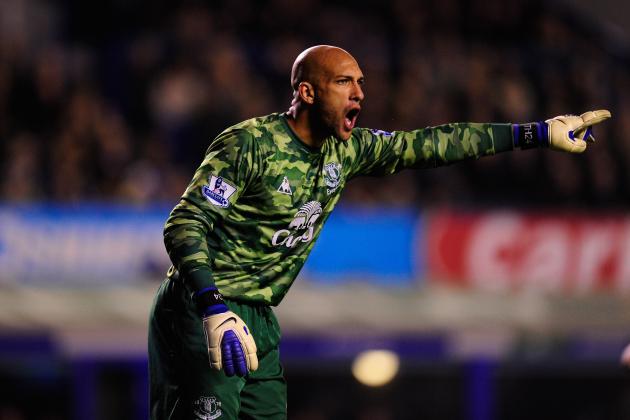 Stu Forster/Getty Images

43 Appearances, 14 Clean Sheets, 114 Saves, 41 Goals Conceded, 1 Goal
Another year, another solid stint in Everton's goal by Tim Howard.
Always a vocal presence between the sticks, America's No. 1 rarely gave anyone reason to criticize his performance. Sure, Howard gave up his share of howlers (the one against Wigan still hurts), but what Premiership keeper didn't this year?
Also, there was that amazing goal he scored against Bolton, which for me cancels out his previous blunder.
For the most part, Howard let in goals that few keepers could have kept out, and was sure-handed on (most of) the saves he should have made. He directed the back line well, and should retain his starting role next year.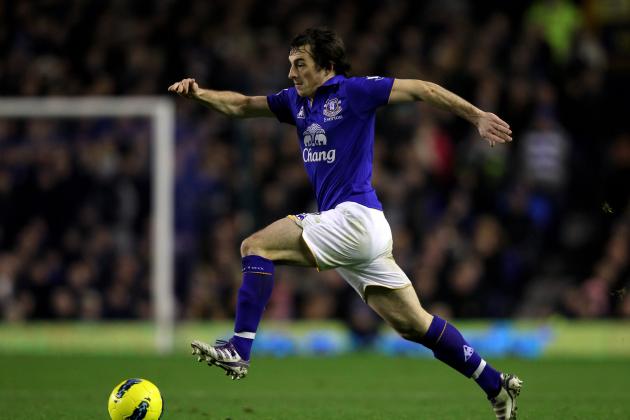 Alex Livesey/Getty Images

41 Appearances, 5 Goals, 2 Assists, 6 Yellow Cards
Despite his unfortunate hamstring injury at the end of Everton's FA Cup semifinal, Leighton Baines once again proved integral to the Toffee effort in 2011-12.
Consistently a menace on the left side, Baines ably sprinted up and down the wing to great effect. His distribution was decent, clearances sure, and took what chances he kept for himself well.
Once Mikel Arteta became a Gunner, Baines became their go-to dead-ball specialist. The Englishman should still retain his versatility when he comes back from injury, but might miss a huge opportunity to showcase his skills for England at the Euros.
While Baines has the talent to make the side, perhaps it's better for Everton if he doesn't. That way, the club will field less offers for his services this summer, and he'll surely remain a Toffee for the near future.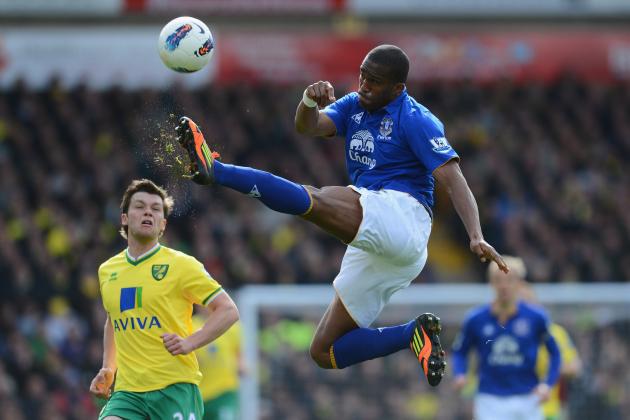 Mike Hewitt/Getty Images

32 Appearances, 1 Assist, 6 Yellow Cards
The little things a workhorse player like Sylvain Distin does seldom earns him recognition, but his mistakes always will.
With Everton up 1-0 in the FA Cup Semifinal, the Frenchman's catastrophic back-pass against Liverpool will probably overshadow everything he's done this year, and that's a bit cruel. Distin was openly distraught after the game, and while his mistake cost Everton the lead, the Toffees' lack of chances was by far the greater deciding factor.
Yes, it was a fit of madness by Distin that led Luis Suarez to curb-stomp in an equalizer, but for the most part this year (when healthy), the Everton defender has put in physical, productive shifts along the backline.
When Leighton Baines went down for the year, it was Distin David Moyes turned to at left-back. He provides size, decent marking, and hasn't been carded that often.
Distin has done more right than wrong this year, and has been a staple of the Everton defense whenever healthy. He'll get more chances to amend that FA Cup blunder next year.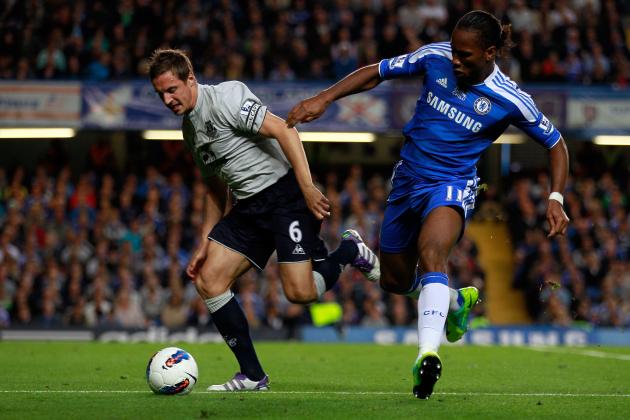 Paul Gilham/Getty Images

32 Appearances, 2 Goals, 1 Assist, 2 Yellow Cards
Like most of the Everton defense, the injury bug bit Phil Jagielka this year, missing six weeks starting in January 2012 with medial knee ligament damage. Jags has been visibly affected by his stint off the pitch, having yet to fully regain his inspired form.
Before going down, Jagielka was immense in Everton's defense, with clinical marking and timely clearances keeping Everton in close games. His club play did not go unnoticed by Fabio Capello, who, while still manager of England's national team, called up Jagielka to start against Spain in a friendly at Wembley. The move proved genius, as England clung to a 1-0 victory largely thanks to Jagielka and Joleon Lescott in the center of defense.
But then Jagielka came up lame against Bolton, and things haven't been quite the same for him. He's regained the starting right center back spot, but hasn't been as sharp. Still, Everton have been playing well with Jagielka back in the side, losing only twice (both to Liverpool) since his return.
Should his form continue to improve, look for Roy Hodgson to consider him for the Euros. It's been a solid season for Jagielka, but one wonders what could have been had he not missed time.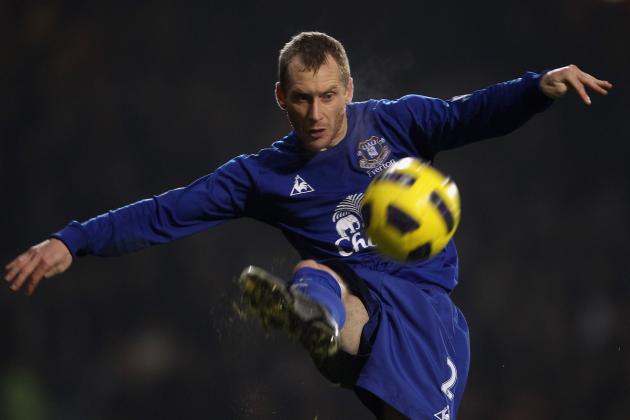 Scott Heavey/Getty Images

35 Appearances, 3 Assists, 1 Yellow Card
While he suffered an injury of his own this year, Tony Hibbert has largely overcome it to perform about as well as one can expect from him at this point.
Hibbert remains the only player on Everton's roster to have remained a Toffee for the entirety of David Moyes' tenure as manager, and it's clear that the Scot likes the look of Hibbo on the right. He's been a steady presence on that side, often playing mistake-free defensive football while not offering much offensively.
Or so we thought.
Stunning many onlookers this season, Hibbert was credited with two assists against Manchester United recently, accounting for Everton's first two goals in that electric 4-4 draw which might cost United the title. The man who has never scored a goal as a professional footballer could have been mistaken for Maicon at Old Trafford, and for that performance alone he gets bumped up a few marks.
As long as he's fit, Hibbert should remain Moyes' first choice over Seamus Coleman and Phil Neville. How he's done it for so long remains a mystery, yet overall it hasn't worked out so badly.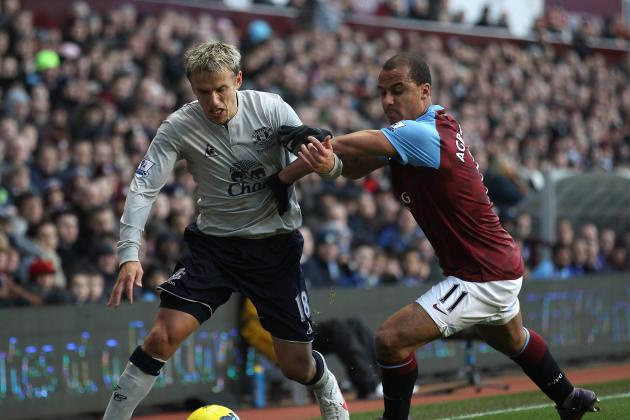 Clive Mason/Getty Images

35 Appearances, 4 Yellow Cards
At 35 years old, Phil Neville's playing days are probably almost up.
An aging defender in an outside position that increasingly requires pace and attacking distribution, Neville simply doesn't fit the description anymore. His experience is certainly valued, but if the newly minted English manager wants you on his staff rather than on the pitch, your time is almost up.
While on the field for Everton this season, Neville has been mediocre, turning in performances that have rarely left an impression. He's been second choice to Tony Hibbert, and that's no easy feat.
Neville's contract is up this year, and I'm not sure if the club will re-sign him. Everton can do better on the right, and it's about time for Neville to move on anyway.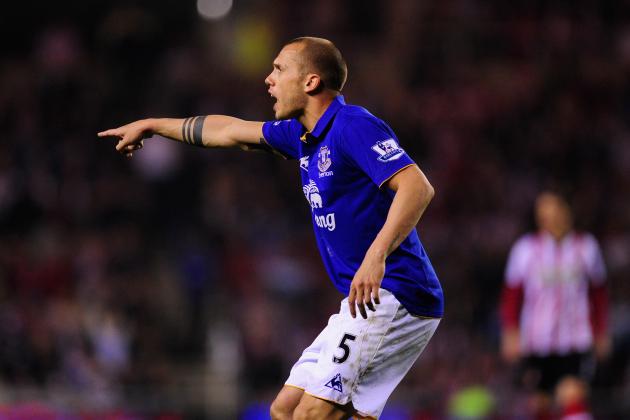 Stu Forster/Getty Images

38 Appearances, 2 Goals (1 OG), 6 Yellow Cards
The Mad Dog of Goodison Park, Johnny Heitinga was in and out of the starting XI to start the year, yet broke through in late October to start 33 of Everton's 36 proceeding games.
The Dutch international has brought a much-needed aggressive presence to the center of Everton's defense as a defensive back or midfielder. Heitinga's versatility aside, he still looks more comfortable as a center back, partnering well with Phil Jagielka or Sylvain Distin.
Heitinga's ferocity in the middle of the park has been needed on an Everton team that sometimes requires enforcer work. Few teams have been able to pass through the Toffees, which is a credit to the Dutchman.
If Jagielka is offered a big money move after the Euros, look for Heitinga to take up permanent residence in Everton's starting formation next season. He should have a productive Euro campaign for the Netherlands, as long as he doesn't get tossed.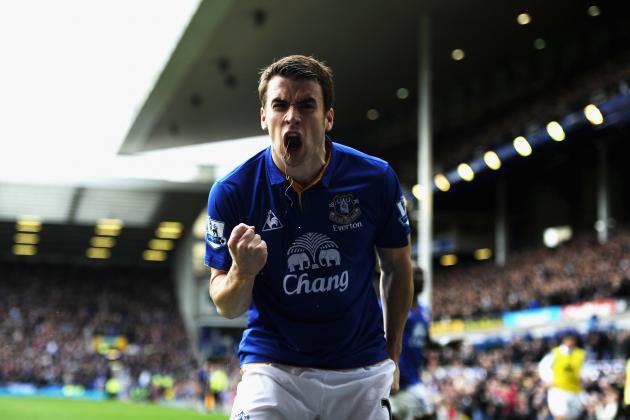 Laurence Griffiths/Getty Images

24 Appearances, 1 Assist, 3 Yellow Cards
The versatile Seamus Coleman was played everywhere from right back to right winger for Everton this season, and it's an experience that should serve the 23-year-old well.
With two aging right-backs in Tony Hibbert and Phil Neville, Coleman was often brought on to inject some pace into right flank as a mirror to Leighton Baines. Because of Everton's reliance on Baines, the opposition sometimes cheated on the Everton left, but not with Coleman in.
Still, Coleman feels like more of an attacker than defender, which explains his relative lack of appearances. Everton are relatively deep in attacking midfield yet thin at right-back, so if Coleman wants to consistently get in he might want to brush up on his marking.
With Neville likely gone next year, Coleman has a chance to get more playing time for Everton. Making Ireland's Euro squad will help, but it's unclear if he can manage a spot.
Coleman is a nice talent for Everton, still waiting to take the next step. He should be in their plans going forward after a respectable, if not exemplary, 2011-12 season.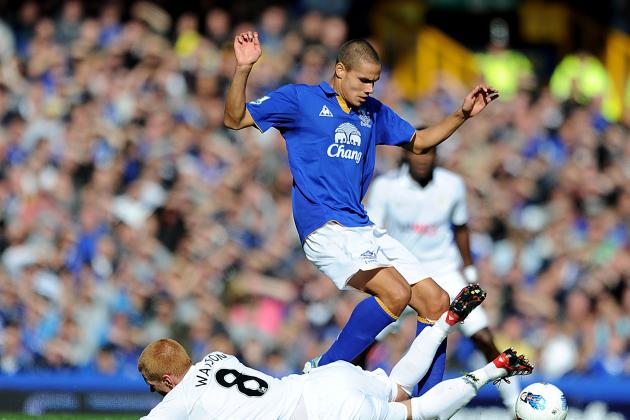 Chris Brunskill/Getty Images

17 Appearances, 2 Goals, 1 Assist, 2 Yellow Cards, 1 Red Card
Hard done to by injuries and an unfathomable red card against Liverpool, Jack Rodwell's development has been hindered this year at Everton.
Apparently burdened with a hamstring that cannot stay healthy, Rodwell will likely miss the Olympics and Euros for England, a blow to his promising career. The 21-year-old has caught many a club's eye, but his injury problems may elicit some second thoughts.
When he did play for Everton this season, he did so mostly as a defensive-minded midfielder, and acquitted himself well. He was quick on the ball, saw the field well, and tackled cleanly. Even though he played deep in defense, Rodwell proved he could move forward to score, burying shots against Fulham and Newcastle.
It isn't clear what direction Everton want to go with Rodwell. They could continue developing the youngster (to the delight of the fan base), but can he stay healthy enough to progress? Alternatively, perpetually cash-strapped Everton could sell him soon for a decent fee to pay for a handful of loose ends Moyes could no doubt transform into key Toffee contributors.
Either way, Rodwell seems to be at the center of Everton's future, whether it be with the team or not. The club would do well to make use of him once he's healthy again.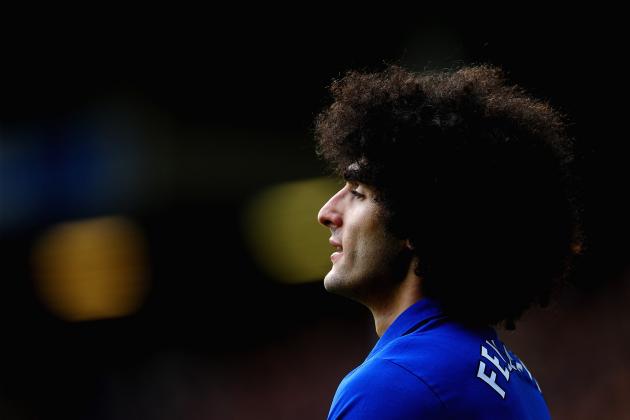 Laurence Griffiths/Getty Images

42 Appearances, 5 Goals, 4 Assists, 9 Yellow Cards
Unquestionably the engine that makes Everton tick, Marouane Fellaini has been a crucial component in Everton's success this season. Without their afro-adorned Belgian in midfield, the Toffees would be in the tall grass.
It's hard to fully describe what Fellaini has meant to Everton this year, but to say that he "does everything" isn't far off the mark. Fellaini is an incredibly effective ball winner, and like Wayne Rooney seems to be everywhere on the pitch trying to regain possession.
At 6'4'', Fellaini cuts an imposing attacking figure, but only recently has he been utilized that way for his domestic club. Belgian's national team always played Fellaini near the front of their formation, yet for a long time Moyes kept him in defensive midfield. Fellaini excelled there to be sure, but once it became clear that Tim Cahill wasn't regaining his form anytime soon, Moyes took a chance and moved the Belgian up.
The results have been self-evident, with Everton able to score four goals in three out of their last six matches. Fellaini himself has scored twice playing in the hole behind Nikica Jelavic.
It's a formation that Moyes would to well to keep starting. Fellaini has shown not only a scoring touch, but a creative set-up mentality built out of concise hold-up play. His size makes him an aerial threat in the box, and his speed makes him a tough cover.
As Fellaini has gone this year, so has Everton. They would do well to hold on to him as long as possible.
Clive Mason/Getty Images

14 Appearances, 1 Goal, 5 Yellow Cards
One of David Moyes' winter transfer moves, Darron Gibson has had one moment of true brilliance: His goal against Manchester City at Goodison Park that proved to be the difference on the day.
Apart from that brilliant strike, Gibson hasn't affected the attack noticeably, doing most of his work on defense. He's essentially taken Jack Rodwell's spot in the lineup, and hasn't made too many mistakes that come to mind.
Little-used at Manchester United, Gibson was craving first-team football. Everton said they could satisfy it and have done so, leading me to believe Gibson won't be leaving anytime soon. Though he could eventually lose his spot to Rodwell, Gibson provides physical depth at the position, especially if Moyes continues to play Marouane Fellaini up higher.
At 24 years old, Gibson has a lot of room to grow as a player. Hopefully Everton will allow him to do it.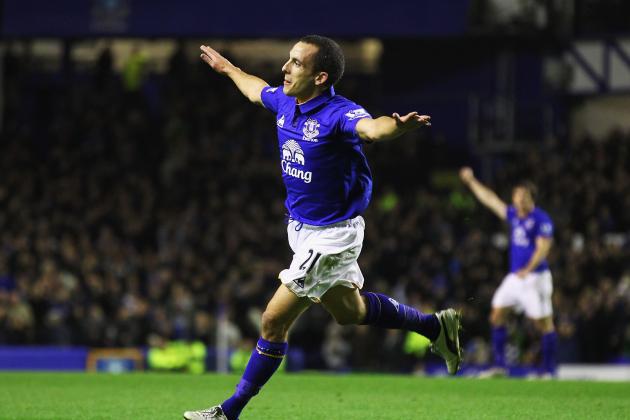 Matthew Lewis/Getty Images

33 Appearances, 4 Goals, 1 Assist, 3 Yellow Cards
Another Toffee that has battled through injury, Leon Osman sat out a sizable portion of the season with a knee injury starting in early January 2012. Osman returned two months later, and has found himself more often than not starting on the right as an attacking midfielder.
Osman hasn't played too poorly, but I wouldn't call his play sharp either. The Englishman has been inconsistent in his buildup play, misjudging his final pass into the area on a number of occasions.
Still, his pace has been valuable, and he's a step up from Royston Drenthe, a true wild card whose own inconsistency has a wider oscillation than Osman's.
It's clear that Moyes wants to go with what he's familiar with, and with no Landon Donovan forthcoming, Osman is the man he needs.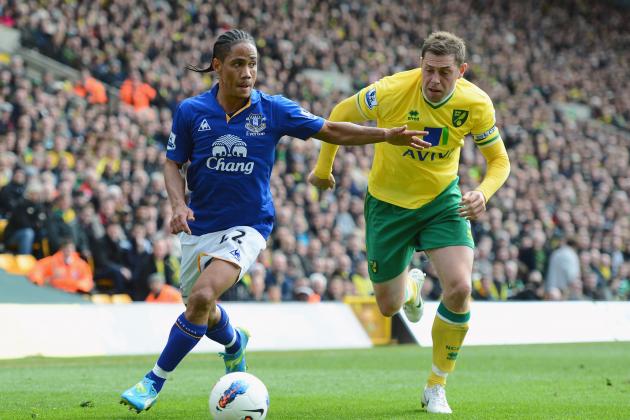 Mike Hewitt/Getty Images

13 Appearances, 3 Goals, 7 Assists, 6 Yellow Cards
If I were to imagine an offseason To Do list for David Moyes, here's the first item:
Sign Steven Pienaar. God is Good.
Yes, the South African has been that good, and Moyes should make signing him from Tottenham a clear summer priority. Pienaar has significantly influenced each match he's played in for the better, bringing pace and creativity to an attack often bereft of it.
He creates chances, and helps finish them. It's no accident that Pienaar's second on the team in assists, trailing Royston Drenthe by one. It's even more incredible when you consider that Drenthe has played in twice as many games.
Everton becomes a different team without Pienaar, and that isn't a good thing. Consider the second half of the FA Cup semifinal against Liverpool. Would the Toffees have been as offensively impotent had Pienaar not been cup-tied with Spurs? I think not.
Without a doubt, Pienaar has been one of, if not, the most impactful players Everton has, and they should do all they can to sign him when his loan expires.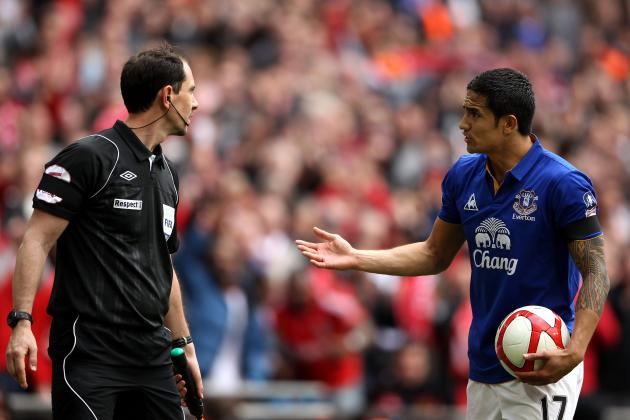 Scott Heavey/Getty Images

40 Appearances, 3 Goals, 3 Assists, 6 Yellow Cards
Once one of Everton's most potent offensive weapons, Tim Cahill has been a shadow of his former self in 2011-12.
The Australian international went a calendar year between goals for his club, finally scoring against Blackburn in early January 2012. No matter where David Moyes plays him, be it as a lone striker or center attacking midfielder, Cahill can't seem to threaten on a frequent basis. His distribution has been poor, his renown heading suddenly lackluster, and his starting role untenable.
In response to Cahill's struggles, Moyes has pulled him from the front in favor of in-form Marouane Fellaini, and that's worked well so far.
It will be interesting what the club decides to do with Cahill over the summer, as the midfielder is out of contract in June. At 32-years-old, you have to wonder if Cahill's best football is behind him. If this year is any indication, signs point to yes.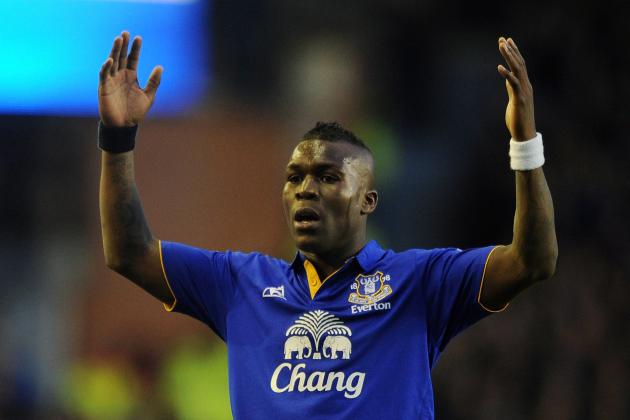 Chris Brunskill/Getty Images

27 Appearances, 4 Goals, 8 Assists, 7 Yellow Cards, 1 Red Card
Capable of ecstatic highs and frustrating lows, in the final analysis Royston Drenthe has been a mixed bag for Everton this season.
Once a lock to try and sign after his loan from Real Madrid expires in June, Drenthe's erratic behavior on and off the pitch has seen him fall out of favor with David Moyes in recent weeks. His last appearance for the club was in early match as a late substitute during a 4-0 blowout of Sunderland. He hasn't seen the pitch since.
When he's been focused, Drenthe provides pace and flair few other Everton players can come close to matching. He's certainly technically gifted, but at times gets carried away and surrenders possession.
It's almost as if Drenthe is two different players, only one of which Everton can use. When the Dutchman is on his game, I'd pick him over Leon Osman on the right. The problem is that aspect of Drenthe shows up too rarely for Moyes to make that selection.
If Drenthe recommits during the offseason, he might have a chance of staying around. Otherwise, expect him to leave and not come back.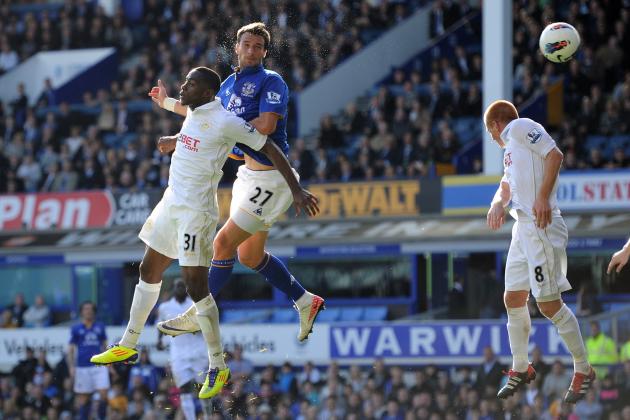 Chris Brunskill/Getty Images

15 Apperances, 3 Goals, 1 Assist, 1 Yellow Card
Early in the season, when Everton were struggling for any kind of offense, David Moyes turned to his young Greek signing as a last-ditch attempt to score goals. Apostolos Vellios did not disappoint, scoring thrice in limited showings, impressing those who saw him play.
However, the 20-year-old was only a temporary fix, and once Everton found a consistant strike force, Vellios found himself among the reserves. It's not a bad thing for the young man, as clearly he's got the frame and talent to excel at the top level. Vellios just simply isn't ready to be a full time striker, but there's every indication that he will be.
Owing to the fantastic output Vellios was able to produce in relatively limited minutes, he makes it into the B range for me. Add the Iraklis product to a number of Everton youngsters (Ross Barkley, Magaye Gueye, Seamus Coleman, Jack Rodwell etc) to keep an eye on for the future.
Mike Hewitt/Getty Images

16 Appearances, 6 Goals, 1 Yellow Card
A prolific scorer to say the least, Victor Anichebe can be credited with single-handedly earning positive results for Everton this year. Matches against Wigan, West Brom and Aston Villa could have resulted in draws or worse, yet the Nigerian's goals in each game pulled Everton on to safe ground.
Had he not been hampered by injury, Anichebe could have been a force on the wing this year fro Everton. Possessing a physical frame and a knack for finishing chances, who knows how many results he could have tilted the Toffee's way.
Anichebe will be sticking around for a few more years, and at 24 years old he's got a lot of football ahead of him. Second only to Nikica Jelavic in Everton goals, the club would do well to keep Anichebe in the side as long as he's healthy.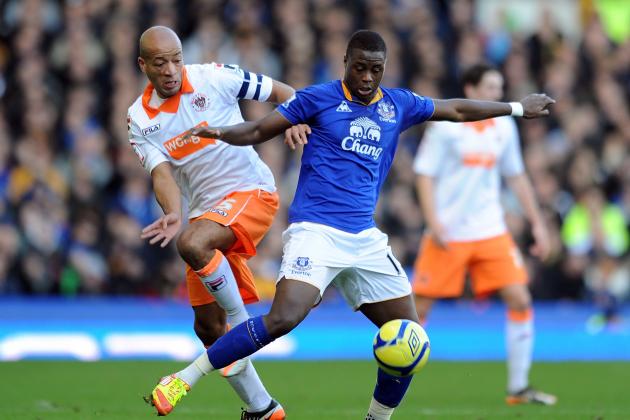 Chris Brunskill/Getty Images

24 Appearances, 1 Goal, 3 Assists, 2 Yellow Cards
Another Everton youngster, Magaye Gueye has been allotted a sizable amount of appearances to distinguish himself, yet he rarely has.
David Moyes must see something in the 21-year-old French forward, and perhaps we caught a glimpse of it during Everton's 4-0 rout of Sunderland back in early April. On that day, Gueye registered his first Premier League goal along with two assists in a man-of-the-match caliber performance.
Against Sunderland, Gueye was quick on the wing, incisive with his passing, and wholly deserved the acclaim he won from the match. True, the goals scored by Steven Pienaar and Leon Osman were very much products of the scorers own skills rather than Gueye's vision, yet the Frenchman deserves some credit for getting the ball into a scoring position.
The problem with Gueye is that the Sunderland match is more an anomaly than the rule. For most of if not all of his other showings, Gueye has proven ineffective on whichever wing he plays on. At this point in his development, I wouldn't pick him over Pienaar and Victor Anichebe on the left, or Leon Osman on the right.
Moyes obviously has had other ideas, and I hope they pan out. So far, Gueye is an unproven commodity, and perhaps shouldn't be in the starting formation yet.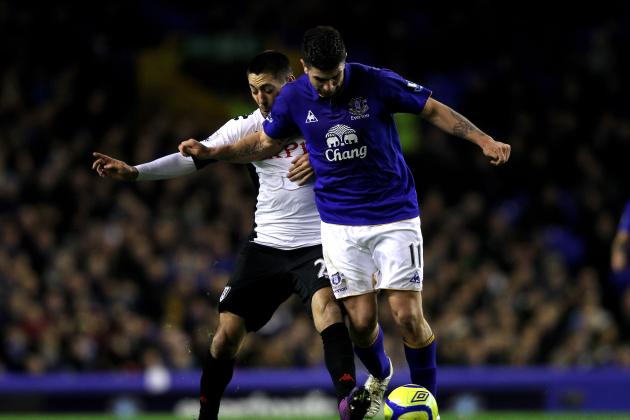 Alex Livesey/Getty Images

27 Appearances, 3 Goals, 1 Assist, 1 Yellow Card
On loan from Tigre in Argentina, Denis Stracqualursi had a spectacular run of form during Everton's FA Cup run in January and February, scoring two of his three Everton goals against cup opponents Fulham and Blackpool.
However, outside that window Stracqualursi has been mortal, recording exactly zero goals since his last one on February 18th. Much of that skid is a direct result of diminished playing time—more on that in the next slide—which has all but ended any chance a return to form.
When Stracqualursi has played, offside traps have consistently caught him, ending moves often as they reach a climax. Despite his 6'2'' frame, he has trouble winning headers, and often can't put away clear chances.
If Strac continues to be overlooked on the bench, there is little hope of a signing forthcoming in the summer. Most likely the Everton board will let him return to Argentina, and it's probably for the best.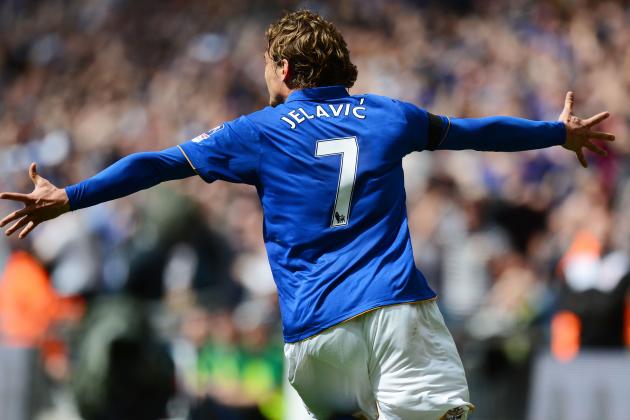 Mike Hewitt/Getty Images

15 Appearances, 10 Goals, 2 Assists, 3 Yellow Cards
A genius-level signing by David Moyes during the January transfer window, Nikica Jelavic has proven to be worth every cent Everton paid for him. Finally, the Toffees have found their striker, and he has yet to disappoint.
A prolific goal scorer for Glasgow Rangers, Jelavic has continued in Merseyside where he left off in Scotland. After two substitute cameos to familiarize himself with the side, the Croatian striker netted his first goal against Tottenham during Everton's 1-0 over Spurs at Goodison Park.
After resting against Liverpool, Jelavic would start the rest of the season as Everton's lone striker, a position he took to immediately. Over the club's next 11 matches, Jelavic would bag nine goals, including seven goals over four consecutive games.
Employing top class finishing, Jelavic has transformed Everton into a high-scoring threat whenever he steps on to the pitch. His work rate has been exceptional, and rarely does he miss a clear chance badly.
Jelavic should easily become a fixture for Everton should other clubs stay away. With a contract that runs through 2017, he's a player to build around for the future. It's clear that Everton already have some good pieces, now all they need is a complete season