NFC South Morning Jog: Contract Talks Between Saints and Brees 'Non-Existent'
May 11, 2012

Ezra Shaw/Getty Images
Each morning, I like to start the day off with a workout—usually a morning jog. I can clear my head, plan my day, and think about what's going on around the NFC South.
I'm not sure how anyone can misinterpret a written declaration made by the player himself, but Anthony Hargrove said this is exactly what's happening.
There is still no update in Drew Brees' contract talks, according to Mike Triplett. He said "talks have been practically non-existent now for more than a month."
D. Orlando Ledbetter lists five questions for Atlanta's rookie minicamp that begins Friday at the team's training facility in Flowery Branch, Ga. My favorite: "Does new defensive coordinator Mike Nolan yell as much as Brian Vangorder?"
Jay Adams has a list of the 46 players invited to Falcons rookie minicamp this weekend.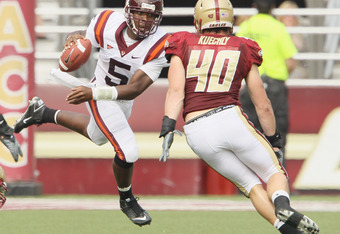 Elsa/Getty Images
First-round pick, linebacker Luke Kuechly, has reached a contract agreement with the Panthers. A league source told Joe Person the deal was for four years at $12.58 million, and all of it was guaranteed.
Rookies reported to minicamp on Thursday to get settled in before drills get going Friday through Sunday. [Video]
Roy Cummings thinks that after weeks of toying with the idea, Tampa Bay is now ready to move forward with the Ronde Barber move to safety.
Tampa Bay signed another former-Rutgers player in wide receiver Tiquan Underwood Thursday. The length of the contract is two years.