Nuggets vs. Lakers: Game 7 TV Schedule, Live Stream, Spread Info and More
May 11, 2012

Doug Pensinger/Getty Images
The Los Angeles Lakers had two chances to close out the Denver Nuggets and failed both times, sending the first-round playoff series back to Los Angeles for a deciding Game 7 in the 2012 NBA playoffs.
If the Lakers have any hope of advancing to the next round, their effort level must improve. They are still favored, but the Nuggets were the more competitive team in Game 6, and it showed on both ends of the floor from start to end. The return of Metta World Peace should provide a much-needed spark.
As for the Nuggets, they have thrived playing the underdog role. While they don't have a superstar player to lead the way, they are a scrappy team and have showing a willingness to battle on every possession. Thanks to that, momentum is definitely on their side.
Here's a look at all the key information for Game 7.
Where: Staples Center, Los Angeles, Calif.
When: Saturday, May 12 at 10:30 p.m. ET
Watch: TNT
Live Stream: NBA League Pass
Betting Line: Lakers -5.5
Key Injuries (via CBS Sports)
Nuggets: Wilson Chandler (out, hip), and Rudy Fernandez (out, back)
Lakers: No injuries to report
What They're Saying
Kobe Bryant plans on having an honest pep talk with center Andrew Bynum regarding his obvious lack of intensity, according to Adrian Wojnarowski of Yahoo! Sports:
"I'm going to tell Andrew he needs to play with a sense of urgency, a sense of desperation," Bryant told Yahoo! Sports late Thursday, later than he ever imagined he'd still be in this playoff series. "He's got to put himself at a fever pitch and elevate his game.

"I'm going to tell him the truth."
Benjamin Hochman of the Denver Post passed along some thoughts from Danilo Gallinari, who played the "nobody believes in us" card, showing how the Nuggets are using that as motivation:
"We knew we could win and make the series longer, but not a lot of people believed in our comeback to Game 7," said Gallinari, who finished with 12 points with seven assists. "(The first quarter) was so much fun, especially with this crowd. That's something we were thinking about and working on—the mental stuff, coming out aggressive like we did. We knew we had to do it, in order to win the game."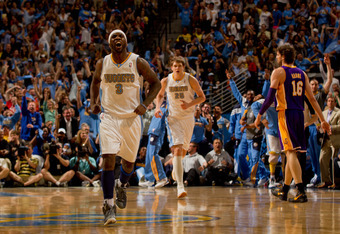 Justin Edmonds/Getty Images
Most Important Player to Watch: Ty Lawson (Nuggets)
Heading into the series, it was clear Lawson would be the toughest matchup for the Lakers. The dynamic point guard has an advantage over Ramon Sessions and he's exploited it to the tune of 18 points per game, including 32 on Thursday night.
It won't be easy, but Lakers head coach Mike Brown must find a way to slow him down in Game 7. If the Lakers allow him to take control of the game early again, Los Angeles will be fighting an uphill battle all night and it can't afford that after an extended series.
Lawson knows the Lakers will probably throw a bunch of different defenders his way, so the key for him will be staying aggressive. Without a go-to scorer, it's vital that he leads the way once again on Saturday if the Nuggets want to complete their comeback.
Key Matchup: Kenneth Faried vs. Pau Gasol
Gasol has the reputation of being a soft player, and this series hasn't done anything to change that. The more powerful Faried has pushed him around in the paint, causing Gasol to struggle. The Lakers big man is averaging just 11 points and eight rebounds through six games.
One of the major reasons most experts picked the Lakers to advance was the team's edge in the paint. Gasol and Bynum were supposed to dominate their lesser-known counterparts, but it just hasn't happened because they have been outworked.
Ultimately, look for Bryant to fire up his two post players before Game 7 to get a more complete performance out of both of them. As long as they follow his command and give the Lakers the advantage down low Mike Brown's squad should have had all series, they will survive and advance.
Prediction
Lakers 101, Nuggets 97