The Top 10 St. Louis Cardinals Moments I Saw Live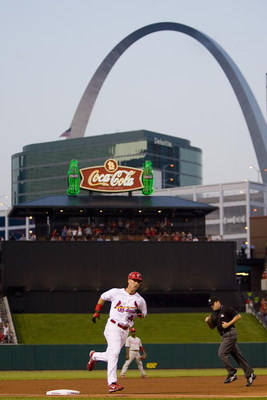 This will cheer me up as a person, because, hey I need a boost. The Rams and Blues suck, and the Cardinals have gotten worse losing all the FA and missing out on Fuentes.
This and the fact the predominantly soccer city may get a team in the MLS (although i wouldn't watch it probably, its nice to know we are good city for any sport).
Here are the moments that I watched live, either on television or at the game, but not on an instant replay. I'm am sorry, because I am a teenager so I will only have very very recent memories.
So knock out any '90s (but seriously, besides Big Mac name one great '90s memory that happened because of the actual game). By the way, Jim Edmonds' potentially game-saving catch in Game Seven of NLCS in 2004 earns honorable mention so as to not give away the list.
Enjoy Cardinals fans, and give me suggestions of your favorite memories. I'm sure I missed a lot.
No. 10: Oct. 14, 2003 NLCS Game Six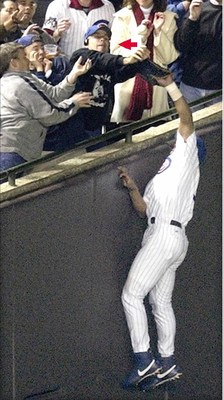 I apologize to all Cubs fans even if I don't mean it. But next best to Cards winning for me is the Cubs losing. Here the Curse of the Billy Goat is confirmed or at least recent discoveries believe the fans cause curses because of their feelings and after this non-catch and then Alex Gonzalez error, I am sure they felt they would lose.
No. 9: Sept. 3, 2006 Cardinals Versus Cubs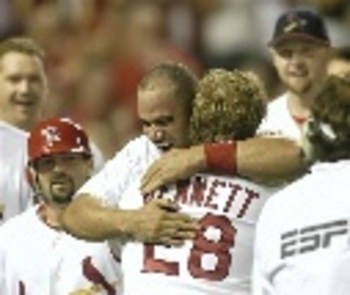 Well, this is the best for Cardinals fans. You get A) The Cards win B) The Cubs lose C) A heartbreaking loss for Cubs= momentum changing win for Cards.
Case C is made worse by the fact that it was hit by a backup catcher required for his defense who, by the way, has 22 homers in 12 seasons. That's harsh.
No. 8: Oct. 21, 2006 Game One World Series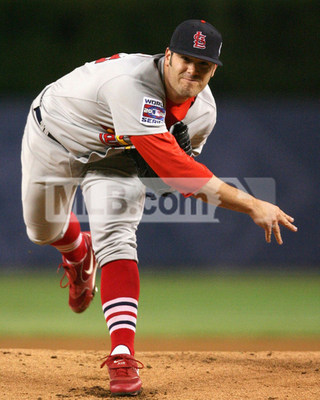 The actual No. 8 moment was the homer Albert Pujols hit, but I thought it appropriate of the Cardinals pitcher who struggles with his amount of pitches, pitching strikes, and his potential was never better No. 3 starter.
He pitched 8+ innings with two earned runs off a great Detroit offense. Anyway, Pujols' homer gave the Cardinals a comfortable three-run lead and proved Verlander was, essentially, a rookie.
No. 7: Oct. 2, 2005 Final Regular Season Game at Busch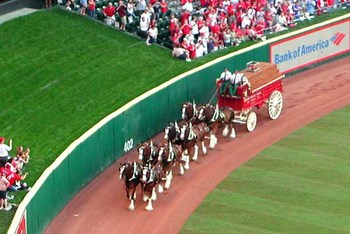 I was lucky enough to go to this game and I enjoyed the decades of Cardinals that came. I am sure the older fans enjoyed it much more. But I have the privilege of saying I went to the last regular season finale.
As a plus side, of course, we won the game.
No. 6: July 21, 2004
I have very fond memories of this game. This was the best regular-season game I ever saw and it just sticks in my mind. Albert Pujols kept the Cardinals in the game with two homers and then So Taguchi hit a game-tying homer.
Pujols finished the job with a two-run homer to take a two-run lead and eventually win the game. The Cardinals also were able to come back from a 7-1 deficit to win 11-8.
No. 5: Apr. 10, 2006 Opening Day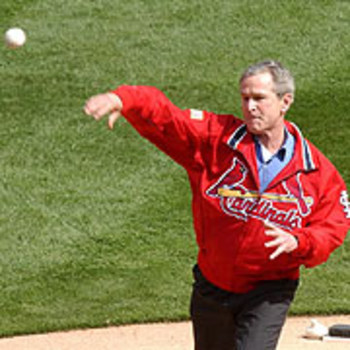 I was again fortunate to go to this game. It will be my duty to go to the last game in Busch Stadium (III). This was memorable, because George W. Bush threw out the first pitch and I'm not sure another President will throw out the first pitch at a Cardinals game.
At least, I have gone to the only one that threw first pitch. Also a plus, the Cardinals beat the Brewers, 6-4.
No. 4: Oct. 20, 2006 Game Seven NLCS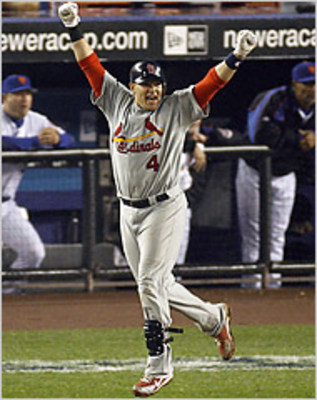 The memorable run by the Cardinals included this thrilling ninth-inning homer. This just as easily could have been Scott Rolen's homer, but Endy Chavez robbed him.
At first, I thought it was a high fly ball, but it never stopped going until it hit the ground past the wall. This made way for the great save for the young Adam Wainwright and a trip to the World Series.
No. 3: Oct. 17, 2005 Game Five NLCS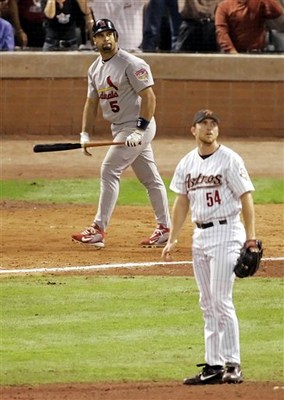 This may be placed too high, but I got a thrill in Pujols shocking the Astros and Lidge to win. Neither fully recovered as the Astros got swept (not because of Pujols, but...) and Lidge took three years to recover, although he is fine now.
I stayed and watched and I hoped after the single by Eckstein, walk by Edmonds, and then a crushed ball by Pujols.
No. 2: Oct. 20, 2004 Game Six NLCS
I was also at this game. I stayed until the end and once Edmonds hit it, you knew it was gone. It was the series changer, because if the Cardinals lost, they went home, but a regular win still gave the Astros the momentum.
The homer forced a Game Seven. When he hit the homer, though, it was as though we won the World Series.
No. 1: Oct. 27, 2006 Game FIve World Series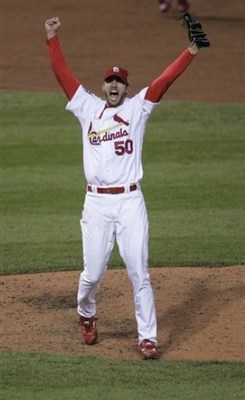 The Cardinals clinch the World Series and it's hard to imagine a better win in my lifetime. I was at a Halloween party and didn't see most of the game, but I did see the ninth inning.
Everybody was quiet and the DJ turned off the music as we watched the intense ninth inning. With each batter it got more and more nervous. I can't imagine what the players felt, because I had butterflies.
When he struck him out though, we all jumped up for about 10 minutes. It was a great moment.
Keep Reading

St Louis Cardinals: Like this team?