Chicago Bulls: Why the Bulls Must Amnesty Carlos Boozer
May 11, 2012

Carlos Boozer plays more like a loser than a star, so the Chicago Bulls need to use the amnesty clause on their grossly overpaid power forward if they want any chance to win the NBA Finals.
The Bulls lack a true scorer outside of Derrick Rose, and Boozer is clearly not the answer after an underwhelming two years.
Boozer, who still has $47.1 million and three years left on his contract, laid another putrid egg in Thursday's 79-78 loss to the Philadelphia 76ers. This one stuck from a 1-of-11 shooting night for three points, chasing his Bulls out of the playoffs for a second straight year. 
Three darn points!?
In an elimination game!!??
Not playing in the fourth quarter at all!!!???
And to think this year Boozer ($13.5 million) is getting paid more than skilled big men Blake Griffin ($5.7 million), Greg Monroe ($3 million) and Kevin Love ($4.6 million) combined?
There is something really wrong with that.
Granted, Boozer did snag 13 rebounds against the 76ers in Game 6, but what did the Bulls initially bring the former Utah Jazz All-Star in for in 2010? That's right, to be the second scoring option in the Bulls' attack.
Boozer was envisioned to drop 20 points and 10 rebounds per game, yet all the Bulls got is 15 points and eight rebounds this year in the regular season.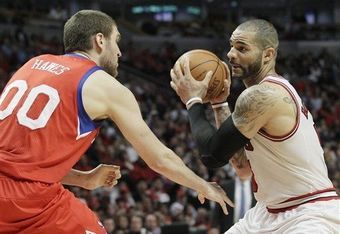 Boozer stunk during last year's NBA playoffs (12.6 points, 43.3 percent shooting) and was even worse this year.
The 31-year-old Boozer did average 14.4 points a game, but that won't cut it, as the NBA's reigning MVP Derrick Rose and All-Star caliber center Joakim Noah are out with injuries.
The 6'9", 245-pound Boozer had three games scoring under 10 points (a combined 21 points in Games 1, 2 and 6) while playing poor defense on the 76ers' Spencer Hawes in Game 3 and 4.
Hawes looked like a great player as he slashed through the baseline for easy dunks while Boozer was late on defensive rotations and failing to step up on his man. Hawes registered 45 points in those pivotal contests.
Boozer's stats on his "better" games against the 76ers are skewed. While Boozer did have a double-double in Game 3 (18 points, 10 rebounds), he managed eight points in the last three quarters while committing five turnovers.
Boozer also didn't prevent the Bulls' fourth-quarter collapse as they couldn't hit a shot for five minutes, eventually peeing away a 14-point lead.
Game 4 wasn't much better as Boozer did score 23 points, though on 24 shots. Boozer also let the Bulls down as Hawes and Elton Brand both blocked him on a dunk attempt late in the game.
While some would say Boozer was fouled on that play, the refs might not have blown the whistle because they know Boozer doesn't dunk.
With that said, Boozer needs to pack his suitcases and get his butt out of Chicago.
The Bulls need to use the amnesty clause on Boozer so they could bring in better talent to complement Rose's offensive game. A muscular jump shooter who is a soft post player isn't the best way to do that.
Freeing up Boozer's money could mean signing an offensive shooting guard (O.J. Mayo, Eric Gordon) and replacing Boozer with a more aggressive power forward (Kris Humphries, J.J. Hickson).
Besides, Taj Gibson plays great with Noah in the frontcourt and proved himself as an extremely valuable asset these playoffs (9.5 points, 6.5 rebounds, 1.7 blocks in 23 minutes).
Using the amnesty clause on Boozer is probably not John Paxson and Gar Forman's first choice, but it needs to be done if Chicago is going to improve. 
Paxson and Forman know what they are getting in Boozer, and it isn't much.
Bob Bajek is an NBA/Chicago Bulls featured columnist. He is also a freelance reporter and can be followed on Patch.com and Twitter.