The 20 Best Fighters Never to Win a Title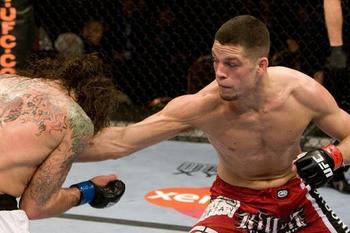 MMA Bay (UK)
When I think about great non-MMA athletes who never won a title, I feel a little twinge.
I don't have to break out the Kleenex or anything, but when I think about guys like Charles Barkley, John Stockton and poster boy Dan Marino, I do get a little sad. Maybe a six out of 10 on the Sports Sad Scale.
But with MMA, I don't even get sports sad. There are no bad teammates, bad coaches or sustained bad luck. There aren't really any dynasties; even the greatest of the great can go down on any given fight night.
By the same token, an elite is never far away from their big chance. Any fighter can string a few wins together and get the strap. Or they can't. The proverbial anything can always happen, but with MMA, more than with any other sport, anythings even out. It's either meant to be, or it isn't.
Here are the 20 best fighters in history who have never put that 15 pounds of gold around their waists. Tournament titles count. Titles from minor promotions don't.
20. Hidehiko Yoshida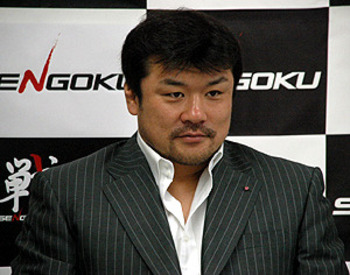 Grappler Info
He's only eligible if you don't count that gold medal at the 1992 Olympics. But that wasn't MMA, so yeah, here he is.
His final record of 9-8-1 isn't excessively impressive in an absolute value context. But then you remember he's beaten Don Frye, Mark Hunt and Tank Abbott, among others.
19. Thiago Alves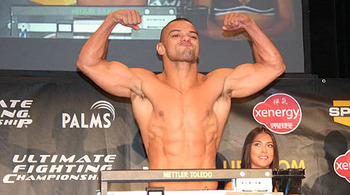 Ken Pishna/MMA Weekly
The fearsome Muay Thai striker is 19-9, but he's been up and down throughout his career—literally. You know, with the weight-cutting issues and all? Up? Then down? Ah, a-ha, yes. Very, very funny.
18. Jim Miller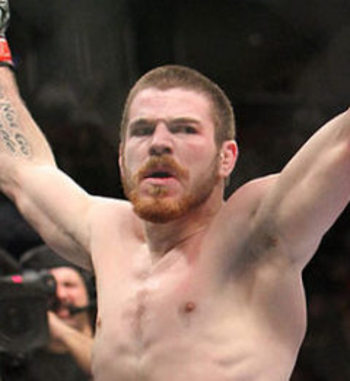 AMA Fight Club
You didn't think it was all going to be just a bunch of old Japanese guys, did you?
I know Miller comes up short against the elites. But you know what? I still believe in Jim Miller. He may never own a belt, but he's a damn good fighter, and that's that.
17. Chris Lytle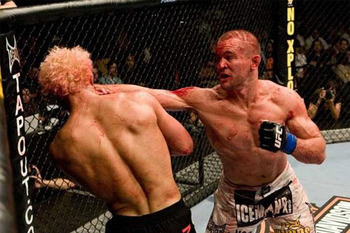 MMA Mania
"The Bonus Hunter" will always stick in my mind as the consummate MMA journeyman. And in his case, I definitely mean that as a compliment.
16. Martin Kampmann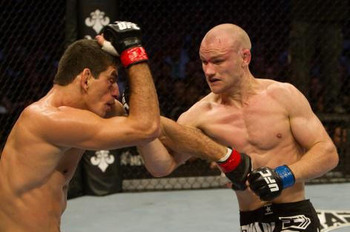 Knuckle Pit
A lot of people sleep on Kampmann. I have no idea why. But if you compare his bona fides with those of, say, Josh Koscheck, who keeps his name in the news cycle with his personality as much as his fighting exploits, you'll see the Dane stacks up more than favorably.
And I cannot wait to watch him fight Jake Ellenberger on June 1.
15. Renan Barao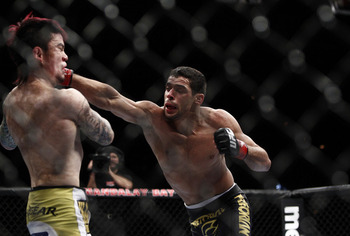 MMA Fighting
Might as well include him on this list while I still can. Because, you know, he's going to win the UFC bantamweight title as soon as he gets a chance to do it. You know it, and I know it.
14. Joseph Benavidez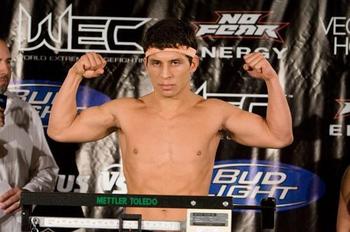 MMALinker
Now that the UFC allows guys to fight at 125 pounds, you can take what I said about Barao in the previous slide and replace "bantamweight" with "flyweight." If you take Dominick Cruz out of the equation, Benavidez has a spotless MMA record.
13. Josh Koscheck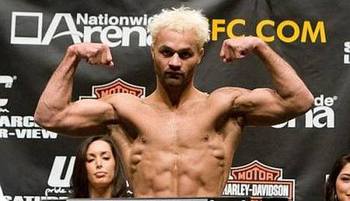 Cage Today
His resume is, in my opinion, a little overblown at times. But from 2005 to 2010, he won 13 of 17 in the UFC to earn the belt shot against St-Pierre. That is not nothing.
At this stage of his career, going on 35 years old and fresh off a loss to Johny Hendricks, his days as a contender may be done.
12. Diego Sanchez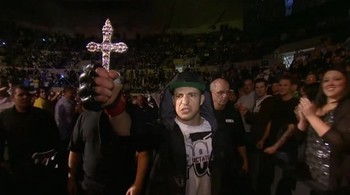 MMA Convert
If he could get to the title on fan goodwill alone, then so-crazy-it's-lovable and so-lovable-it's-crazy Sanchez would be ensconced in gold by now. But he just can't get over the hump, no matter how many spittle-flecked affirmations he hurls in its direction.
Sitting at 23-5 and 30 years old, he's got plenty of fight left in him. But time only goes one way, and Sanchez hasn't fought for a title—or come close to doing so, for that matter—in well over two years.
11. Nate Diaz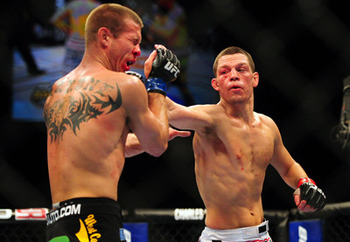 Mark J. Rebilas/US Presswire
The young Diaz's dabble at welterweight was the worst professional experiment since Garth Brooks grew a soul patch.
OK, it wasn't that bad. Nothing could be that bad. Gah. Good God. I was talking about something else, though. Right, so since returning to his wheelhouse after a lackluster 2-2 turn at 170, Nate Diaz has beaten Takanori Gomi, Donald Cerrone and Jim Miller in succession. That, ladies and gentlemen, is what being on a roll looks like.
Now with a title shot in his back pocket, Diaz is the most upward-trending fighter on this list.
10. Sergei Kharitonov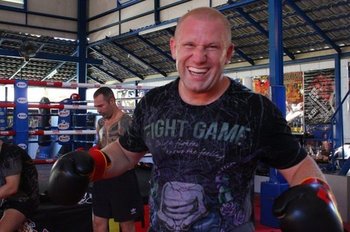 Tapology
The grizzled Russian heavyweight has waged tremendous battles over the years with Alistair Overeem, Semmy Schilt, Pedro Rizzo and Fabricio Werdum (he's beaten all four, by the way).
He's 18-5 overall but still only 31. Here's hoping he can come to an agreement with the UFC. He'd be a factor there right off the bat, especially if he can acquire any semblance of a ground game.
9. Pedro Rizzo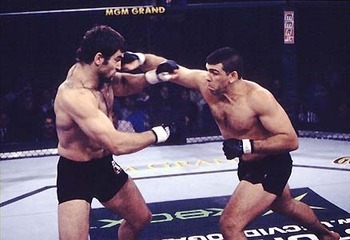 Susumu
It's crazy who this guy has beaten in his career, which began before the millennium odometer clicked over. Mark Coleman in his prime. Andrei Arlovski in his prime. Josh Barnett. Dan Severn.
Dangerous in any phase when most fighters were still one-trick ponies, Rizzo is, if not an all-time great, certainly an all-time very good. And it's hard to believe he didn't at least notch a tourney title somewhere along the way.
8. Gray Maynard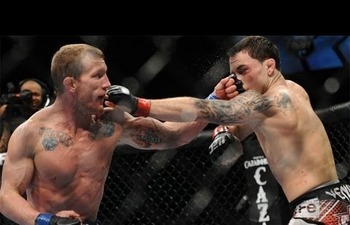 MMA Weekly
Is it just me, or does it feel like Gray Maynard and Frankie Edgar fought like nine times? Not that I'm complaining...it was, for my nickel, one of the best series in MMA history. But they only fought three times, and the loss to Edgar is still the only one of Maynard's career.
The third-best lightweight never to own the strap finally returns to action this June after more than eight months on the shelf.
7. Yves Edwards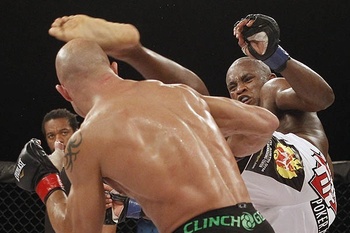 Sherdog
Now for the second-best lightweight never to own the strap.
The great thug-jitsu master has more than 40 victories and is still plugging away in the UFC. He's always been a crowd-pleasing fighter, not to mention a rather extremely effective one. It just sucks for him (and boy, does he know it) that his halcyon days coincided with the segment of the MMA timeline that preceded a lightweight division as we know it today.
But it's nothing to sneeze at that he's still known as "the uncrowned lightweight champion." Yves Edwards has a lot to be proud of.
6. Ricardo Arona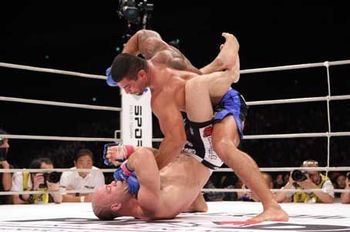 UR Dirt
Yes, Arona won a tournament, the RINGS middleweight bracket back in 2001. But I'm going to bury my own ground rule somewhat for this one.
If you look at the Arona's hit list from Pride—Wanderlei Silva, Kazushi Sakuraba, Dan Henderson, Guy Mezger, Alistair Overeem and others—it almost defies logic that he didn't come away with some hardware from Japan's premier promotion.
5. Jon Fitch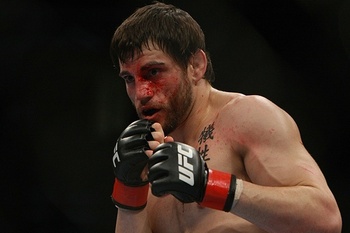 MMA Convert
Say what you want about him, but I'm a Jon Fitch fan. Some people crush faces or legs; Jon Fitch crushes souls. Like a road grader crushes opossums. Slowly...thoroughly.
I understand why no one wants to fight him or watch him. But if he can get back on track against Aaron Simpson, soon enough he'll have the brass squirming again. Like an opossum under a road grader.
4. Kenny Florian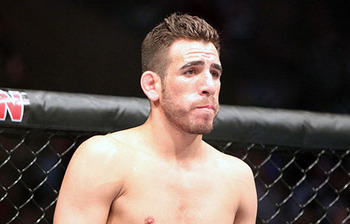 Heavy.com
And now for the first best lightweight never to own the strap.
After losing in three title fights, once in the final of The Ultimate Fighter season 1 and once in a title eliminator with Maynard, Florian is MMA's Marino. And like the Hall of Fame quarterback, that title is a backhanded nod to his consistent greatness under default circumstances.
He's 14-1 if you throw out those fights. It's a little like saying Kobe Bryant would just be another really good player if he didn't have those five rings. But still.
3. Chael Sonnen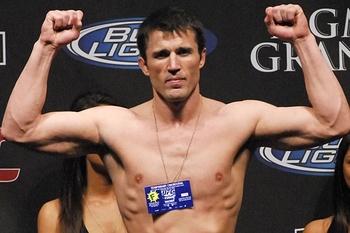 MMA Mania
In a bizarre fight back in 2008, Sonnen defeated WEC middleweight champ Paulo Filho. (Though it's probably more accurate to say Sonnen stood by while Filho beat himself.) Too bad Filho missed weight, making it a non-title affair.
And you know what happened in Sonnen-Silva I.
Not only is Uncle Chael one of the best never to wear a belt, he's probably the one who's come the closest.
2. Antonio Rogerio Nogueira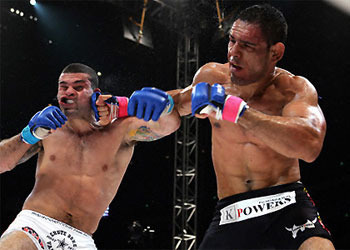 Susumu
After 11 years, 20 wins and a ton of success all over the world, Lil Nog has never even come close to winning a title. He's never even fought for one. He's never even fought in a tournament semifinal.
How did this happen? I don't know. I mean, he's not a world-beater maybe, but he's pretty doggone good.
Maybe if the UFC reschedules that match with Alexander Gustafsson, and he found a way to win, he could finally find himself fighting for the belt. The bad news is he'd be fighting Jon Jones. But hey, let's get him there first.
1. Rickson Gracie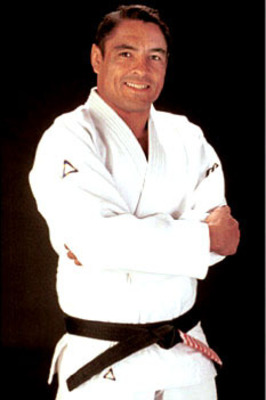 NJ Gracie Jiu-Jitsu
One of the greatest, if not the greatest, jiu-jitsu players in the history of jiu-jitsu play, Gracie was 38 when he fought in Pride 1.
So he sort of missed the wave, if you will, but it didn't stop him from compiling an 11-0 professional record and a reputation as one of the best ever.
Keep Reading