4 Scheme Adjustments the Denver Broncos Should Consider in 2012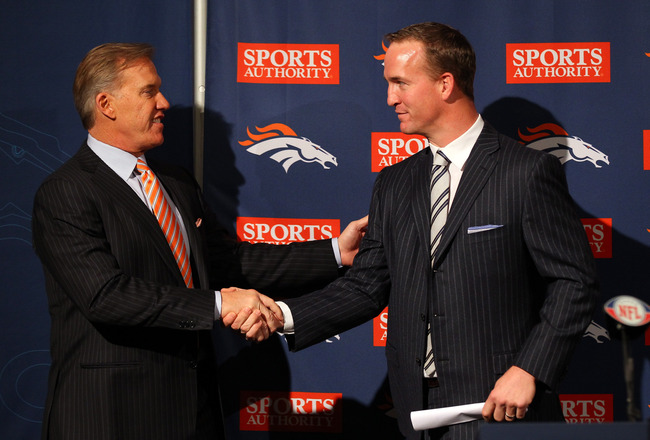 Justin Edmonds/Getty Images
Entering the 2012 NFL season, the Broncos have taken on an entirely new identity.
In the process of signing Peyton Manning to become their new franchise quarterback, they jettisoned Tim Tebow to the Jets and signed free agents such as Tracy Porter, Joel Dreessen and Jacob Tamme to fill key starting roles, while also releasing or seeing former starters such as Andre Goodman or Brodrick Bunkley depart.
With Tebow no longer the face of the offense, and Manning now the man in charge, there is no doubt the Broncos will see a huge shift in offensive philosophy in 2012 compared to how they played in 2011.
Denver relied heavily on the running game in 2011, in part because of Tebow's ability to run the football, but also because of his inability to consistently throw it. The Broncos ranked first in rushing attempts and rushing yards. When it came to the passing game, the Broncos ranked 31st in passing yards and dead last in passing attempts.
On defense, the Broncos could see a shift in defensive philosophy with former defensive coordinator Dennis Allen leaving Denver for Oakland, and former Jacksonville head coach Jack Del Rio now taking over the defensive play-calling.
Currently, Denver's longest-tenured player, D.J. Williams, will be suspended for the first six games of the 2012 season. This could also impact Denver's defensive schemes next year.
There is no doubt that 2012 will look much different for the Denver Broncos, not only jersey-wise, but also scheme-wise.
Here are four scheme adjustments the Denver Broncos should consider in 2012.
The Broncos Need to Become a More Pass-Oriented Team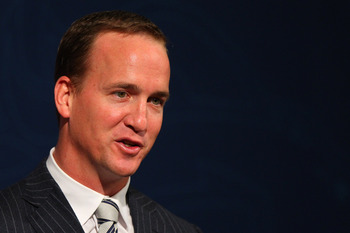 Doug Pensinger/Getty Images
This is the most obvious scheme adjustment the Broncos need to make. It is not a suggestion, it is a necessity.
Tim Tebow was the franchise's starting quarterback in 2011, while Peyton Manning will be the starting quarterback in 2012.
Tebow is possibly the best running quarterback in the league, having ranked fourth in rushing yards per attempt at 5.3. He was also statistically the least accurate quarterback in the league, completing just 46.5 percent of his passes.
Peyton Manning is a four-time NFL MVP. He is perhaps the greatest passer in NFL history. Having said that, Manning couldn't run if his life depended on it.
Something's gotta give.
The Broncos were one of the most run-oriented teams in NFL history in 2011, and with a change in quarterbacks who have completely different playing styles, Denver needs to shift its offensive playbook to one that is pass-oriented.
Willis McGahee will be 31 years old in October, and who knows how much more production he has in him. It wouldn't shock anybody to see McGahee's numbers dip in 2012.
The Broncos have one of the top quarterbacks in NFL history, and they won't refrain from showing him off to the rest of the league.
The Broncos Need to Utilize Their Tight Ends More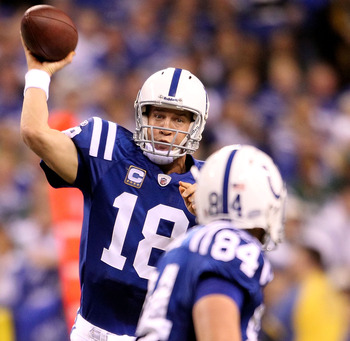 Andy Lyons/Getty Images
In Indianapolis, Peyton Manning utilized his tight ends as much as any quarterback in the NFL.
Tight ends such as Ken Dilger, Marcus Pollard, Dallas Clark and current Bronco Jacob Tamme had career seasons under Manning. In the cases of Dilger and Clark, both went to the Pro Bowl due to Manning's passing prowess.
In Denver last season with Tebow as quarterback and Denver's top tight ends being Dante Rosario and Daniel Fells, Denver's tight ends combined for just 30 receptions for 402 yards and three touchdowns.
For comparison's sake, the last time Manning played, which was in 2010, Dallas Clark had 37 receptions for 347 yards and three touchdowns in just six games played. Jacob Tamme, who was primarily used as blocking tight end during his career prior to Clark's injury in 2010, started eight games that year and had 67 receptions for 631 yards and four touchdowns.
Manning likes to utilize every weapon at his disposal, and the tight ends are a huge part of his offense.
With the Broncos bringing in Dreessen and former Manning teammate Tamme, Denver fans should get used to a new-found emphasis on a passing attack largely focused upon the tight ends.
Scaling Back the Pass Rush to Be Better at Defending the Run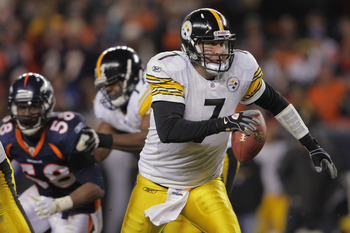 Doug Pensinger/Getty Images
In 2011, the Broncos made huge strides on defense in comparison to their league-low rankings across the board in 2010.
Although they ranked 24th in points given up and 20th in yards, they did rank 13th in rushing yards per attempt and 10th in sacks.
A large reason for Denver's resurgent season was due to the defense. In five of Denver's eight wins, the defense held the opposing team to 15 points or less.
However, with 2012 on the horizon, Denver lost top defensive tackle Brodrick Bunkley through free agency. In the process, it also lost D.J. Williams to six games due to a league suspension.
The run defense was great in the first place, and with two top defenders gone, the Broncos will have to find new ways to defend.
One of those ways is scaling back the pass rush.
With the Broncos adding Tracy Porter to start across from Champ Bailey, while also bringing in Drayton Florence, according to Jay Glazer on Twitter, they can trust their defensive backfield a little bit more.
Having said that, although the pass rush was such a huge part of the defense's success in 2011, it wouldn't hurt for the Broncos to blitz slightly less now that they have less personnel to rely upon up front.
If the Broncos get too blitz-happy, they could be burned through the running game.
We all know how that worked out in 2010.
Utilization of the Screen in the Passing Game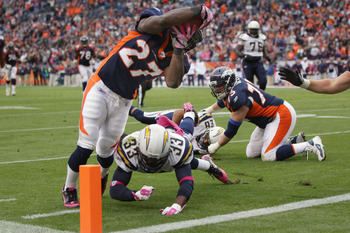 Doug Pensinger/Getty Images
Another excellent part of Manning's game was his ability to make the screen a successful staple of the Colts' offense for so many years.
After Edgerrin James left, the Colts were very inconsistent running the football. In the years from 2006 to 2010, the Colts ranked 18th, 18th, 31st, 32nd and 29th in rushing yards.
The Colts frequently used the screen play to mask their weak running game.
In Denver, Willis McGahee isn't a guy who is exactly great at catching the football. However, Denver does have Knowshon Moreno and Lance Ball, two guys who are well-known for their abilities to catch the football out of the backfield.
No one knows the true health of Manning's neck, and perhaps no one will know until he finally steps foot on the football field in a real game again.
Having said that, in order to give Manning some easy yards to work with, while also lessening the number of hits that he takes, featuring the screen play wouldn't be a bad idea.
The running game likely won't be as successful as it was in 2011. If that is the case, the Broncos will need all of the help that they can get in gaining easy yardage while still featuring the running backs as part of the passing game.
Keep Reading

Denver Broncos: Like this team?