WWE: Mason Ryan and 10 Candidates for Abraham Washington's All World Stable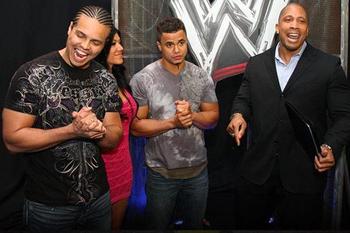 All World (Courtesy of WWE.com)
Since making his return to television a number of weeks ago, Abraham Washington has made quite the impact in searching for the perfect Superstar to represent him. Washington was known for being a very successful manager down in FCW, so any Superstar scouted by the former ECW star should not take the opportunity lightly.
Most recently, Washington has taken an extra interest in the team of Primo and Epico, despite having lost their WWE Tag Team Championships last week on Raw. With Rosa added to the mix, the trio hopes for bigger and better success now that they've aligned with a mastermind such as Washington.
As seen this past Monday night, this new stable consisting of four tremendous talents will now be known as "All World."
Given its unique name, how many other floundering wrestlers will be recruited by Washington in weeks to come?
Mason Ryan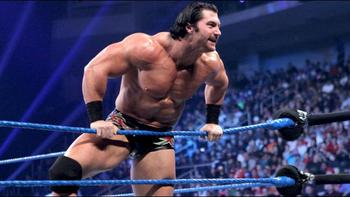 Mason Ryan
On last Monday's edition of Raw, Mason Ryan was seen backstage with the likes of Abraham Washington and the former WWE Tag Team Champions while watching Dolph Ziggler's match with Kofi Kingston on the monitor.
Now, it was reported that Ryan was accompanying Ziggler during his matches last weekend at live events, so he could have easily been scouting the bleached blonde show-off instead.
However, Ryan could also be looking to secure himself a place in the All World stable to help get his catastrophic career back on track.
As acknowledged by the commentators during his appearance, the Welsh Superstar hasn't been seen on WWE programming in quite some time, mostly due to his lack of improvement since returning last fall.
Having a bigger body build, Mason Ryan could make for the perfect enforcer for All World while also benefiting himself by getting back on television.
Ezekiel Jackson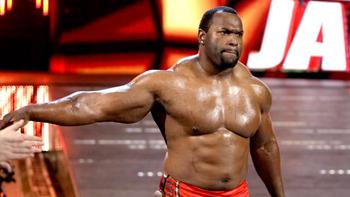 Ezekiel Jackson
Much similar to Mason Ryan, Ezekiel Jackson is yet another example of a massive Superstar who was pushed too quickly only to be relegated to WWE Superstars on a weekly basis.
Even there, Jackson has yet to pick up a televised victory since the start of 2012.
A year ago, Jackson distanced himself from the controlling Corre stable to enter singles competition. In June, he was able to win the Intercontinental Championship from Wade Barrett and held it for two months before dropping it to Cody Rhodes last summer.
Since then, Jackson has been defeated by every Superstar imaginable and has showed no signs of bouncing back anytime soon. However, the final ECW Champion posted a video only a few days ago stating that he is determined on turning his career around in hopes of once again capturing gold.
It's safe to say that Ezekiel Jackson flourished as a monster heel in early 2011, so reverting back to that persona due to being enraged over his recent losses could land the Guyanese Goliath a spot in All World.
Jinder Mahal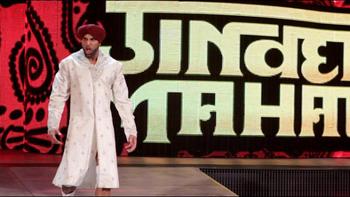 Jinder Mahal
From the moment I witnessed Jinder Mahal's WWE televised debut on SmackDown a year ago, I immediately thought of him as the second coming as Muhammad Hassan.
By that I mean I imagined he would be the next breakout star of the WWE, but sadly, no such thing ever came to fruition.
Although he was able to recruit Great Khali using manipulative antics, the Punjabi Playboy soon turned on Mahal after realizing it wasn't worth the abuse anymore.
Since then, Mahal has found himself placed in random feuds and matches on SmackDown and Superstars alike, but his win-loss column is so inconsistent that it prevents him from receiving the rightful push he deserves.
Based on the crowd's reaction when he makes his entrance, Mahal desperately needs someone by his side to ensure he gets a response. If Mahal were to join the All World stable, he could bring his sound wrestling skills to the group while also benefiting from the exposure he'd garner with Abraham Washington and company.
Yoshi Tatsu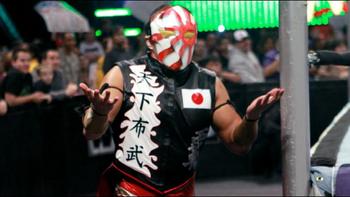 Yoshi Tatsu
If I were to show you Yoshi Tatsu's WWE debut match from three years ago and a match of his from a recent edition of WWE NXT, I can honestly say that you probably wouldn't be able to tell the difference between the two time periods.
While Tatsu may be an entertaining talent, he's in desperate need of a change in order to feel as fresh as he once did when he first arrived on the scene back in 2009.
Last summer, Tatsu was involved in his first major feud in WWE when he rivaled against Tyson Kidd on WWE NXT that saw the two compete in a series of awesome matchups. Once Kidd injured Tatsu following one of their bouts, I was hoping for the Cardiac Kid to return refreshed and rejuvenated as a character.
Upon his comeback to Tuesday nights, the only real change he underwent was the new red streak in his hair to match his occasional face paint. Besides that, Tatsu has grown extremely stale in my eyes due to his lack of development in recent years.
While I'm not saying that a heel turn from Tatsu is necessary, having him join Abraham Washington in All World could help him further develop his mic skills, which is the key attribute that is holding the Japanese star back.
Hunico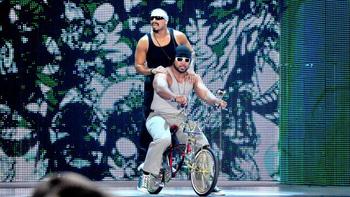 Hunico and Camacho
Since being forced to remove his replica Sin Cara mask last October, Hunico has shown true potential in many of the matches he's competed in on SmackDown and WWE Superstars. Usually, the ending result is Hunico's hand being raised but not without some additional help from the lingering Camacho at ringside.
While his gimmick may just scream stereotypical, the heat he garners every time he badgers the WWE Universe on the mic during his entrance along with the awe-inspiring in-ring skills he possesses have proven he's capable of a significant push.
Pairing them with Abraham Washington in All World could very well get them one step closer to the WWE Tag Team Championships they've been eying as of late.
Justin Gabriel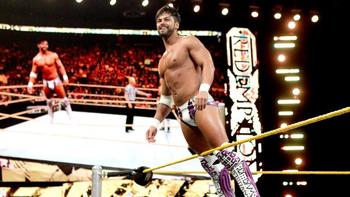 Justin Gabriel
Although he's currently sidelined with an elbow injury, there's no denying that Justin Gabriel is one of the most entertaining acts in WWE today. Whether he's competing on SmackDown, Superstars or NXT, Gabriel has proven time and time again that he's capable of providing a fast-paced match every time he steps in the squared circle.
Since splitting from the Corre last summer to pursue a singles career, he's been met with little success despite being mildly liked by the audience. Of course, one major reason behind this is his lack of mic skills, but that can easily be fixed with the perfect mouthpiece.
This vacant spot could be filled by Abraham Washington, who could speak for Gabriel while the Capetown Werewolf executes his beauty inside in the ring. If done correctly, Gabriel could take his rightful place in the Intercontinental Championship picture in no time.
Tyson Kidd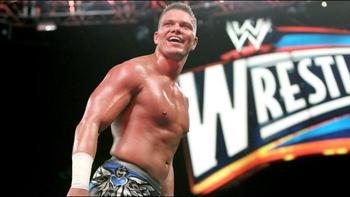 Tyson Kidd
Next on the list is Justin Gabriel's WrestleMania tag team partner, Tyson Kidd. Much like Gabriel, Kidd is an amazing technical talent who is quite enjoyable to watch given his high-flying maneuvers during matches, but his lack of mic skills is what's truly holding him back from achieving more.
However, he's vastly improved over on NXT in recent months and has excelled as a character since turning back baby face. He's been able to score numerous victories on WWE's Internet programming, but the day has yet to come where we see him score a victory on SmackDown.
Last summer, Kidd went through a variety of managers in hopes of one of them helping him reach the pinnacle of success, but none of his associates stuck around long enough to benefit him at all.
Now that he's grabbed the attention of the WWE Universe, could Abraham Washington be the one to finally bring the Canadian Superstar to the level that he deserves to be at?
Antonio Cesaro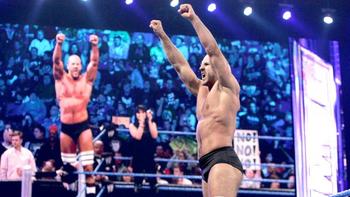 Antonio Cesaro
Three weeks ago on SmackDown, Antonio Cesaro made his WWE debut in a backstage segment with Teddy Long while being accompanied by Aksana. The following weeks, Cesaro had an impressive first showing against Tyson Kidd that saw the former Ring of Honor competitor emerge victorious.
Given the fact he's been in WWE for only a few weeks, it's hard to depict how strong his mic skills are. His excellent in-ring skills speak for themselves, and he could bring something amazing to the All World stable if he were to be recruited.
Drew McIntyre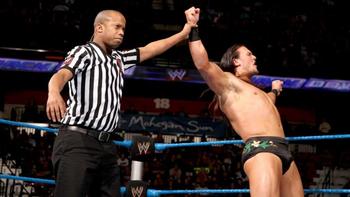 Drew McIntyre
When Drew McIntyre made his WWE debut three years ago, he claimed to be a future World Heavyweight Champion as well as the next face of the company.
These days, McIntyre is lucky if he can scratch a mark in the win column after failed success over the course of the last year.
Whether he's competing on Raw, SmackDown or even Superstars, the Scottish Superstar can't seem to catch a break. Sure, he's scored a few victories over the likes of Ezekiel Jackson recently, but those wins are deemed irrelevant every time he appears on the main shows.
There's no questioning that McIntyre has untapped potential, but he too is in desperate need of a change of pace in order to succeed in WWE. A manager who has charisma on the mic, such as Abraham Washington, can certainly aid him in his quest to become the best the company has to offer.
Christian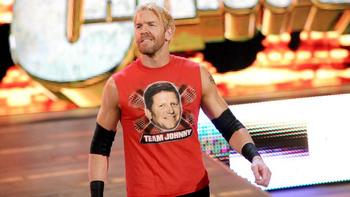 Christian
Of all the aforementioned foreigners, Christian may be the only one that wrestling fans wouldn't be surprised to see him still employed. Being a two-time World Heavyweight Champion, Christian can certainly bring the star power to Abraham Washington's All World stable and make it a force to be reckoned with.
This wouldn't be the first time Captain Charisma led a stable, as he's had experience in both WWE and TNA when it comes to his captivating Christian Coalition. His leadership skills have lead him to success on more than one occasion, and doing so with a group of underrated performers could help give it prestige.
With Christian injured at the moment, having him return as the shocking mastermind behind the sadistic stable could certainly turn some heads and garner attention.
Since World Heavyweight Champion Sheamus was the last man to battle Christian before sustaining the injury, targeting the Celtic Warrior with his elite group of world-class athletes would make perfect sense.
Could Christian prove to be the key component to All World, or will one of the other listed outsiders also benefit nicely from the managerial services of Abraham Washington?
Drop a comment below with your thoughts on who should next be recruited by Washington for this growing stable in upcoming weeks. As always, your criticism and overall feedback of my latest piece is greatly appreciated.
GSM out.
Visit my website at Next Era Wrestling, as well as my WrestleRant and Spoilers podcasts for more of my thoughts and writings, along with WWE/TNA news, rumors, reviews and more.
Listen to Internet radio with Spoilerspodcast on Blog Talk Radio
Keep Reading