Cricket Player Goes Mike Tyson on Opponent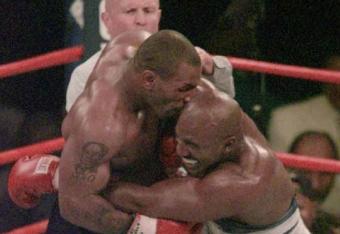 Photo Credit: EBaumsWorld

Here is one from the land of the bizarre and insane.
No, I am not talking about India, though the country is featured in this story. I'm not even talking about the sport of cricket, which is as foreign to me as durian fruit, and reasons why Wilmer Valderrama is dating Minka Kelly.
I am, of course, talking about biting another man's ear off, and the kind of person it takes to perform such an action.
The Times of India reports in the latest nibble to be getting recognized clear across the world.
Jaisankar, who works for a private company in Ambattur, and the auto driver, Ravi, picked up a quarrel with each other. The two men were pacified by their teammates. After the match, the duo started where they left off. Angered by something that Jaisankar said, Ravi bit off a piece of his right earlobe and spat it out.
Sounds familiar.
Let's see if we can recreate the footage somehow. I know, it might be difficult considering we have no idea what the men look like, or the manner and scope of the fight.
However, we do have some precedent to the latest scuffle.
I would really like to know what got into Ravi that made him think the only way to settle the argument was to launch into an impromptu snack.
The report issues that Jaisankar was treated and stitched up at a local hospital. As for Ravi, he was arrested and remanded to judicial custody.
If things work out the way they did for the last athlete to bite an ear, he should be well on his way to making hilarious comedies and making millions worldwide.
I now have a new respect for cricket and the men who play it.
Follow me on Twitter because it's safer there.
This article is
What is the duplicate article?
Why is this article offensive?
Where is this article plagiarized from?
Why is this article poorly edited?