Pacquiao vs. Bradley: Reasons Why You Can't Miss Action-Packed Fight
May 10, 2012

Stephen Dunn/Getty Images
It will be hard to follow Mayweather-Cotto, but Manny Pacquiao and Timothy Bradley are going to put on a show of epic proportions on June 9. 
Bradley is a young (28, but less tread on his tires), undefeated hot-head looking to take down arguably the best pound-for-pound boxer in the world. 
On the other side of the ring, Pac-Man could very well be on the brink of retirement and will be looking to give his adoring fans a show to remember him by. If not, then Bradley's aggressive style will force Pacquiao's (very quick) hand. 
No matter how we get there, this fight is going to be a barn-burner. Let's take a deeper look at that and other reasons why you must find a way to see this battle. 
Action-Packed Battle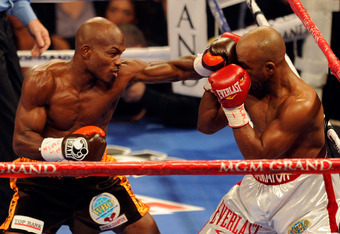 Ethan Miller/Getty Images
I touched on this already, but you can expect a lot of punches to be thrown—and landed—in this one. It's going to make Mayweather-Cotto look extremely tame by comparison.
And if you don't believe me, take Freddie Roach's word for it (via bettor.com):
He'll force Manny to knock him out. I guarantee it will be an all-action fight. He fights just like Hatton with a stronger chin. Not much power. Not much footwork. He's not shifty. One thing—he's never been beaten. He's a tough guy. He'll come forward. There's no quit in him. He doesn't cut easy. It's his opponents who get cut, because he likes to charge in with his head.
Man, if I didn't know any better, I would say Pacquiao is fighting a bull.
If Pacquiao is going to avoid Bradley's relentless style, he's going to have counter and come right back at him. If you're betting on the amount of rounds, I suggest taking the under. 
Pacquiao's Last Fight?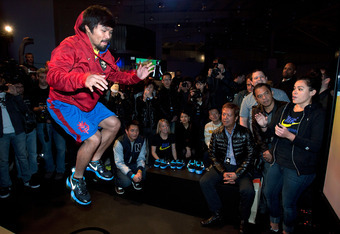 Mike Lawrie/Getty Images
Pac-Man is becoming far more interested in other aspects of life, especially politics, and it is clear that boxing isn't the only thing he is involved in. If he beats Bradley, don't be surprised when Pac-Man calls it quits.
He simply has nothing else to prove in the sport. 
If nothing else, you don't want to miss this fight because there's the potential that it's Pacquiao's last. And when you have one of the greatest boxers ever fighting during your generation, it's probably a good idea to catch his last fight.
At the very least, you'll catch history. 
Bradley's Rise to the Top
If Timothy Bradley, who currently sits at 28-0, can win this fight, he'll finally garner the respect he deserves. Desert Storm has knocked off guys like Lamont Peterson and Joel Casamayor, but he still isn't seen as elite.
If he beats Manny Pacquiao, he'll be elite. 
Seeing a passing of the torch, if you will, is always exciting and especially humbling to watch. The chance to see Bradley take the WBO Welterweight title from Pac-Man is reason enough to pay $60 for PPV.
Er, maybe not. But it's reason enough to split it with friends.