Euro 2012 Ireland: Five Players to Watch
May 10, 2012

Mike Hewitt/Getty Images
Robbie Keane, Shay Given, Richard Dunne, John O'Shea—they will be the conventional names offered up by the Republic of Ireland's group opponents ahead of Euro 2012.
Yet there is quite a bit more to the current Ireland squad than these veterans, and while the defensive trio will arguably have a big part to play for Giovanni Trapattoni's team in the coming weeks, there is much evidence to suggest that Keane is some way past his best at the international level.
Robbie's appetite for representing his country has never been stronger, but having lost a yard of pace or two, the former Spurs striker is something of a luxury in the Irish forward line.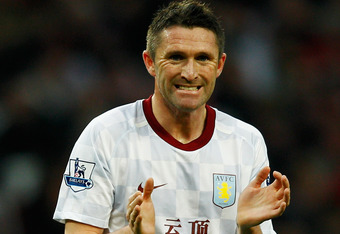 Paul Gilham/Getty Images
There is a school of thought which says the Dubliner should have, some time ago, been billeted in the Irish midfield to fill the creativity void which clearly exists there. And there is also the prevailing opinion that the Los Angeles striker shows best when running at defences from midfield, as he so often did in support of Dimitar Berbatov.
Keane's name will be top billing from Split to Siena to Seville in the lead up to the June tournament, yet Trapattoni, ironically one whose stoic defensive reputation precedes him, appears to have a few aces up his sleeve outside of the most recognized names in his squad.
Whether by design or not, the Italian has assembled quite a decent group of attackers who have caused all manner of problems for Premier League defences this season. Indeed, the suggestions in some quarters, that this particular posse of Irish strikers is the most potent ever assembled by the country, is quite a credible one.
Shane Long, Kevin Doyle, Simon Cox, Keane, James McClean and Jon Walters; that is a quite diverse group, with each man bringing a unique skill set to the proceedings.
Christopher Lee/Getty Images
Jon Walters
Walters is the secret favorite of most Irish fans, his bustling style offering the Boys in Green a quite potent option in attack, one which rekindles memories of Michael Robinson in the 80s.
Walters has more guile and poise than the former Liverpool player and has popped up with five goals for his club this season, yet strike partner Peter Crouch owes a debt to the Irishman for his own goals haul this season.
While Robbie Keane has been Ireland's fan favorite over the past decade, the Stoke City striker has twice in the past year been introduced from the bench for his country, and in both cases almost instantly changed the dynamic of the Irish attack.
A big man who can take the ball comfortably on his chest and hold it up in the final third, Walters is a Godsend to a team which spends an inordinate amount of time on the back foot.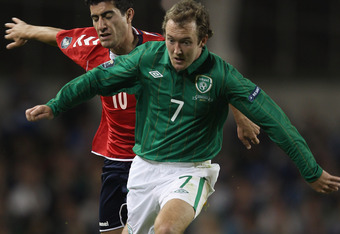 Michael Steele/Getty Images
Walters also possesses the element of surprise—it's doubtful Croatia, Spain or Italy will set their stall out to counteract the Stoke player, choosing instead to concentrate on the known quantities of Keane and Duff.
Almost impossible to knock off the ball, this international late bloomer should be a starter for the Boys in Green, but Trap sticks to his system and has proved quite stubborn in that regard. The likelihood is that Walters will start on the bench for Ireland but look for him to enter games late, and with the opposition possibly having punched themselves out against a rigid Ireland defence. In such circumstances Walters might just find himself an instant hero.
Jon can be the perfect foil for Keane, Long or Doyle in attack and none of Ireland's group opponents will relish seeing the imposing Stoke player emerging from the bench with the game on the line in Poland.
There is a suggestion that the big man is tired after a long Premier League season. If so his international manager will do well to give Walters all the rest he needs in order to get the best out of him at Euro 2012.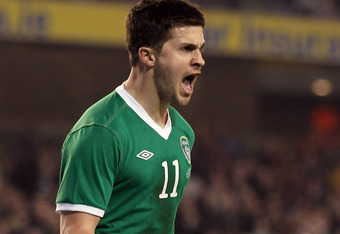 Ian Walton/Getty Images
Aiden McGeady
McGeady plies his trade in Moscow with Spartak and following a burdensome Stg10m transfer, has taken to that stage like a duck to water.
There was legitimate concern when the Glaswegian left Celtic a year ago. Some fans wondered if he could perform at a similar level outside Scottish football. Yet the winger's tricks have proved as bamboozling to Russian defenses as they have to the likes of Dundee United and Kilmarnock.
But while McGeady has proved all his doubters wrong at club level and has been one of Spartak's top performers this season, it's not so clear-cut on the international stage. A contingent of Irish fans bemoan his lack of a final product after some dazzling wing wizardry, but such sentiment is misguided in the extreme.
The bigger picture tells a story of a player who time and again has taken the pressure off his overworked defenders, with an ability to run long and hard at opposition defenses.
The law of averages will place McGeady in the opposition penalty area ten or more times per game—it is a weapon which Trapattoni needs to take advantage of.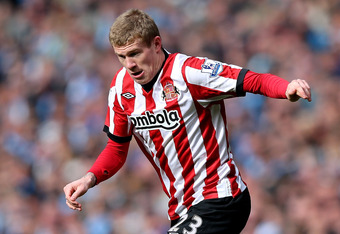 Alex Livesey/Getty Images
On his day McGeady is as good as Ronaldo, mesmerizing defenders from a standing start and demanding the attentions of two or more defenders at times. If he can be persuaded to cultivate a clear line of communication with his strike partners, and release the ball a smidgeon earlier, then Ireland could reap the rewards from Aiden's silky skills in the Euros.
Shane Long
Shane Long wasted little time in opening his Premier League account following a Stg7m transfer from Reading in 2011. But that early season goal was the highlight of a long and difficult season for the Tipperary man. West Brom struggled for extended periods last term, and Long's form ebbed and flowed in a team which was built on a safety-first foundation.
Had he taken a chance on a move to Bayern, Munich, things might have been entirely different for this impish Republic of Ireland striker last season, but Shane won't be crying over spilled milk. He'll feel that things happen for a reason and perhaps the season just spent with West Brom's battlers was just what the doctor ordered to acclimatize the 25-year-old for the battles of Euro 2012.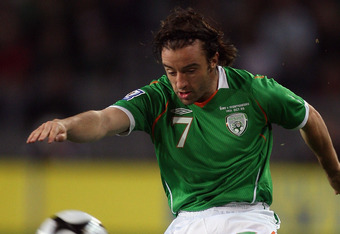 Bryn Lennon/Getty Images
Seven goals for the Baggies this season was a decent haul under the circumstances, but it doesn't begin to tell the tale of a player who can harass the best of defenders. His low center of gravity gives Shane an advantage to begin with, and he possesses a very deceptive turn of foot which has placed many an opponent in an awkward situation.
Long also displays textbook heading ability and elevation for a small man and has never let his country down. The reality is that Keane will be handed the striker's shirt in Ireland's opening contest, but with Long ready, willing and able to replace him at a moment's notice, even record goalscorer Robbie will feel the pressure of having to perform on the day.
James McClean
James McClean will likely still be pinching himself as the Irish plane heads off to Poland in June. A year ago the Derry youngster was playing domestic football in Ireland and no one, not even the most hopeless optimist could have predicted such a turn of events for the 23-year-old.
In that time the Derryman has made a big impact on Premier League football and has been called up to represent his country. That was followed a week ago by the biggest honor of any player's career: being picked to represent his country at a major finals.
But there will be no room for fairy tales when James takes to the pitch for Ireland this summer. An astute professional for one so young, McClean realizes that he's still learning the game and has paid tribute to his current teacher, Martin O'Neill.
McClean is the antithesis of the man in possession of the left winger's shirt for Ireland, Damien Duff. Whereas the Fulham veteran has the skill to hold up the ball and find an opponent, McClean is all about speed and running at defenders.
The Sunderland flanker has also developed a trademark delivery which brings back memories of those tantalizing crosses once produced by Nottingham Forest's, John Robertson.
McClean has a handful of goals to his credit for the Black Cats this season, and it appears there is nothing this youngster cannot do when he puts his mind to it. It has been a fairy tale so far for James—what are the odds that he'll hit the headlines for Ireland in Poland this summer?
Stephen Hunt
Stephen Hunt has endured a patchy season at Wolves, relegation adding insult to long periods on the sidelines through injury. But Hunt, like many of his teammates in green, really shines when it comes to representing his country.
Timing is everything in football and the former Reading utility man appears fresher than ever following a five-week period on the treatment table. Hunt, it could be argued, is a ready-made counterweight to Luca Modric of Croatia in Ireland's opener. Whether Mr. Trapattoni sees it that way is another matter, but the in-your-face style of the Munster man is renowned throughout the Premier League for cramping the style of even the classiest performers.
Like Walters, McClean and possibly Shane Long, Hunt is apt to be seen in the substitute's role for his country, the suggestion being that Ireland's game-plan will be very much one of containment, with the impact players entering the fray in the late going.
The applause, which traditionally greets Hunt's introduction from the Irish bench, indicates the regard with which he is held by fans of the Boys in Green. Stephen is fondly remembered as the supplier of two high-profile goals against Bulgaria and Italy in the campaign before last, Richard Dunne and Sean St Ledger netting with unstoppable headers in each case.
Stephen Hunt is a high octane player. He can be used at left back, left wing, man marker and as an all-round nuisance to opposition teams. He doesn't usually get the plaudits for his style of play, but with Ireland likely to be dependent on a high pressure game in Poland in June, Hunt checks the boxes on all levels.