Denver Broncos Add Depth at Cornerback, Sign Veteran Cornerback Drayton Florence
May 10, 2012

Andy Lyons/Getty Images
The Denver Broncos have continued to improve and bolster their depth at the cornerback position today, as they signed Drayton Florence, a nine-year veteran cornerback who had played most recently with the Buffalo Bills last season.
BroncoTalk.net announced the deal is reportedly worth $4.5-5.5 million over two seasons.
The Broncos confirmed the deal via their Twitter account:
The Broncos have agreed to terms with free agent CB Drayton Florence.

— Denver Broncos (@Denver_Broncos)  May 10, 2012
Florence has been a journeyman cornerback in the league, spending time on the San Diego Chargers, Jacksonville Jaguars and Buffalo Bills. He has spent nine seasons in the league and is 32 years old. Coming to Denver reunites him with his former head coach, Jack Del Rio, whom he played for in 2008 during his lone season in Jacksonville.
Both the Tennessee Titans and San Diego Chargers were two teams that had showed interest in Florence. He met with Tennessee earlier in the week and never made it out to San Diego for a workout.
Florence should push proven veterans Champ Bailey and Tracy Porter, but will likely end up in a backup role if either of the starters go down with an injury. During the past two seasons with Buffalo, Florence had three interceptions in both years and more than 40 solo tackles.
Florence will be another sound-tackling defender for the Broncos. The more depth the Broncos have, the easier it will be to transition into nickel, dime and other cornerback-heavy defensive formations.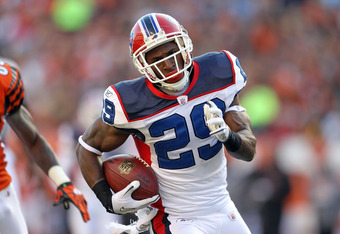 Andy Lyons/Getty Images
Florence is the perfect replacement for the aging Andre Goodman, who was released earlier this offseason after Denver brought in free-agent Porter. Goodman's contract for next year alone was reportedly $4.62 million compared to the $4.5 million ($5.5 million maximum) that Florence could receive after incentives for two seasons instead of one. That's half off.
This signing is another great value signing that the Broncos front office has thrived at obtaining from less desirable players that come at an inexpensive price tag with great upside.
Now that Florence has joined the Broncos, their complete defensive backfield to compete for playing time during the offseason includes: Champ Bailey, Tracy Porter, Chris Harris, Syd'Quan Thompson, Cassius Vaughn, Omar Bolden, Coryell Judie, Tony Carter, Ramzee Robinson and Joshua Moore.
Adding another wily veteran like Florence is a wise move for the Broncos.