NBA Rumors: Phil Jackson Is the Only Solution to NY Knicks' Deep-Seated Problem
May 10, 2012

Kevork Djansezian/Getty Images
There's a very good case to be made for giving Mike Woodson an extended chance to see what he can do as head coach of the New York Knicks.
If for no other reason, Mike D'Antoni's replacement has yet to have a full offseason to bring his roster up to speed and acclimate them to his system. He's also yet to have a healthy roster for more than a couple of weeks.
Nevertheless, the Knicks' problems may well run so deep that working on X's and O's will only scratch the service while delivering more of the same results. After all, it could take a lot more than another training camp to make Carmelo Anthony and Amar'e Stoudemire fit with one another.
If there's anyone who could get a couple of stars to work together in harmony (or some approximation thereof), that someone is Phil Jackson.
Accordingly, it should come as no surprise that New York has its eyes on Jackson, himself a former Knick and arguably the league's greatest modern coach.
The arrangement might even make sense from Jackson's standpoint. Besides the obvious allure of the money this franchise can throw his way, this would also be an opportunity for the legend to do something he's never really done before: Turn a team around.
Jackson's legacy would become irreproachable with such an accomplishment padding a résumé that has thus far involved babysitting self-sufficient superstars like Michael Jordan, Scottie Pippen, Kobe Bryant and Shaquille O'Neal.
Of course, the Knicks are the ones who need this to happen.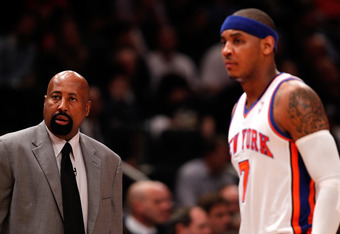 Jeff Zelevansky/Getty Images
As much as Woodson probably deserves this job, there's something to be said for what Jackson's been able to do with those superstars.
In truth, it hasn't been babysitting at all so much as a delicate balancing act that ensures amazing players have the opportunities to do what they do best.
That's not happening in New York right now, not with Anthony and Stoudemire struggling to reconcile their incompatible playing styles.
If it seems like moving Stoudemire is the obvious solution, think again. Sure, there might be a team desperate enough for a once-great scorer to take on the three years and $65 million Amar'e is still owed.
But, chances are that New York wouldn't receive anything remotely resembling equal value in such a deal.
Phil Jackson may be the one person with the gravitas needed for this team's leaders to listen and make changes. Woodson probably understands exactly what needs to happen, but Jackson may be the best person to make it happen.