Florida Football: 7 Freshmen Who Will Start in 2012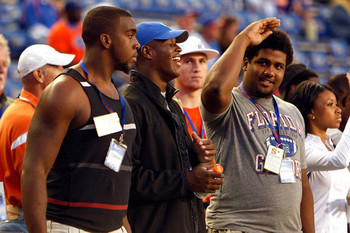 Photo Credit: Tim Casey/Gatorcountry.com
Will Muschamp has stood firm in his belief that the best players will play regardless of age. Last season Muschamp started two freshmen in their first ever game (De'Ante "Pop" Saunders and Marcus Roberson) and 15 freshmen either started or received significant playing time during the year.
Much like last year, the Gators have a ton of talent coming in this year and freshmen will be given the opportunity to not only get significant minutes but some will have a chance to start.
Let's take a look at the seven freshmen who are most likely to make a start at some point in 2012.
Jessamen Dunker, LG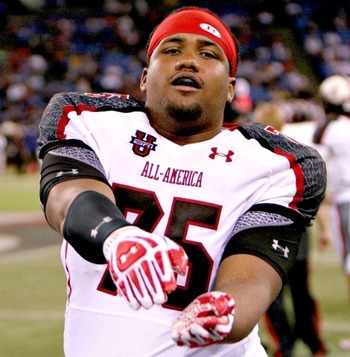 Photo Credit: orlandosentinel.com
Jessamen Dunker played tackle in high school, but has made the switch inside to play guard. Dunker is a big, physical linemen who impressed coaches in the spring with his strength and blocking ability.
Dunker is currently listed as a backup at left guard behind James Wilson. Wilson is a sixth year senior who has battled injuries throughout his time at Florida. If Wilson cannot stay healthy, Dunker is a likely option to replace him and could earn a start this season.
Kent Taylor, TE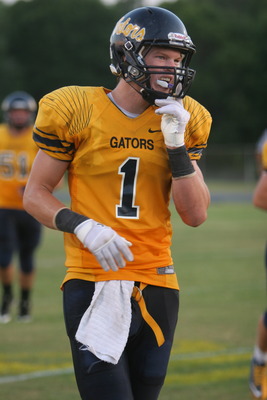 Photo Credit: Tampabay.com
Taylor did not benefit from enrolling early like Dunker, but is already penciled in as the third tight end.
Standing in Taylor's way are Clay Burton and Jordan Reed.
The Gators showed multiple two tight end sets and it is not implausible to think that Taylor could jump Burton and take over the backup role. Reed missed two games last season with injuries and Taylor's pass catching ability will make him an ideal target for his young quarterback.
While Taylor is ahead of the game as far as being a receiving threat, he will need to show the coaching staff that he can be the kind of blocker they need in the rushing game and earn their trust before he can earn his first start.
Jonathan Bullard, DE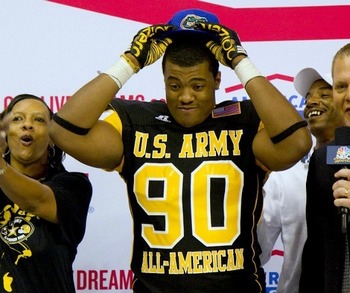 Photo Credit: Orlandosentinel.com
As I have said time and time again, Sharrif Floyd is better as a tackle than as an end. The coaching staff doesn't trust another player enough to have Floyd move back inside, but Bullard could be just that player.
Bullard was one of the biggest and most ready defensive end recruits in the nation and he will have an opportunity to earn the starting end spot this fall.
If Bullard can show the coaches he is ready to play now, the Gators could start a line with him at end, Floyd at tackle and Easley at nose tackle. This would be a defensive line that would keep opposing offensive coordinators and offensive line coaches up at night.
Dante Fowler Jr., BUCK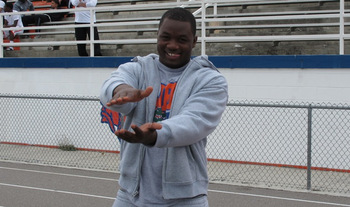 Photo Credit: theringer.com
Dante Fowler choose Florida over Florida State because he believed he could get on to the field early at Florida.
With Ronald Powell going down with a torn ACL, this has become an even more distinct possibility.
Fowler is a pass rusher and is physically ready to compete in the SEC. Fowler will go up against Lerentee McCray and could be a better option at BUCK. McCray played his best football last season at SAM linebacker and might struggle with the position change, especially coming off of shoulder surgery. Fowler stepping up and earning a starting job in Powell's absence will allow McCray to play his more natural linebacker spot and would benefit the defense greatly.
If Fowler earns the starting job, it would give the coaching staff some peace of mind while they wait for Powell to return.
Antonio Morrison, LB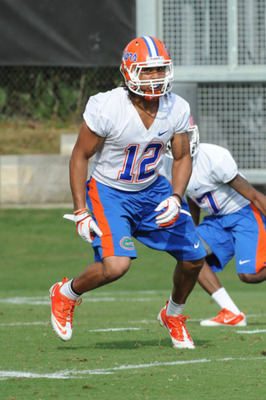 Photo Credit: fyeahgators.com
Antonio Morrison impressed the coaching staff this spring with his physicality and tackling ability.
Morrison will battle with Michael Taylor for the starting SAM linebacker spot if McCray indeed does stay at BUCK.
Morrison is a more natural outside linebacker than Taylor and, if he can build on what he already started this spring, will win the starting job at SAM.
Latroy Pittman, WR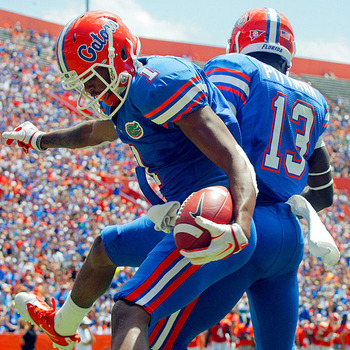 Photo Credit: ESPN.go.com
Latroy Pittman was the most consistent and most impressive wide receiver this spring. Receiver is a position where the Gators are lacking in depth and are looking for a player who can be a consistent threat. Both Andre Debose and Frankie Hammond are dangerous, but often disappear during games.
Pittman has sneaky speed that gets him behind defenders and is great after the catch.
Expect Pittman to start early and often and become one of the Gators' most reliable receivers the in 2012.
D.J. Humphries, LT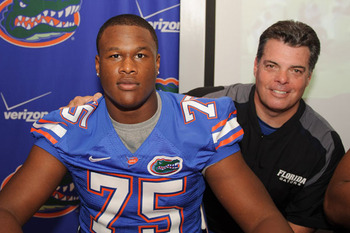 Photo Credit: GatorZone.com
D.J. Humphries appears to be behind both Matt Patchan and Xavier Nixon. Matt Patchan has yet to play an entire healthy season in his time as a Gator and Nixon has struggled with both staying healthy and his performance.
While Nixon had an impressive spring game, Humphries is right on his heels and would take his place if Nixon's health or performance become a concern.
Humphries benefited from enrolling early and will need to continue to bulk up, but he is the left tackle of the future and could start sooner rather than later.
These are the seven freshmen I feel have the best chance to earn at least one start this season. Let me know in the comments section if you feel like I left anyone out and your reasoning for why you think they will start.
Keep Reading

Florida Gators Football: Like this team?