Keys to Turning Around Every Struggling MLB Contender
Ed Zurga/Getty Images
Red Sox manager Bobby Valentine has a real mess on his hands.
Before the start of the 2012 MLB season, we all figured that teams like the Boston Red Sox, New York Yankees, Los Angeles Angels, Miami Marlins, Philadelphia Phillies and Milwaukee Brewers would be in the playoff race.
It is now early May, and all six of those teams are either in last place or second-to-last place in their respective divisions.
The good news for these teams is that it's still very early in the season. The bad news is that all of them have serious issues that need to be fixed. Their flaws have proven to be killer flaws.
Getting back in the thick of the postseason race is not going to be easy for any of the six teams listed above, but nothing is impossible. Here are some keys to turning around those six teams and a few other would-be contenders.
Begin Slideshow

»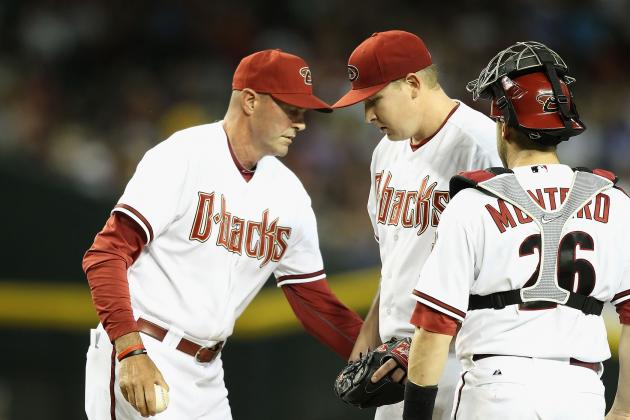 Christian Petersen/Getty Images

Find a Third Baseman
He's coming off a three-hit game against the St. Louis Cardinals, but Ryan Roberts hasn't given the Diamondbacks much production at the hot corner. Cody Ransom has been surprisingly productive, but he's not a long-term answer.
The D-Backs should consider calling up Ryan Wheeler, who is having a very good season at Triple-A Reno. He could provide Arizona's lineup with a much-needed energy boost.
Call Up the Young Guns
The Diamondbacks have two of the best young hurlers in baseball in Tyler Skaggs and Trevor Bauer, both of whom are having strong seasons at Double-A Mobile.
The D-Backs have been hesitant to call these guys up, and that's understandable. But if their pitching continues to underachieve, the D-Backs will have every excuse to shake things up by calling one or both of them up. Just as Wheeler could give the lineup a shot of energy, Skaggs and/or Bauer could energize Arizona's pitching staff, and the rest of the team in general.
Get Healthy
Daniel Hudson, Stephen Drew and Chris Young are all on the comeback trail. The Diamondbacks will be much stronger once they return, and that's when they could take off and make a charge at the Dodgers.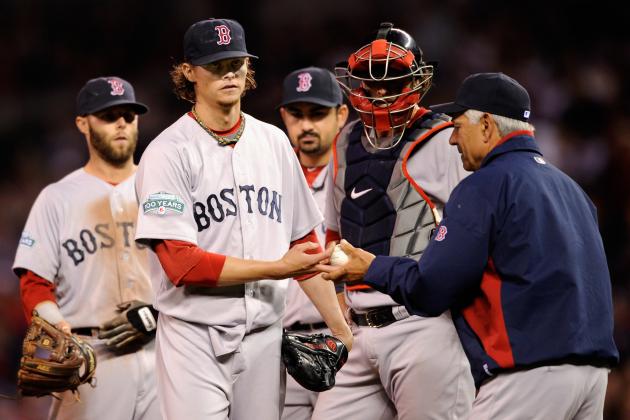 Hannah Foslien/Getty Images

Solve the Clay Buchholz Mystery
The Red Sox have problems up and down their starting rotation, but the struggles of Clay Buchholz make the other problems look petty by comparison.
Buchholz's confidence is shot, especially when it comes to his fastball. Per FanGraphs, he's throwing it just 45 percent of the time this year, as opposed to 54 percent in 2010 when he was dominant. If he can't fix his issues at the big-league level, the Sox should seriously consider demoting him to the pen or even sending him down.
Play Better at Fenway Park
The Red Sox enter Thursday's action with an 8-8 record on the road. At home in Fenway Park, they're 4-10. They've given up 95 runs in those 14 home games.
This absolutely cannot continue, and the odds say it won't. If the Sox maintain their .500 road record and start playing better at Fenway, they'll get back in the race in a hurry.
Get Healthy
The Sox are currently awaiting the returns of several key players, most notably Kevin Youkilis, Jacoby Ellsbury, Daisuke Matsuzaka and Carl Crawford. The Sox should look at these players as trade deadline acquisitions. Their returns will make the club stronger for the stretch run, and Boston's slow start could be quickly forgotten.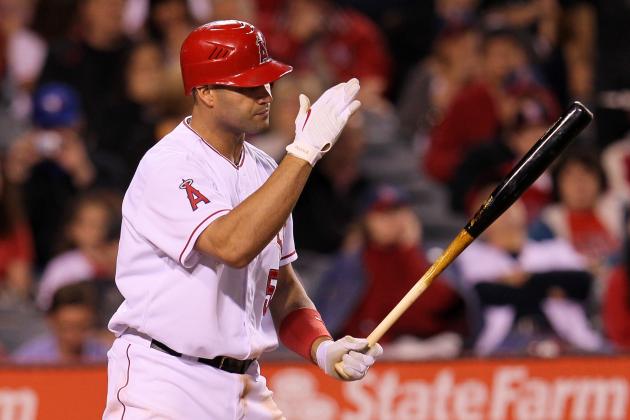 Stephen Dunn/Getty Images

Fix Albert Pujols
It's getting to the point where the Angels really can't afford to be patient with Albert Pujols anymore. He's too good of a hitter to be under the Mendoza line with just one home run on May 10th.
Pujols has clearly been trying to do too much this season, and it's on him to realize that and chill out. However, it's on hitting coach Mickey Hatcher to analyze Pujols' approach at the plate and pinpoint exactly what's wrong. He hasn't exactly worked any magic so far this season.
Solve Dan Haren
The Angels have a very strong starting rotation on paper, but Dan Haren has been a complete mystery out on the mound thus far.
Haren's velocity is down, per FanGraphs, so it's not much of a surprise that he hasn't been missing many bats. The Angels need to determine if there's something physically wrong with Haren, or if his mechanics are fouled up. If there's nothing wrong with him, it's on him to make adjustments to compensate for his declining velocity.
Build Jordan Walden's Confidence
Jordan Walden's stuff is absolutely filthy, but Mike Scioscia decided that Walden couldn't quite cut it in the ninth inning. He was demoted as the team's closer in late April.
Walden was demoted after one blown save, which goes to show Scioscia had him on a short leash. What the Angels need to do now is show that they're confident in Walden, which in turn will help build the confidence of the 24-year-old righty. A return to the ninth is in the cards once that happens.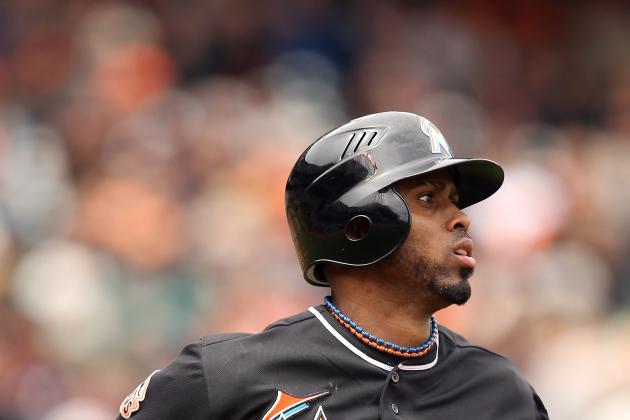 Ezra Shaw/Getty Images

Note: The Marlins have been hot in May, but they still have ground to make up in the NL East and still have problems to fix. Hence, the reason they're in this discussion.
Get Jose Reyes Going
The Marlins signed Jose Reyes so he would set the table for their big boppers and create havoc on the basepaths. He hasn't done much of either, as he's hitting .233/.321/.325 with eight steals in 12 attempts.
Reyes has been better lately, however, and it was right around this time last year that he took off. There's no need for the Marlins to panic just yet, but they should consider moving Reyes down in their order if he doesn't pick it up.
Figure Out Josh Johnson
Ozzie Guillen caused a bit of a stir when he openly wondered if Josh Johnson is 100 percent healthy.
That's definitely possible given what we know about Johnson's injury history. His pitches just haven't looked as electric as usual. If it's not a health problem, it may be a mechanical problem. Whatever it is, the Marlins can't afford to be patient with him much longer.
Solve Heath Bell
Heath Bell deserved to be demoted as the team's closer, but the Marlins should want to see him closing games again at some point down the road. All they can do is keep giving him reps and hope that he figures out a way to get swings and misses again.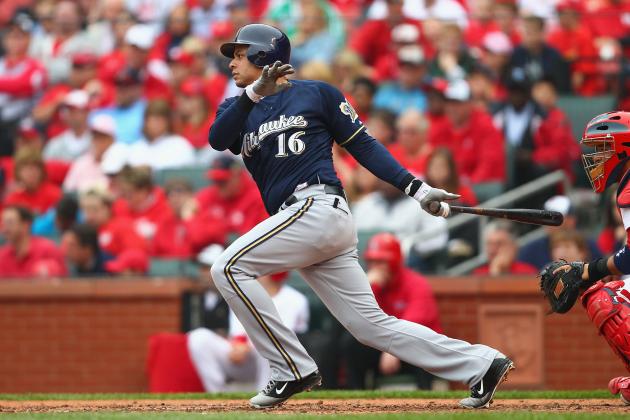 Dilip Vishwanat/Getty Images

Be Patient with Aramis Ramirez
The Brewers signed Aramis Ramirez hoping he would provide some protection for Ryan Braun, and he hasn't really done that so far.
All the Brewers can do is be patient. The good news for them is that Ramirez got off to a slow start last year with the Chicago Cubs, and then he hit .296 with eight home runs in June. He stayed hot for the rest of the season.
Shake Up Starting Rotation
The Brewers shouldn't worry too much about Zack Greinke, Yovani Gallardo or Shaun Marcum. The back end of their rotation, on the other hand, is very much a problem. Randy Wolf hasn't fooled anyone this season, and the Brewers don't have an answer for the No. 5 spot yet.
Down the road, the Brewers may want to consider calling up Wily Peralta and have him start. If they don't want to go that route, they should pursue other options. It's going to take great starting pitching for the Brewers to stay in the NL Central race, so they simply cannot afford to do nothing.
Find a First Baseman
The Brewers were dealt a blow when Mat Gamel was lost for the season with a knee injury. Travis Ishikawa isn't a bad replacement, but he doesn't bring a whole lot to the table.
Derrek Lee is out there, but Brewers GM Doug Melvin said recently that the team is going to solve its first base problem internally. That's not an ideal solution, but at least the Brewers are intent on addressing the issue.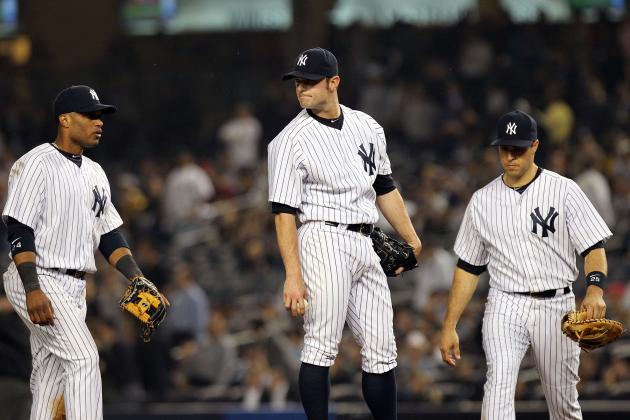 Nick Laham/Getty Images

Stabilize Starting Rotation
The Yankees know they can rely on CC Sabathia. After him, all bets are off. Hiroki Kuroda and Ivan Nova have both struggled, Freddy Garcia got demoted to the bullpen, and Phil Hughes may be next. If Andy Pettitte doesn't pan out, the Yankees are going to be in serious trouble.
They can afford to wait another month or so and see if things can settle down on their own. But if their starting pitching is still a mess in June, that's when they should consider making a deal for a starter. There are going to be some good ones on the market this year.
Don't Ask Anybody to Be Mariano Rivera
David Robertson proved on Wednesday night that he's no Mariano Rivera, and that should come as no surprise. Nobody is Mariano Rivera.
Joe Girardi shouldn't try to force anybody to take after Mo. He has some good relievers, but no closers. The best thing he can do is get creative with the ninth inning by mixing and matching. Closer-by-committee is the way to go.
Wait for Teixeira and Cano to Come Around
The Yankees aren't going to get great pitching all year long, but they'll have the offense to compensate for it once Mark Teixeira and Robinson Cano catch fire. That's going to happen eventually. Teixeira is not a .217/.270/.374 hitter, and Cano is not a .270/.318/.402 hitter. They'll be better.
Harry How/Getty Images

Stabilize Bullpen
Outside of his recent bad outing, Jonathan Papelbon has been exactly what the Phillies paid for this offseason. The rest of the bullpen isn't so good, as the Phillies currently have a bullpen ERA of 5.59 that ranks dead-last in the majors.
The Phillies will likely have to add another bullpen arm before the trade deadline, but they have precious few assets to deal. Hopefully, their starting pitchers will eat up a lot of innings and save the guys in the pen a lot of trouble, which is exactly what happened last year.
Don't Freak Out About Roy Halladay
Roy Halladay's numbers don't look great, and there's been some buzz about him possibly being in decline as a pitcher.
Nonsense. Take Halladay's stinker against the Atlanta Braves out of the equation, and he has an ERA barely above 2.00. He's going to give the Phillies a shot to win every time he takes the mound. The offense just needs to hold up its end of the bargain, which it hasn't done in three of Halladay's last four starts.
Get Healthy
What this Phillies team needs more than anything else are bats, and the returns of Chase Utley and Ryan Howard will help a lot. The Phillies just need to stay afloat until they get their stars back in the lineup.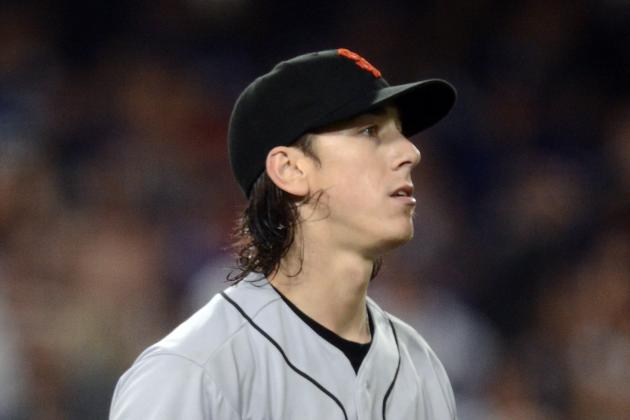 Harry How/Getty Images

Be Patient with Tim Lincecum
Tim Lincecum struggled again in his most recent matchup with the Dodgers, but his stuff looked tremendous early on in the game. His fastball in particular looked much better.
Lincecum is not going to have an ERA near 6.00 all season. He's only going to get better, and he will get better. Nobody should be freaking out about him right now.
Stabilize Bullpen
Brian Wilson is out for the season, Jeremy Affeldt is on the disabled list, and Guillermo Mota has been suspended 100 games for a positive PED test.
The Giants bullpen is in disarray, and the team is going to need to add an arm to its bullpen one way or another. One solution would be to call up Heath Hembree. He's dominated with Triple-A Fresno, and he has nasty stuff that will play well in the majors.
Get Healthy
The Giants are going to miss Pablo Sandoval while he's out, but they're also missing Freddy Sanchez and Affeldt in the bullpen. If they can stay afloat until these guys return, the Giants will be poised for a strong finish.
If you want to talk baseball and/or underrated beers, hit me up on Twitter.