WWE Rumors: John Cena, Brock Lesnar and Friday's Top WWE News
May 11, 2012

J. Meric/Getty Images
Normally, Friday is the day of rest and relaxation in WWE news. Sure, there is information that comes out worth exploring, but for the most part, it is just lighthearted stuff to get us through the weekend before Raw. 
That is definitely not the case today, as there was a storm of information that came out about some of the best and brightest WWE has to offer. Some of it is personal, the rest is just an exploration of storylines and personas. 
Fortunately, we are here to give you all the information that's fit to print in one convenient little package.
For your viewing pleasure, here is all the WWE news and information you need to get you through the weekend. 
JOHN CENA IS BACK ON THE MARKET, REPORTEDLY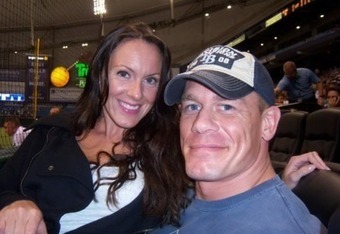 The biggest news story in the history of WWE happened late Thursday: John Cena actually lost. According to reports, the former WWE champion has filed for divorce from his wife of nearly three years. 
Question on Everybody's Mind: Will this hurt Cena's WWE performance?
Our Take: Given that this whole thing likely didn't just come out of the blue, Cena should be fine on-camera from now on. He just came off two of the biggest matches of his career and has been fine on Raw and pay-per-view. 
Hype Meter: 5 out of 5 Cena Wristbands
The report says that Cena had a prenuptial agreement, so at least he was smart in that regard. Personally, I don't care what goes on with Cena's personal life. I watch him as a wrestler and that's what I want to see. Anything that happens outside of WWE is his business. 
Deeper Dive
John Cena Files For Divorce (Miami Herald)
------------------------------------------------------------
BROCK LESNAR SUBJECT OF "WRESTLING REALISM" ARTICLE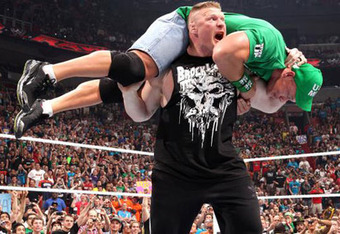 When WWE tries to do something real, it comes off as phony because the creative team tries too hard. Brock Lesnar has brought an aura of realism with him because he doesn't play those kinds of games. His return to the company was the subject of an article in the New Yorker. 
Question on Everybody's Mind: Is Lesnar going to change the culture of WWE?
Our Take: Individually, Lesnar is going to feel different and his storylines are going to be very different. Everyone else is going to go through the same storylines that WWE has been using for years because that's just how the company wants to use them. 
Hype Meter: 5 out of 5 Lesnar Storylines
Lesnar's storylines tend to make me angry, simply because his stuff was done right (at least up until Extreme Rules) and it shows WWE can push things hard when it really wants to. It was the same thing with Triple H and Undertaker at WrestleMania. Things can work really well and feel big if done right. 
Deeper Dive
Realism Returns To Wrestling (New Yorker)
-----------------------------------------------------------------
WWE.COM TEASING DEAN AMBROSE'S "REVOLUTION"
There have been some teasers on the WWE website in recent days talking about a "Revolution" that is coming soon. While plenty of names have been bantered around, the latest rumors say that it is going to end in the debut of Dean Ambrose.
Question on Everybody's Mind: Will WWE give Ambrose a hard push?
Our Take: Unlike most newbies that WWE brings up, Ambrose has actually been getting vignettes and was doing some angles with Mick Foley around WrestleMania. It certainly seems like something big is planned, at least in the beginning. 
Hype Meter: 5 out of 5 New Superstars
Given Ambrose's work in Dragon Gate USA and other promotions, he could be one of the best new stars WWE has had in a long time. The whole thing comes down to how long the company sticks with him and how well he is able to get over, which are not two mutually exclusive ideas. 
Deeper Dive
Who Is Behind The "Revolution?" (Wrestling Observer)
--------------------------------------------------------------------
TAG TITLE MATCH ADDED TO OVER THE LIMIT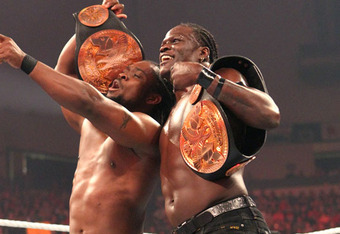 In keeping with what has become a monthly tradition, WWE has announced a match for the Over The Limit pay-per-view online. It will feature Kofi Kingston and R-Truth defending the tag team titles against Dolph Ziggler and Jack Swagger. 
Question on Everybody's Mind: Is that match worthy of pay-per-view?
Our Take: I really like the matchup. As long as WWE gives it time and doesn't just use it as a five-minute filler, those four men are good enough to put on the second- or third-best match of the show. 
Hype Meter: 4 out of 5 Internet Angles
The team of Ziggler and Swagger intrigues me more than Truth and Kofi. They are two of the best wrestlers WWE has, yet they have been doing nothing of relevance for months. If tag teams still mattered to Vince McMahon, this would be a great team to build the division around. Instead, it will probably just be a very good one-off match. 
Deeper Dive
WWE Announces Tag Title Match (WWE.com)
---------------------------------------------------------------
Check back for more on the WWE as it comes, and check out Bleacher Report's Wrestling Page to get your fill of the WWE. For more WWE talk, check out Ring Rust Radio for all of the hot topics you just can't miss.