Michelle Beadle Reportedly Leaving ESPN: Why It's a Smart Move
May 10, 2012

Beadlemania is over, at least for the sports world that feeds off Michelle Beadle's intelligence and humor. In the end, you can't fault a person for following his or her heart. 
Sports By Brooks reports via Twitter that Michelle Beadle, co-host of the wildly popular SportsNation on ESPN, will be leaving for NBC.
SbB has learned Michelle Beadle will depart ESPN for NBC Sports with the plan for her to land eventually at Access Hollywood as co-host.

— SPORTSbyBROOKS (@SPORTSbyBROOKS) May 10, 2012
A moment of silence for all that is unique and riveting. 
Beadle is smart, hilarious, quick-witted and sarcastic. Best of all, she isn't male and doesn't shout, a prerequisite to be featured as a talking head on ESPN. 
It takes all of a few minutes of listening to the back and forth of Beadle and colleague Colin Cowherd to realize that the person on your TV is far different than anything we have in sports commentary. 
Debates and discussion are led with bravado and testosterone. Beadle would rather counter with a witty remark or cutting sarcasm. She would much rather bring a knife to this sword fight. 
ESPN
Beadle has worked with such outlets as FOX Sports before taking to TNN, where she covered such sports as bull riding. 
Her big break came when she joined 142 other hungry sports enthusiasts to audition for SportsNation. She was later tasked with writing to producers what she would do to make the show better. Beadle answered in kind with a list filled with sarcasm and silly suggestions. 
She won. 
Departure
We may still be waiting for an official release form ESPN or a confirmation from Beadle herself, but we can already put a spin on this tremendous turn of events. 
My gut reaction is that this was a horrible move and downright disastrous decision by a person that seems to be rather intelligent. 
There is no other person like her at the network, and sports fans were drawn by her unique takes and the brilliant manner in which she delivers them. With ESPN's backing, she would could be bigger than Bill Simmons—and prettier. 
That is rather selfish take, though.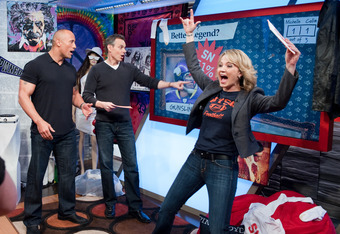 Of course, the decision looks rather misguided from this side of the wall, but is quite genius from the other.
You see, Beadle's passion lies past the sports world and this next job gives her the ability to fill that need. 
It's no secret Beadle wants to comment and report on non-sports stories, and this is the perfect vehicle for that. She will have a much bigger audience and her personality fits perfectly with morning television, as you can see in this clip with her and Regis Philbin, or she can dominate the afternoon slate with shows like Access Hollywood. 
In short, she has the brains and charm to succeed, so I won't waste anymore time worrying about her career, because it's about to really take off. 
I just wish she didn't have to destroy SportsNation to do it.