Kobe Bryant, Paul Pierce and Stars with Most to Lose If Teams Blow Series Leads
May 10, 2012

Jeff Gross/Getty Images
As the first round of the 2012 NBA Playoffs begins to wind down, there's still much to be decided before we can look forward to second-round action.
Four different teams—the Los Angeles Lakers, Los Angeles Clippers, Boston Celtics and Philadelphia 76ers—have already failed once in close-out opportunities and will try to avoid the same fate as each series heads toward a Game 6.
However, there's a lot at stake for a few individual stars should their respective teams blow early series leads.
Here's a quick look at those with the most to lose.
Kobe Bryant, Los Angeles Lakers
Depending on what the Lakers front office has in store for the offseason, this could be Bryant's best chance at chasing that sixth championship ring.
When it comes to the salary cap and potential luxury tax, the Lakers are in terrible shape so it may be a now-or-never situation for Kobe. He's got two productive big men in Pau Gasol and Andrew Bynum along with a decent point guard in Ramon Sessions. But there's no guarantee that Sessions exercises his player option because he's in a good spot to negotiate a new deal.
With no first-round draft picks next season, the Lakers may not have a more talented team during the next couple of seasons than the one they are looking at now.
Paul Pierce, Boston Celtics
With the contracts of Kevin Garnett and Ray Allen set to expire, Pierce also has a lot to lose considering this is the last go-around for Boston's Big Three.
That's a lot of experience that may be gone from the Celtics rotation next season, so it may be close to starting-over time for Pierce and the Celtics.
Chris Paul, Los Angeles Clippers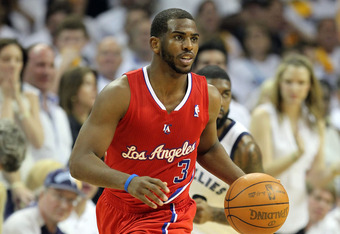 Andy Lyons/Getty Images
The Clippers made a point to sign a franchise-changer in Paul, and it paid off with a great regular season and a 3-1 series lead over the Memphis Grizzlies.
Memphis wouldn't go away quietly in a Game 5 victory and will be very tough to close the door on. If the Clippers blow this lead, there will be a ton of questions hanging over Paul's head since the Clippers gave up a ton for what could amount to a first-round exit.
Andre Iguodala, Philadelphia 76ers
Finally there's Iguodala, who helped lead the Sixers to a 3-1 series lead over the No. 1 seed Chicago Bulls.
Iguodala is on the trading block every year, and coupled with the emergence of Evan Turner, the Sixers could pull the trigger on an Iguodala deal this offseason, especially if the Sixers blow the series lead,