Euro 2012: Previewing Group A and Who Will Advance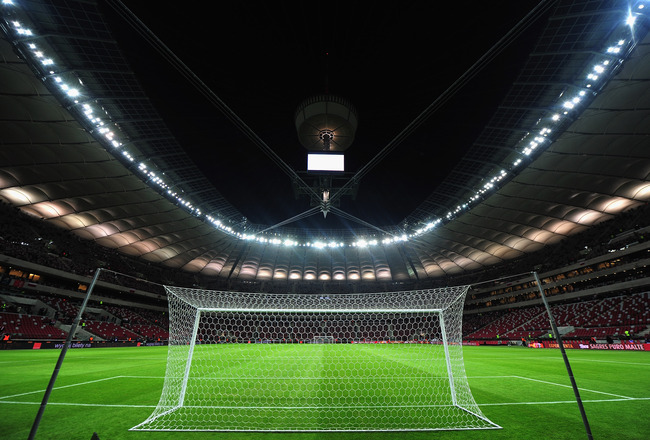 The Stadion Narodowy will host the first match of Euro 2012
Jamie McDonald/Getty Images
Euro 2012 is less than four weeks away. In what is the biggest event in Polish and Ukrainian football, this represents a major coming-out party for eastern Europe.
Group A contains co-host Poland, along with neighbor Russia, 2004 champion Greece and a Czech Republic side that has reached the semifinals in two of their last four European championships.
Poland and Greece will play the first match in Group A on June 8 in what should be the start of a fantastic European championship.
In order to prepare you for the European championships, here is a preview of Group A.
Poland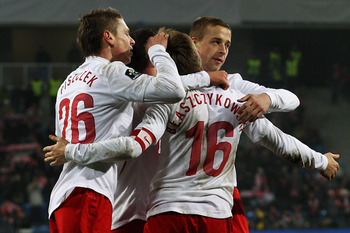 Dean Mouhtaropoulos/Getty Images
Poland are the top seed in Group A because they are a co-host.
Though Poland have not played in a competitive match since 2009, they have pulled together some strong results with wins against Argentina and the Côte d'Ivoire, while holding Germany, Mexico, Portugal and South Korea to draws in recent friendlies.
This will be Poland's second European championship. In 2008, they qualified for the tournament by finishing in first place with a group that included Portugal and Serbia.
Though Poland only took one point from their group in 2008, they have one of the most entertaining young sides in Euro 2012 and will be tough to stop on home soil.
Key Players: Robert Lewandowski, Jakub Błaszczykowski, Łukasz Piszczek and Wojciech Szczęsny.
Greece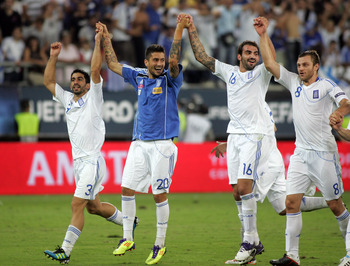 Milos Bicanski/Getty Images
Greece earned their way into Euro 2012 by going unbeaten in qualifying. This is Greece's third straight appearance in the European championships.
With their spot in Euro 2012, this is the fourth major international tournament that the Greeks have participated in since 2004, making this the most successful 10-year stretch in Greek football history.
That stretch started when Greece, who faced 150-1 odds to win Euro 2004, defied the odds and won the tournament, beating host Portugal in the final.
Greece has since participated in Euro 2008, where they finished last in their group. Greece also participated in the 2010 World Cup, where they scored their first goal in World Cup play and recorded their first win, though they didn't advance from group play.
With a strong defensive side and their experience in international tournaments, Greece will be a hard side to stop in the group stage.
Key Players: Giorgos Samaras, Giannis Fetfatzidis and Avraam Papadopoulos.
Russia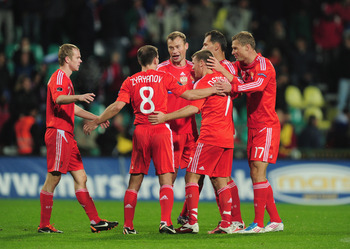 Jamie McDonald/Getty Images
Russia earned their way into their third straight European championship following a first-place finish in their qualifying group.
For Russia, this qualification result was needed after failing to reach the 2010 World Cup.
The last time Russia was in the European championship, they stunned everyone.
In Euro 2008, Russia were managed by Guus Hiddink and overcame a loss to Spain in the group stage to reach the quarterfinals, where the Russians defeated a Dutch side that had crushed France and Italy in the group stage. Russia eventually fell to the Spanish in the semifinals.
With a veteran-heavy squad, Russia will be considered to be a tough side to beat and will be a dark horse to win the tournament.
Key Players: Andrei Arshavin, Alan Dzagoev, Yuri Zhirkov and Igor Akinfeev.
Czech Republic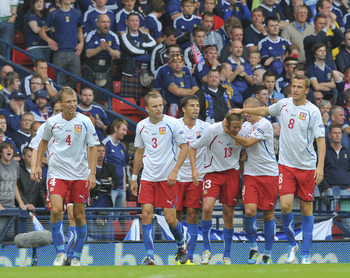 Mark Runnacles/Getty Images
The Czech Republic made their way into Euro 2012 thanks to a strong enough record in the qualifying phase that allowed them to escape a tricky Scotland side and finish in second, putting the Czechs into a playoff.
The Czechs then made quick work of Montenegro to reach their fifth consecutive European championship.
This is the fifth European championship that the Czechs have made since they became their own federation following the split of Czechoslovakia in the early 1990s.
The Czechs have made two semifinal appearances during that stretch, but will look to do better this year than they did in 2008. In their final group stage match, Turkey had a comeback for the ages and won 3-2 against the Czech Republic after being down 2-0 with 15 minutes to go.
This Czech squad is not as highly regarded as the ones in years past, but they could still make some serious noise is given the right opportunity in Euro 2012.
Key Players: Milan BaroŠ, TomአRosický, Michal Kadlec and Petr Cech.
Best Striker: Robert Lewandowski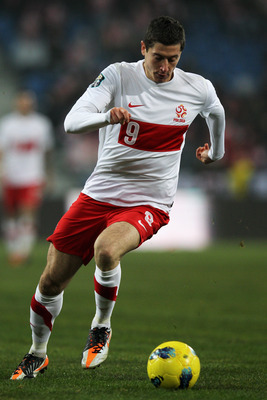 Dean Mouhtaropoulos/Getty Images
Poland's biggest star, Robert Lewandowski has shown a great eye for scoring goals on a constant basis for Borussia Dortmund throughout this season.
Lewandowski scored 22 goals, the third most in the Bundesliga, which also allowed Dortmund to score more goals than anyone else this season.
Lewandowski also led the league in shots (117) and shots on target (59).
Considering Lewandowski's youth and great offensive ability, his star could really shine in this tournament.
Honorable Mentions: Andrei Arshavin, Roman Pavlyuchenko and Milan BaroŠ.
Best Midfielder: Tomáš Rosický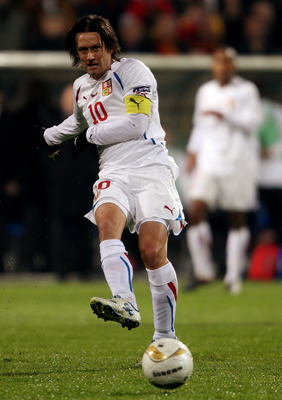 Scott Heavey/Getty Images
In a group where the depth of quality midfielders is low, TomአRosický shines above the rest due to his repeat performances with Arsenal.
During this past season with Arsenal, Rosický completed over 85 percent of his passes along with 41 key passes, which was one of the highest totals on the club.
This past season was Rosický's best since before his hamstring tendon injury caused him to miss 18 months a few years back. The rise in form that Rosický had was a major reason why Arsenal were able to finish out the season on strong terms.
The captain of the Czech national team, Rosický will hope to avoid failure on the final day of the group stage like he did during the 2006 World Cup and Euro 2008.
Honorable Mentions: Jakub Błaszczykowski, Jaroslav PlaŠil and Alan Dzagoev.
Best Defender: Avraam Papadopoulos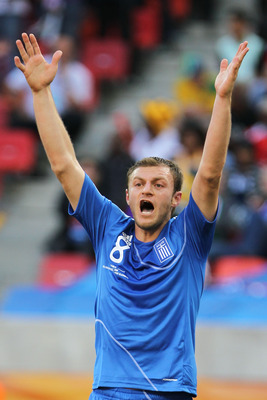 Doug Pensinger/Getty Images
We still do not the full extent of the roster that Greece will use for Euro 2012, but it is a safe bet that Avraam Papadopoulos not only will be in the Greek roster, but also will be their biggest star.
Papadopoulos was named the Greek Player of the Year in 2011 and his importance was shown in Greece's defense, which only conceded five goals in qualification, which was the fewest in their qualification group.
Papadopoulos played every minute of the 2010 World Cup for Greece and helped his adopted nation to the first World Cup win in their history. Papadopoulos also played in every minute of Euro 2012 qualification for Greece.
Honorable Mentions: Łukasz Piszczek, Michal Kadlec and Yuri Zhirkov.
Best Goalkeeper: Petr Cech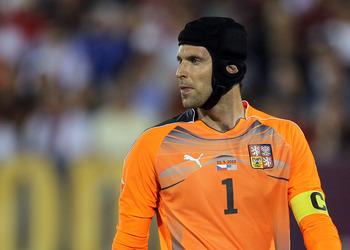 Jim Rogash/Getty Images
The weakness that Group A has in midfielders is made up for with the incredible goalkeeping talent that each side possesses. Out of these keepers, Petr Cech finds a way to burst over his rivals.
Cech has been the starting goalkeeper at Chelsea since 2004 and has since become not only the best goalkeeper in the Premier League, but also among the top goalkeepers in the world.
This past season, Cech had 10 clean sheets in the Premier League, but his heroics in the Champions League against Barcelona and this save against Liverpool in the FA Cup final have cemented the Czech keeper's name into Chelsea folklore.
Cech will need to continue these heroics once Euro 2012 starts in order to get the Czechs out of the group.
Honorable Mentions: Wojciech Szczęsny, Łukasz Fabiański and Igor Akinfeev.
Best Manager: Dick Advocaat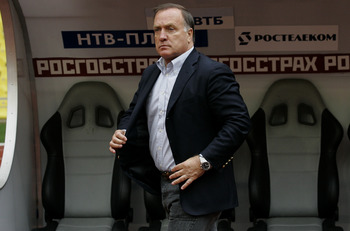 Dima Korotayev/Getty Images
A two-time manager of the Dutch national team, Dick Advocaat has plenty of experience at the international level, which makes him perfect to manage an emerging Russian side.
Advocaat has managed several other national sides beside the Dutch, including South Korea and Belgium.
On the domestic front, Advocaat got Zenit St. Petersburg to win the 2007 Russian Premier League and the 2008 UEFA Cup. Advocaat was so successful that he was granted honorary citizenship to the city of St. Petersburg, the first time that had happened to a foreigner in over 100 years.
Following Euro 2012, Advocaat will move back to the Netherlands take over the managerial vacancy at PSV.
Best Match to Watch: Poland vs. Greece (June 8)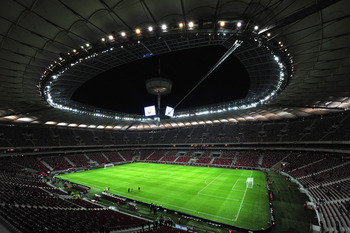 Jamie McDonald/Getty Images
The opening match of Euro 2012 will be an important fixture for both nations involved: Poland and Greece.
Poland will come into this fixture with their work from the last three years put into question by not playing any meaningful matches since they failed to reach the 2010 World Cup. Their players will be playing in their nation's capital of Warsaw and will be filled with emotion from start to finish.
For Greece, this is the second time in three European Championships that they will participate in the opening match of the tournament. The Greeks famously defeated Portugal 2-1 in the opener of Euro 2004 in what was an early preview of the final.
This will be the first meaningful match between these two opponents since April 1987, when Greece defeated Poland 1-0 in a Euro 1988 qualifier.
X-Factor: Poland's Home Crowd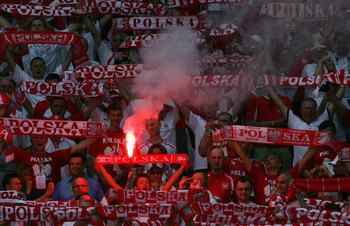 David Cannon/Getty Images
Host nations historically do well in European championships. There are only three cases of a host nation not reaching at least the quarterfinals in the history of the tournament, though two of those incidents took place in Euro 2008 when Austria and Switzerland were both eliminated in the group stage.
Poland will go into this test with a tremendous amount of fan support. In 2011, it was reported that there was a 67 percent increase in attendance for Polish league matches, which helped the league's average total of spectators to increase by over 3,000 from prior seasons.
Considering that Poland's four stadiums in the tournament have an average capacity of 42,500, expect the Polish fans to be ever-present throughout the group stage, if not beyond.
Who Will Advance from Group A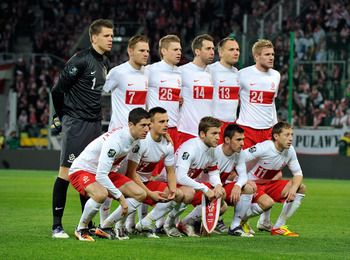 Claudio Villa/Getty Images
In terms of overall quality, this may not be the hardest group in Euro 2012 (it probably is the easiest group).
All four of the nations that are in Group A stand a strong chance of reaching the quarterfinals.
The most likely nation to advance is Poland. Despite not playing in any meaningful matches going into Euro 2012, the Polish players have been playing with each other for years and have experience playing in the stadiums that will be used in the tournament.
They also have the before-mentioned X-factor, which will be critical for Biało-czerwoni to reach the quarterfinals.
Russia do have that experience from that incredible run in Euro 2008. Many of their players still remain from that run, and this is an easier group than the one that the Russians had to face in 2008.
In order to advance, Russia must win their first match with the Czech Republic. If they fail to win, the odds will be against them from advancing considering Poland is the Russians' next match and Greece will be their final fixture.
Greece have been on a strong run of form and will have a highly motivated side that can compete with anyone. A strong defense is necessary for any side to do well in tournaments, and Greece certainly have one of the better defenses in Euro 2012.
Greece have the luxury of potentially losing a tough first fixture but still managing to advance. Neither the Czech Republic or Russia will be looking forward to facing the Galanolefki in the final two matches of the group stage.
The Czech Republic do have the best goalkeeper and have some steady experience, though their manager Michal Bílek has little experience when it comes to managing a match such as this one.
Who will advance to the quarterfinal: Poland and Greece.
Keep Reading