Carmelo Anthony: Breaking Down Why Meloball Will Never Result in Playoff Success
May 11, 2012

Chris Trotman/Getty Images
After watching the New York Knicks lose their 13th playoff game in 14 opportunities Wednesday night against the Miami Heat, it really brings some things into perspective as it relates to Carmelo Anthony and the Knicks' future.
For one, the Knicks sadly have won only one playoff game since before 9/11 happened, which puts things into perspective of just how long their postseason drought really is.
Next, there's Anthony and Amar'e Stoudemire, the guys who were supposed to turn things around for the Knicks franchise. They are now a combined 1-8 together in the postseason. That number alone brings into question if Meloball has its limitations.
That's a topic I wanted to wait until the end of the series to tackle in order to see exactly how things played out for Anthony and the Knicks.
The NBA is a superstar-driven league, and the playoffs are the time when those superstars raise their game to another level.
That brings us to Anthony. Is he a great player? Yes. A great scorer? Absolutely.
So that makes Melo a superstar, right?
Hardly.
Superstar status should be earned and not given and Anthony really has nothing on his resume that says he's the type of player to lead the Knicks to where they eventually want to go as a franchise.
Superstars make others around him better and Melo has never been that type of guy throughout his career.
ESPN's Kurt Rambis, who was a former Los Angeles Lakers teammate of Magic Johnson and coach of Kobe Bryant, offered a pretty accurate assessment of Melo during a recent podcast when he said, "One of the things he has to learn is how to involve his teammates more. There's a lot more to winning ballgames than just scoring points."
Rambis couldn't have said it better, and Anthony's career to date suggests that won't happen anytime soon.
Anthony is a great scorer, but he's far from being a great player, because he does not consistently elevate his teammates. He averaged a paltry 3.6 assists per game this season and has a career average of 3.1.
Just compare Melo to his close friends from the 2003 draft class. Dwyane Wade has averaged 6.2 assists per game for his career, and LeBron James 6.9. Both Miami stars can control a game through their playmaking alone. The same goes for Bryant (4.7 career average), depending on what type of mood Kobe is in from game to game.
Plain and simple, superstars do more for their team than just score the ball.
Take the Game 5 performance of LeBron, for instance. He impacted the game much more as a facilitator early on than Melo had at any point during the five games, despite the fact that he averaged 27.8 points per game in the series.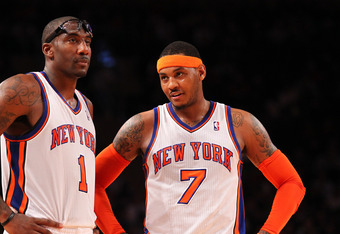 Al Bello/Getty Images
A superstar also acts like one off the court and shoulders blame whether it's deserved or not. That's also not Anthony, who often will shy away from the criticism and blame his and the Knicks struggles on injuries and Mike D'Antoni's former playbook.
When asked about the Knicks recent playoff drought, Anthony naturally replied to Howard Beck of the New York Times: "I wasn't here for them losses."
Well, he's been here for eight of them now, and there's no immediate sign of things changing.
Sure, there have been injuries and other circumstances holding this Knicks team back. There were injuries to Stoudemire and Chauncey Billups in 2011 and injuries to Stoudemire, Iman Shumpert and Jeremy Lin in 2012.  But great teams find a way to win. And when they fail, the great players find a way to get things done.
That's not Anthony, and you have to wonder if Meloball will ever amount to postseason success for the Knicks.
Meloball has proven that a 40-to-50-win regular season is possible, but it's also proven that postseason success is not.
Anthony is far away from having success against good teams in the playoffs. He shot only .375 from the floor as the Knicks were swept by the Boston Celtics in 2011. This season against the Heat, Anthony didn't perform much better, shooting only .419 from the floor and .222 from behind the arc.
Take out his 41-point effort in a Game 4 Knicks win, and you have a guy that averaged 24.5 points per game but did so shooting only .389 from the floor (37-of-95).
That's the thing about Meloball as it relates to playoff basketball. He can give you a heroic performance from time to time, but at the end of the day, it doesn't do much for his team winning a series.
Throughout his nine-year career, Melo has only been able to impact the game by scoring. There's no doubting that he's one of the best in the game today, as his 24.7 career scoring average will attest to. But Anthony makes no impact on the game at the defensive end of the floor, very little impact on the glass (6.3 career RPG) and doesn't offer up much as a playmaker for others.
Again, look at how LeBron had a complete impact on Game 5, and then look at Melo's performance.
Sure, he scored a game-high 35 points, but he did it on a 15-31 shooting performance.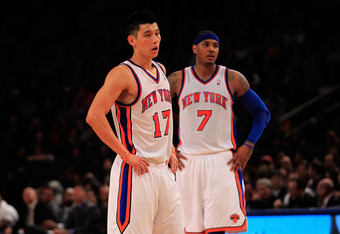 Chris Trotman/Getty Images
After a less than spectacular Game 1, in which Anthony scored only 11 points, he averaged 27.25 shot attempts per game the rest of the series.
Meloball also makes Stoudemire a non-factor in the Knicks offense. During Game 5, Melo took 31 shots to only seven from Amar'e. Quite simply, that's awful balance.
The postseason failures of Anthony continue to speak for themselves.
In nine postseasons, Anthony is only 17-37—the worst record among active players with at least 50 playoff games—and has won a first-round series only once, in 2009. Since then, he has lost 12 of 14 playoff games.
Anthony had a great run in April playing Meloball, where he dominates the offense in isolation sets, leading the Knicks to a 9-4 finish while averaging 29.8 PPG, shooting .495 from the floor without Stoudemire and Lin in the lineup.
But we saw this postseason that Meloball has its limitations.
Good defensive teams like Boston and Miami will continue to throw different looks at Anthony and make things difficult on him, basically knowing that if they make things tough on him, he will do very little to impact the game in other areas.
Some may feel a good point guard will help, but Anthony is uncomfortable in a point guard-dominated offense and admitted as much a week before D'Antoni resigned. So far, the only offense that seems to please Melo is one where everyone else passes and he shoots.
If that's the case, then fine. Anthony will continue to rack up high scoring numbers and first-round playoff exits.
But for the Knicks to ever entertain the thought of considering themselves legitimate championship contenders, they have to find a way for Anthony to succeed in a different style of basketball, which is going to be a very tough sell.
As it stands right now, Meloball has its limitations, especially when it comes to the postseason.