Will Jonathan Lucroy Eventually Be the Milwaukee Brewers Best-Ever Catcher?
May 10, 2012

Jeffrey Phelps/Getty Images
How many Brewers fans would have predicted that the team's leading hitter six weeks into the season would be Jonathan Lucroy? Lucroy's .321 average tops the team as of May 10.
Lucroy's good start on offense is not common from Milwaukee backstops. In the team's 43-year history, only a couple of Brewers catchers have seen their end-of-the-season average over the .300 mark. Charlie Moore hit .300 in 1979 as the team starting catcher, Ted Simmons hit .308 in 1983 splitting time between the DH and catcher and Dave Nilsson batted .309 as Milwaukee's primary catcher in 1999.
The Brewers obviously see Lucroy as an important part of the future of their team; they signed the 25-year-old to a five-year extension prior to the start of the 2012 season for a reported $11 million. If Lucroy's average stays above .300 and he continues his strong play behind the plate, he could be making a case for a spot near the top of the list of the Brewers best-ever catchers.
The Brewers have only six catchers in their history who have caught more than 300 games with the team. They are (courtesy of baseball-reference.com):
Charlie Moore, 850 games
B.J. Surhoff, 704 games
Ralph Freso/Getty Images
Darrell Porter, 480 games
Mike Matheny, 439 games
Dave Nilsson, 309 games
Ellie Rodriguez, 303 games
Lucroy has already caught in 233 games in his Brewers career, enough for the No. 10 spot on the Top 10 games caught list. This after only two-plus seasons. If he catches another 80 games this season, he will vault into fifth place on the list.
So, does Lucroy's game (offensive and defensive) make him a legitimate candidate to be considered as the franchise's all-time best catcher in discussions in the future? He is already considered a solid defensive backstop who has significantly improved his pitch-blocking skills. His throwing ability is on par with the league average of 28 percent.
Offensively is where Lucroy could make a name for himself in Brewers history. He hit .253 in 2010, improved that to .265 last year and sits at .321 this season. His current career average of .267 is already better than most of the Brewers catchers who have caught 200 or more games with the team. Here's a look at those Brewers catchers with 200 or more games caught and their offensive numbers.
Player, Games caught/total games with Brewers, average, HRs, RBI (with Brewers)
Charlie Moore, 850/1283, .262, 35, 401 (also played outfield)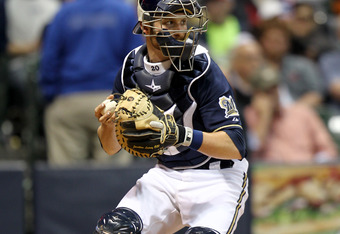 Mike McGinnis/Getty Images
B.J. Surhoff, 704/1102, .274, 57, 524 (also saw significant time at 3B, 1B and outfield)
Darrell Porter, 482/537, .229, 54, 229
Mike Matheny, 439/445, .231, 19, 128
Dave Nilsson, 309/837, .284, 105, 470 (half of his games were as an OF and 1B)
Ellie Rodriguez, 303/325, .255, 3, 95
Ted Simmons, 297/665, .262, 66, 394 (was also DH and 1B)
Jason Kendall, 282/285, .244, 4, 92
Damian Miller, 265/273, .257, 19, 105
Jonathan Lucroy, 233/238, .267, 18, 97
Right now, Lucroy's only position is catcher. Unlike Moore, Surhoff, Nilsson and Simmons, who each had other positions to play when they weren't catching, Lucroy may become a victim of the daily wear and tear of being a catcher. He did, however, start 114 games behind the plate last year and has started 23 of 26 at catcher this year. Injuries (staying away from them) and durability will play a factor in whether or not Lucroy can continue as the main Milwaukee catcher for years to come.
If I was a betting man, I wouldn't put it past Lucroy to ascend to the top of the Brewers' list as its best-ever catcher. Of course, time will tell.
Follow Jerry on Twitter @StatsonTapp