NBA Free Agents 2012: Washington Wizards Must Sign Eric Gordon
May 10, 2012

Harry How/Getty Images
Start buying your 2013 Washington Wizards playoff tickets. If they sign Eric Gordon this offseason, that is.
The Wizards have been in need of a shooting guard for years.  This past season, the Wizards were one of the worst teams in the league when it came to three-point field goal percentage.
Nick Young, who was supposed to be the answer to this problem, was too immature and never panned out.  At times he showed flashes of dominance and at other times you had no idea he was even on the Wizards roster.
Jordan Crawford is not the answer either. He provides great scoring off the bench, but is not a starting guard for a team that wants to make the playoffs.
Gordon would end this streak of poor shooting guards and would immediately make the Wizards a playoff team.
He provides them with a star player and a go-to scorer. Gordon is one of the top young shooting guards in the league. He can score in multiple ways, whether he is driving to the lane or using his outside shot.
Lets face it: John Wall is the not answer. He's not the go-to-scorer the Wizards are looking for.
We have seen these last two seasons that he is one of the most explosive athletes in the NBA. There is no denying that he is going to be a star. However, Wall is not a consistent scorer. His outside shot is average at best.
Although he may not be a great scorer, Wall is one of the top point guards in the NBA. If he gets teamed up with Gordon, the Wizards would have one of the top back courts in the NBA.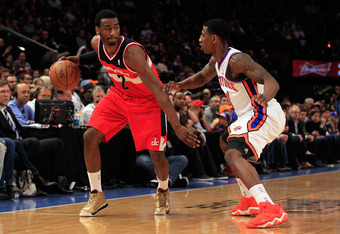 Chris Trotman/Getty Images
Teams would not be able to put all their attention on Wall when he drives the lane because he would have Gordon to dish out to for three.
The Wizards need to start providing Wall with some star talent and there is no better player to start with then Gordon.
I know Gordon is coming off an injury that caused him to miss most of the 2012 season, but it is not like he has been in the league for a while and his body is breaking down. He is still only 23 years old and has many successful seasons ahead of him.
The Wizards will also have a top draft pick in this upcoming draft, which is one of the strongest drafts in the past decade.
Imagine a starting line up of Wall, Gordon, Thomas Robinson/Michael Kidd-Gilchrist, Trevor Booker and Nene. Not only that, but they would have great depth. Young players who have shown promise, including Crawford, Jan Vesley and Kevin Seraphin would be coming off the bench.
This would give the Wizards a competitive team with that is built around a young core. Not only would they become a playoff team next year, but in a couple years they could become one of the elite teams in the NBA.
When the NBA free agency starts this offseason, lets hope general manager Ernie Grunfeld and owner Ted Leonsis make the right decision.
Do whatever it takes to sign Gordon and you will make the Wizards relevant again.