Liverpool FC: Keeping Our Faith in Andy Carroll, £35 Million Man from Tyneside
May 11, 2012

Clive Brunskill/Getty Images
Liverpool's Andy Carroll has had a disappointing season—he's even admitted it. But just because his goals haven't reflected his hefty price tag doesn't mean the Reds should shelve the 23-year-old forward.
Yes, his form has seen a drastic improvement only after starting against Fulham at home—which Liverpool lost from a Skrtel own goal—but the loss wasn't Carroll's fault.
No, it was the fault of the entire team's complacency going into the match. The entire squad has been lacking in front of goal and it's the near misses and hitting the woodwork that's placed us in eighth.
Right now, Andy Carroll is on fire, and people need to start to recognize his talents.
Too many times have the Liverpool faithful given the former Newcastle United player stick for putting on the red shirt. Reasons cited ranged from, "Oh, he's not good enough," to "He's just a lumbering washing machine on the pitch—look at him, he doesn't know where the ball is."
Fair enough, considering that for the majority of the season he's been caught in positions that left fans reeling with displeasure. He's missed the target on numerous occasions where others might have scored.
But here's the thing: football is not a one-man sport. It takes 22 men on the pitch to make the game work (sans referees). It also takes time for a new player to acclimate to his surroundings. Team chemistry is what makes teams click. 
People have argued that there were other potential targets that could have been acquired for £35 million. Just as an example, let's take a look at Fernando Llorente, Athletico Bilbao's big-target forward.
The 6'5" Spanish forward has been with Bilbao since the 2004-05 season. His introduction to the first big-league BBVA game was that season, where he made 15 appearances and scored three goals at the tender age of 20.
On the other hand, Andy Carroll was introduced to the Premier League in 2006 at age 18. He went on to appear in just four games for Newcastle United before going on loan in January 2007 to Preston North End, where he scored once in eleven games.
Llorente's breakout season was in 2007-08 when he played 35 games for Los Leones, scoring 11 times. He was 23 and had accumulated 60 total La Liga games—95 including the 2007-08 season.
Carroll—one can argue—has had his breakout season with Newcastle, scoring 11 times in 19 appearances in the Premier League. He managed to score twice in seven appearances before his injury and his transfer to Liverpool in the January transfer window.
Now, Llorente is 27 years old. Carroll is 23. Four years of top-tier football marks the difference between the two. It's statistically consistent that big-target forwards reach their top form when they are in their mid-twenties, so for Carroll to have had his 10-goal-plus season at Newcastle United shows his potential.  
If you look at Andy Carroll before the Chelsea game, before the FA Cup final, before the Fulham game, he was played just behind Suarez. Guess what, Suarez isn't an out-and-out striker. Nor is Carroll. If you look at the positioning for Carroll in the past three games he's started, he's fielded farther up the pitch.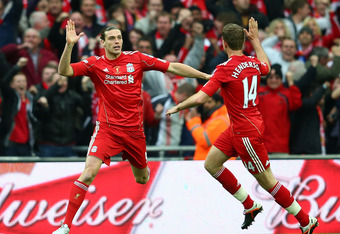 Clive Mason/Getty Images
Finally, he's become a traditional No. 9 that was so badly needed in the first three-quarters of the season. Carroll's won over 90 percent of his headers in the Fulham game and the Chelsea game. He's scored a Suarez-esque goal at the Wembley. He also had a goal overturned because it hit the underside of the crossbar, which Petr Cech was able to save.
Speaking of the second goal that wasn't meant to be, I couldn't believe what people were saying about kicking the ball into the net for good measure. You would have been celebrating too if you had thought you had scored an equalizer in a cup final. Everything is easier in hindsight, isn't it? 
Carroll also attacks the ball when it is in the opposition's possession. He comes in deep to win the ball and isn't afraid to try to out-muscle defenders. He's even hustled to the ball to get the goal kick to a free throw at the final home game at Anfield.
It's hustling and work that wins the fans, and he's doing just that, arguably too late.
Reds fans have been extremely vocal about the 6'3" striker's lacking performance, perhaps because of his inflated price. I, too, have been conscious of the transfer fee, and I believe that the fee was undeserving.
However, we as fans can only justify the price through his performance on the pitch and in highlight reels—something he hasn't had much time in. We can't judge him off the pitch or at practice sessions or when he is not on camera on the field.
The big man is confident. It's unfortunate that he's found it now, but as he plays more games and more touches on the ball, Liverpool will see a return on the investment that is Liverpool's No. 9. Carroll on his confidence:
I am confident of doing well all the time and I think it is not just the last two games, I think I have played well in a few games.

I am enjoying it and I think you could see from last night I have been enjoying my football and training.

I am just confident every time I step on the pitch and I think it has shown in the last few games. I think I just needed a bit of a run.

In training I have been doing well and all the lads have been enjoying it now.

We have all been sticking together and playing well. I can't wait till next season.
Former Liverpool director of football Damien Comolli expressed his belief that Carroll is a superstar in the making, although I can't see him say otherwise considering it was under his tenure that Carroll was purchased.
But teammates Steven Gerrard and Glen Johnson have praised the Geordie, with both of them going as far as to backing him for the Euros. Johnson had this to say about Carroll: "Andy is a big lump but he's good on the ball and works very hard. He will scare a lot of defenders."
I've written before that Carroll needs time, and I guess his time is now—just as the season comes to an end—but a crucial time when nations around Europe gear up for the Euros.
It's never too late—especially for a 23-year-old target man—to blossom as there's always next season: a clean slate to start with and a new-found confidence from within the club. Besides, don't statistics prove target men are most potent when they are past 25? 
Let's get past that he cost a pretty penny. If we were to acknowledge Carroll as a member of the squad and not just a bank-busting player, it will do wonders not just for us, but to him as a player who can worm his way into the already bursting annals of Liverpool history.
Stick around Reds fans. You'll be in for a treat—I promise you.