Boston Red Sox: 10 People to Blame for 2012 Struggles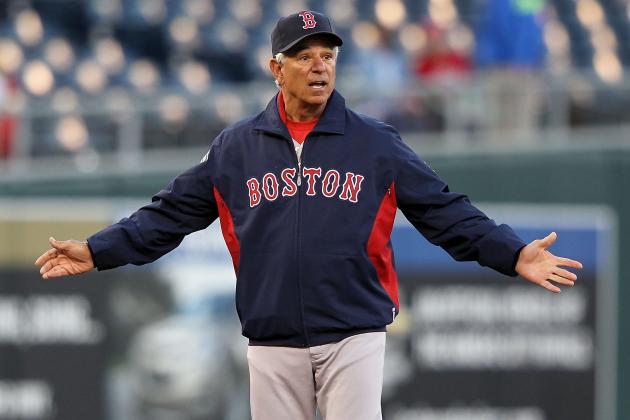 Jamie Squire/Getty Images
Like many fans, Bobby Valentine is aghast at how poorly this Sox team has performed in 2012.
How did we get here?
The Boston Red Sox's record currently stands at 12-18, which puts them behind only San Diego and Minnesota in the race for worst team in the MLB.
Clearly, for $170 million fans are entitled to expect a bit more.
While the team may be last in the standings, they are still certainly staying in the news. First, there was Bobby Valentine and Ben Cherington arguing in spring training about how to use Jose Iglesias. Next, Valentine disparaged Kevin Youkilis' effort on the field. Now, the Josh Beckett "Golf-gate" is grabbing headlines and swallowing up the radio airwaves.
Coupled with the drama-fueled September 2011 and offseason, it appears this just may be business as usual for the Sox going forward. There's always something with this team.
The constant glare of media attention is partially responsible for some of this, certainly. In what other city would a GM and manager debating a prospect's short-term future be a major story hashed out for days on end?
However, there is a larger problem than the media horde blowing things out of proportion. This team has seemingly lost the ability to win baseball games. Like all dynasties, as they attempted to hold onto their power the more it seemed to slip away. What we are now left with is an organization in shambles at all levels.
Blame for this catastrophic downfall can't be put all on one person. Just as it took a collective effort on all levels of the franchise to bring two World Series titles to Boston, so too has it been a group endeavor to plummet into mediocrity.
Here are, in no particular order, the top 10 people who Red Sox fans can blame for the team's precipitous downfall:
Begin Slideshow

»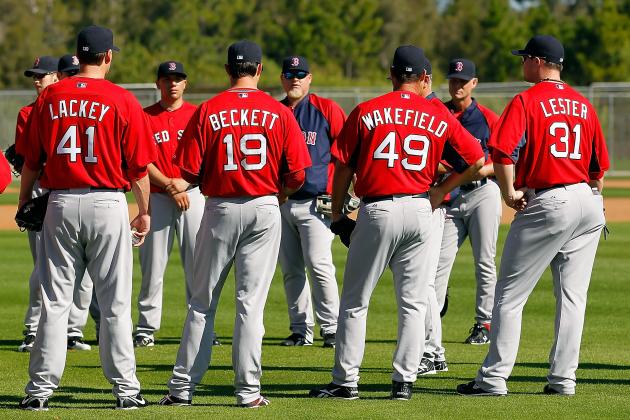 J. Meric/Getty Images
Along with Tim Wakefield, the "fried chicken and beer" trio created a huge distraction that has carried over into 2012.
This one has been turned over again and again, but here's one thing that hasn't been considered enough: Josh Beckett, John Lackey and Jon Lester are all leaders of this team. Whether fans and media like it or not, these guys know how to win and are someone their teammates look up to.
Beckett has won two rings and a World Series MVP in 2003. Lester won the deciding game of the 2007 World Series against the Rockies. Lackey was the winning pitcher in Game 7 of the 2002 World Series for the Angels. These guys have the pedigree.
However, it seems like they have no interest in using their past success as a model for younger players. They have instead embodied the "me-first" attitude that has made this group the most unlikeable Sox team in years.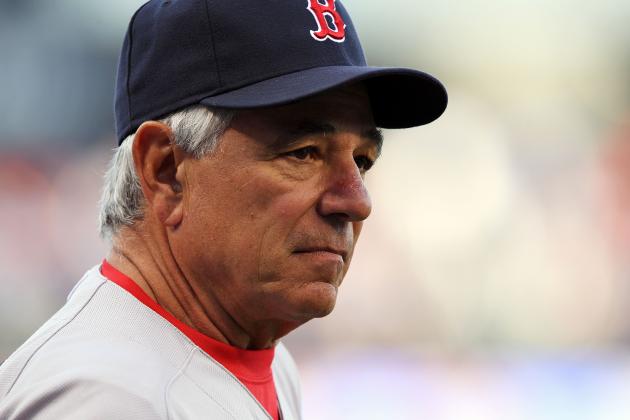 Jamie Squire/Getty Images
Manager Bobby Valentine hasn't had much to smile about this season.
While it's still too early in his tenure to cast Bobby V as a complete failure, he has done very little to inspire confidence. Whether he has not known what his players are doing off the field or if the opposing starter was a lefty or a righty, Bobby's early blunders have contributed to the team's terrible start.
His personality does not mesh at all with a veteran group, as his clash with Kevin Youkilis proved. While it would not be fair to make him completely change his style, Valentine needs to learn to adjust to the team he has.
He needs to project more of his trademark bravado and confidence (whether false or not) in the face of this tough start. The tired, defeated look he currently sports gives off the impression of someone who has already given up.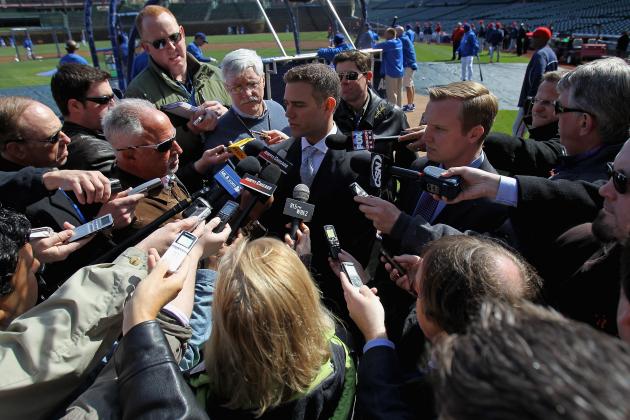 Jonathan Daniel/Getty Images
Now in Chicago, Theo Epstein left the Sox with a lot of roster holes.
It's easy to remember the good times with Theo Epstein: the two championships, the Nomar and Schilling trades, the tremendous drafting and development of players…the list goes on and on. However, he also was the architect of some of the worst moves in franchise history.
Renteria, Lackey, Crawford, Lugo, Matsuzaka, Drew…that list goes on and on too. Epstein locked this team into long-term commitments with players who were either ill-suited for Boston or simply were not all that good to begin with.
After letting Theo leave, the rest of the organization has been left to pick up his mess. Saddled with crippling, back-loaded contracts, the team is essentially paralyzed by these many poor Epstein moves. Because of this, it may take several years before the Sox are ready to become the impact players in free agency that they used to be.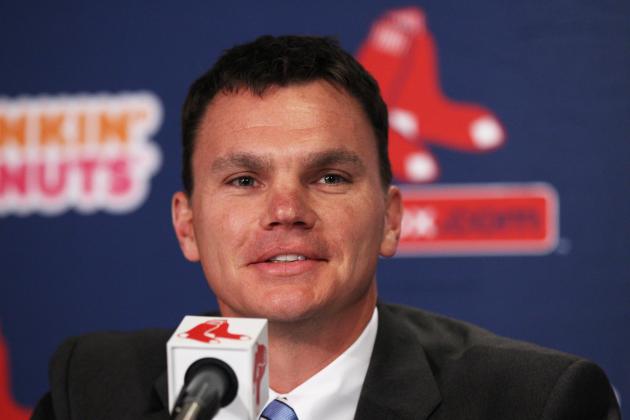 Elsa/Getty Images
Things may have been all smiles this winter, but Cherington's team has struggled in the face of his inaction.
Although he didn't have much time to do anything, the new general manager is not absolved from responsibility in crafting this team, either. He was here last season. He saw exactly what transpired in September, and still he did nothing to correct the problem.
The signing of Cody Ross, acquisition of Ryan Sweeney and commitment to Mike Aviles are looking like shrewd moves, it's true. But he has also stood pat with the rest of the malcontents on the roster, seemingly not ready to part with players who have already proven to be problems on the field and in the clubhouse.
If Cherington wants to shake this team out of its funk, he will need to make a move (or several) to signify to the players that they are playing for their jobs every single day.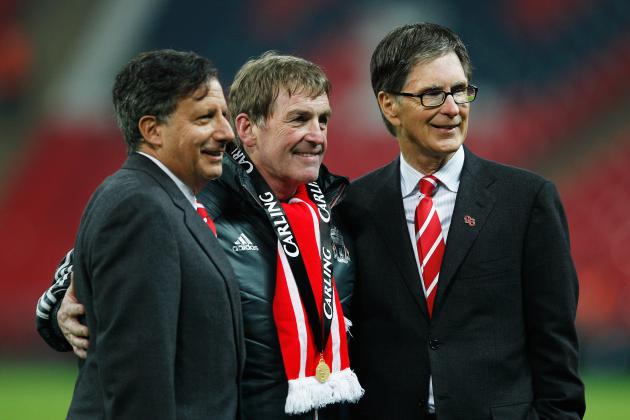 Paul Gilham/Getty Images
John Henry and Tom Werner have been so distracted by their new "toy" that they've forgotten about their old one.
Talk about a fall from grace.
John Henry, Tom Werner and Larry Lucchino were the toast of the town after bringing two World Series to Boston. Now, they can hardly go out in public.
It feels like they have grown weary of the Red Sox, and are looking to expand their reach into other sports. First there was the NASCAR team, next it was Liverpool.
They also seem to care much more about the Red Sox brand than they do they actual team. How else can we explain the Fenway bricks, the Fenway Anniversary commemorative CDs and the grape juice toasts?
And that's not even getting into the public railroading of former manager Terry Francona.
These three have fallen so far out of touch with their team that fans are genuinely surprised to hear from them anymore. To borrow a popular NCAA term, they have demonstrated a lack of institutional control.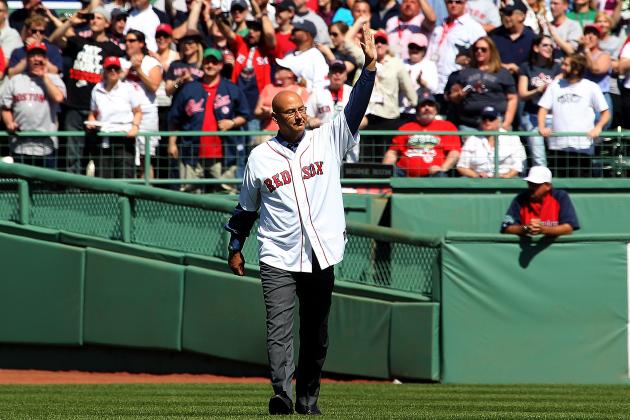 Jim Rogash/Getty Images
The beneficiary of some revisionists' history, Francona certainly played a big role in the current situation in Boston.
Nobody has benefited more from the downfall of the Sox than Francona. If you need proof, just compare the reception the team was getting last September with the one Francona received at the Fenway Park 100th Anniversary celebration.
However, Francona cannot be excused for being the one who allowed this culture of selfishness to be born. As soon as he saw Beckett and Lackey chowing down on Popeye's and Budweiser while playing Call of Duty, he should have called them into his office and told them to cut it out.
But he didn't.
Now, we are left with an aftermath that is messier than the initial offense. The manager doesn't contribute much in the way of wins and losses over the course of a season; his job is primarily to keep the players focused on the same goal. Francona failed to do that last year, and the result of this neglect is playing out as we speak.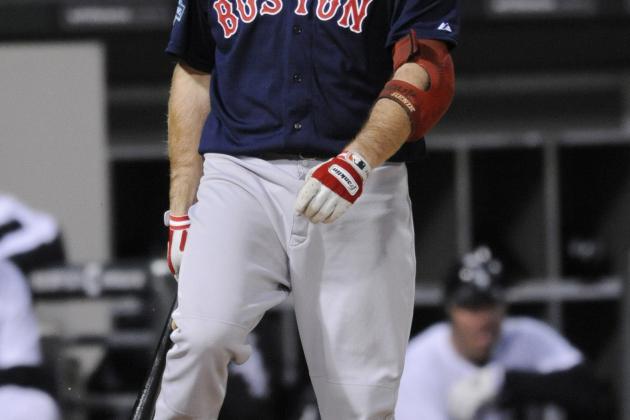 David Banks/Getty Images
The struggles of Youkilis have been a huge problem this year.
It is easy to forget that the irascible Sox third baseman, deemed expendable in recent days due to the emergence of Will Middlebrooks, was once a centerpiece of this lineup. After finishing in the top 10 of MVP voting in consecutive years (2008 and 2009), Youkilis has been unable to stay healthy since then.
To compound his injury problems, Youkilis has become a lightning rod for criticism off the field. Valentine's suggestion that Youkilis doesn't care as much became a huge distraction for the team, one that likely could have been avoided. Whether he believed it or not, Youkilis could have been the bigger person and squashed it before it became a controversy. Instead, he chose to openly question his manager.
His struggles at the plate to start this season did him no favors, either. Youkilis' inability to get on base like he used to have only deepened fan and media criticism, and have in fact hastened calls for the once-revered third baseman to be shipped out of town.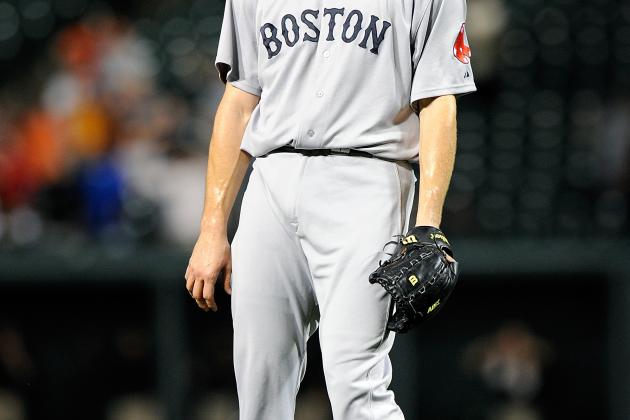 Greg Fiume/Getty Images
Papelbon's blown saves against Baltimore in September 2011 set the stage for all the drama that has unfolded.
The former Sox closer bolted town for a four-year, $50 million contract with the Phillies in the offseason, and who could blame him? It was way more than the $0 the Sox offered him, and gave Papelbon a fresh start in a new city.
Still, it's hard to forget the image of Papelbon staring on in disbelief as the Orioles celebrated eliminating the Sox last September. For someone who prides himself on thriving in big situations, Papelbon played a huge role in the Sox September collapse.
He blew two saves against the Orioles in the final week of the season, and those two saves would have made the difference in getting the team to the playoffs. Instead, public turmoil has engulfed the franchise as they still try to recover while Papelbon high-tailed it out of town.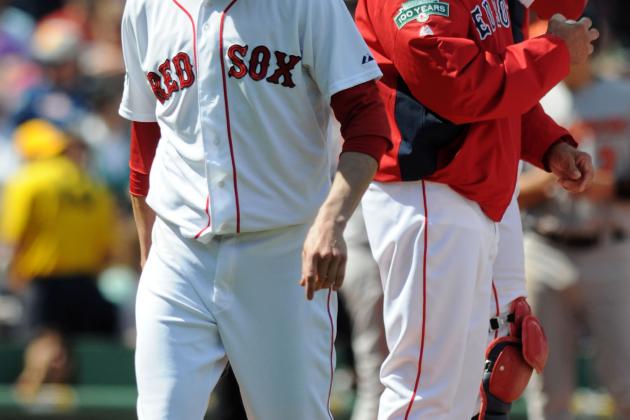 Darren McCollester/Getty Images
It's been a lost season for Buchholz, whose struggles have increased the pressure on the Sox's terrible bullpen.
An ace, he is not.
Buchholz has been positively horrendous this season. His 9.09 ERA in six starts is comical; the fact that he is 3-1 is almost equally preposterous. The lanky Texan has shown no signs of regaining the form that made him an All-Star and a Cy Young candidate in 2010, and Sox fans are justifiably worried.
More troubling is the fact that Buchholz is seemingly taking his cues from Beckett. Buchholz was the one out on the links with Beckett in the "Golf-gate" scandal, showing that he either likes to follow Beckett wherever he goes, has incredibly poor judgment, or both.
With a minimum of over $25 million due to the pitcher over the next three years, the Red Sox are hoping Buchholz can get his act together. For that big of an investment, they should do better.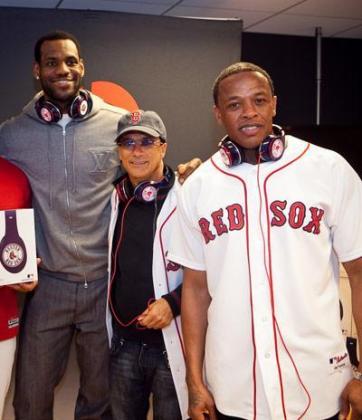 How exactly did a basketball player make it onto this list? It's not for anything LeBron himself specifically did; however, James represents something this franchise needs to eliminate: distractions.
James' investment in Liverpool and the Fenway Sports group connects him to the Sox owners, and they have in turn felt the need to occasionally parade James out at Fenway. As a group, they have lost sight of the fact that this is a baseball team, and to succeed that team needs to free itself of things that take their attention away from the games.
James himself should know this better than anyone; last year's season with Miami was one giant distraction, with hordes of reporters and fans hounding the team in every city. The result was a team that ran out of gas by the time it got to the finals.