Analyzing Second-Year Leap Scenarios for the Browns' 2011 Draft Class
May 10, 2012

Jason Miller/Getty Images
The Cleveland Browns have received much criticism in recent years for their draft strategy,. However, the team has managed to find some seriously talented players season after season.
While we cannot know how well this year's draft class will fare, we can look back on previous groups of draftees to see what they accomplished and what we can expect to see from them this season. Let's do just that for the eight players the Browns picked up in the 2011 NFL draft.
DT Phil Taylor
Last year, the Browns had the sixthoverall pick in the draft, but they traded down with the Atlanta Falcons so that the Falcons could select wide receiver Julio Jones. The Browns then traded back up to No. 21 to snag defensive lineman Phil Taylor.
Though it wasn't the flashiest move the Browns could make, Taylor was impressive in his first year. He had 59 tackles—the most of any rookie defensive lineman—and four sacks. This year, he should play an even bigger role on a Browns defensive line that is working to do a better job both pressuring quarterbacks and stopping the run.
DE Jabaal Sheard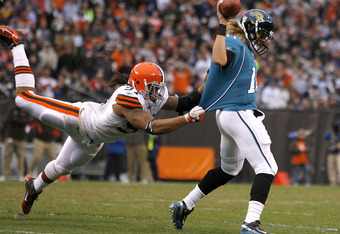 Matt Sullivan/Getty Images
The Browns landed a much-needed pass-rusher in the second round of last year's draft when they selected defensive end Jabaal Sheard. Sheard made a major impact as a rookie, with 55 total tackles, 8.5 sacks and five forced fumbles.
Sheard is quickly becoming a star on the Browns' ever-strengthening defense. Though the team brought on free-agent veterans Juqua Parker and Frostee Rucker this offseason, they won't likely wrest the starting spot away from the impressive Sheard.
WR Greg Little
Greg Little had a lot of drops in his rookie season as he dealt with a bit of rust, having not played football at all in 2010, and the pressure of learning the Browns' West Coast system in a lockout-shortened offseason.
However, he did have the second-most catches of any rookie receiver last season, with 61, good for 709 yards and two scores. He didn't notch his first touchdown until late November, but look for him to get into the end zone earlier in his second season with more experience under his belt.
Little dealt with a number of obstacles in his rookie season but managed to perform well despite them.
If he can cut down on his drops and raise his touchdown numbers—all while likely working with a new starting quarterback Brandon Weeden—then he'll prove worthy of being the Browns' No. 1 receiver. This will be an important season for Little.
TE Jordan Cameron
Larry French/Getty Images
Jordan Cameron was brought on to the Browns as a developmental project. His size (6'5", 254 pounds) and impressive vertical leap makes him a prime candidate to become a serious receiving threat for the Browns in the future.
Cleveland has a lot of tight ends on the roster—some who can catch, some who can block, but few who can do both. Cameron isn't much to talk about on the blocking end, but these days, one tight end isn't enough, and it's fine to have a receiving specialist on the roster.
Cameron may see more than the six receptions he had in his rookie season this year, but it may not be until 2013 when he gets more consistent on-field action.
FB Owen Marecic
Marecic likely caught the Browns' eye with his versatility—he also played linebacker in college—and the fact that they needed a new blocking fullback. 
Like Cameron before him, Marecic is a developmental prospect. But because it wasn't a crowded field at fullback for the Browns last year, he did see some significant playing time.
This year, Marecic will be leading the way for Trent Richardson, which should make his blocking job quite a bit easier. The Browns also seemed to hint that Marecic will be used in the short passing game—he caught five passes for 31 yards last year—and he's also used on kick return duties.
He'll be a jack-of-all-trades for the Browns again this season.
CB Buster Skrine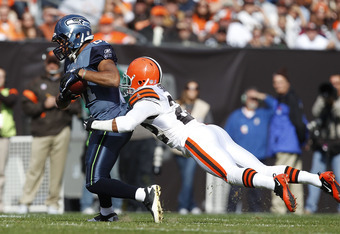 Matt Sullivan/Getty Images
It will be some time until Buster Skrine ends up a starting cornerback for the Browns, but he did contribute as a nickel corner last year and will likely do the same again this season.
As a rookie, Skrine netted 18 total tackles and one interception. Those numbers are likely to go up in his second season as he becomes more comfortable with the Browns' system.
OG Jason Pinkston
The Browns got themselves a steal in the fifth round when they selected offensive guard Jason Pinkston. Thanks to injuries on the line, Pinkston had ample playing time as a rookie and looked impressive.
He should be a full-time starter this year unless he gets outperformed in camp by Shawn Lauvao.
S Eric Hagg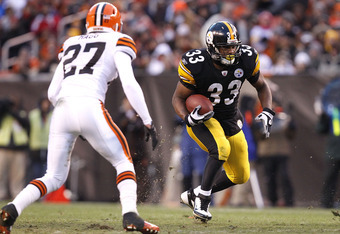 Matt Sullivan/Getty Images
Eric Hagg ended up playing special teams for the Browns in his rookie season, contributing to their punt- and kick-coverage squads. He did a pretty solid job in coverage and should resume that role in his second season.
Hagg does have some upside and could eventually compete for the starting free safety job, though not likely this year. He'll serve as depth while he develops and will continue to work the special teams beat. Not bad for a seventh-round pick.