David Robertson: New York Yankees RHP Takes Home AL Worst of the Night Award
May 10, 2012

Nick Laham/Getty Images
The New York Yankees took a 1-0 lead over the Tampa Bay Rays into the top of the ninth at Yankee Stadium on Wednesday night.
In situations like those, we're used to seeing Mariano Rivera come in and shut the door without issue. But since he's on the disabled listed for the foreseeable future with a torn-up knee, David Robertson had to come in and do the honors.
He failed.
Robertson quickly coughed up the Bombers' 1-0 lead. He started by giving up back-to-back singles to Sean Rodriguez (.213 hitter) and Brandon Allen (.154) hitter to start the inning. They ended up on second and third after Nick Swisher tried to be a hero when he attempted to gun down Rodriguez at third. A walk to Ben Zobrist loaded the bases, and B.J. Upton tied the game with a sacrifice fly to right after Carlos Pena struck out looking.
Then came the big blow. Robertson threw Matt Joyce a fastball on the outside corner on a 1-2 count, and Joyce hooked it to right field on a line. The ball barely cleared the fence, giving Joyce his seventh home run and the Rays a 4-1 lead.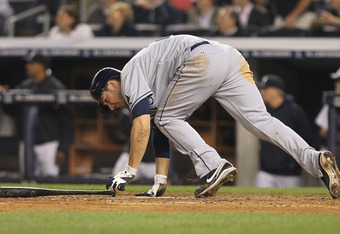 Nick Laham/Getty Images
MLB.com has the moving-pictures highlight.
Robertson was done after that. His line for the night: 0.2 IP, 3 H, 4 R, 4 ER, 1 BB, 1 SO, 1 HR.
Coming into Wednesday's action, Robertson's ERA was a perfect 0.00 and his WHIP was a very respectable 1.00.
Robertson's ERA now stands at 2.63, and his WHIP is up to 1.24. In one outing, he went from being one of the most dominant relievers in baseball to a mere human being. He would fit in quite well with Boston's rabble of relievers.
I'm making light of the situation, of course, but this is a serious issue for the Yankees. They were hoping that Robertson would be just as dominant in the ninth as Mo had been, and that hasn't been the case the last two days. He made things interesting on Tuesday, and he blew it on Wednesday.
I sympathize with Robertson, as it never was going to be easy for him to replace the game's greatest closer. This does not, however, mean I or anyone else has to take it easy on Robertson.
For his performance last night, Robertson earned the American League "Worst of the Night" award. He joins a list of weekly winners that already includes Adrian Gonzalez, Octavio Dotel and Carlos Pena.
Their shame is forever.