Carmelo Anthony's Repeated Playoff Failures Show 'Superstar' Label Is Overplayed
May 10, 2012

Jeff Zelevansky/Getty Images
We've learned a lot about New York Knicks star Carmelo Anthony over the past nine postseasons—most importantly that Melo likes to have the ball in his hands and loves to shoot the rock. He's also very good at it: Very few players in today's NBA can match Anthony's pure scoring ability.
But notice I called Melo a star and not a superstar, because that's exactly what he is.
That's not a necessary knock on Melo—he is what he is as a player and that's a dynamic scorer, but that's all Anthony is right now.
In today's game—where everyone from other NBA players, to the media, to the casual fan gives out the superstar label as if it were Halloween candy—Anthony's postseason failures just offer up further proof that the word "superstar," is used way too much in today's game.
Is Anthony the best scorer in the NBA today? Quite possibly.
Is Melo a superstar? Not a chance.
We live in an age where a player is given the title of superstar after a couple nice highlights, a few big games or even a good season or two. Along with that moniker comes high expectations of success. They get the big contracts, but so many of today's "superstars" don't come close to meeting what's expected of a real superstar.
In Anthony's case, you have a guy that's strictly a scorer, but he doesn't have the multiple facets of his game that a superstar does.
To prove a point, just compare the Game 5 performances of Miami's LeBron James and that of Anthony.
LeBron made a huge impact on the game as a facilitator and on the defensive end, but came through as a scorer when he had to. Anthony scored 35 points (on 31 shots), but James impacted the game in every aspect possible, finishing with 29 points, eight rebounds and seven assists.
Anthony can only impact the game on a consistent basis by scoring.
You can use the excuse of he had to be a scorer because the Knicks were banged up and that's fine, but what's the excuse going to be for the rest of his career?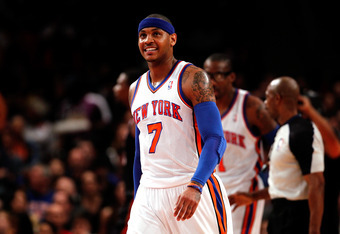 Jeff Zelevansky/Getty Images
However, the most important reason why Anthony isn't a superstar is the fact that he doesn't elevate his teammates.
Superstars make those around them better, and Anthony has never done that at any one point throughout his career.
That one quality is what separates the superstars in this league from the rest of the players.
There's no knocking Melo's ability, but there's also no disputing the results—Anthony is only 17-37 in the postseason and has been out of the first round only once in his career. Superstars can put teams on their back for stretches, similar to what Melo did in Game 4, but he's never proven that ability on a consistent basis.
In the NBA, superstars are often judged by playoff success, which Anthony is far from achieving. If it's fair to knock a guy like LeBron for not winning a ring, it's also fair to criticize Anthony for never coming close.
The problem isn't necessarily Melo as much as it is that we tend to anoint stars as superstars before they've really earned that status. The good news for Anthony is that he's only 28 years old, so he still has plenty of time left to prove the critics wrong.
If he does, maybe one day we will be able to call Melo a true superstar.