Cris Carter and 4 Former NFL Players with Foot-in-Mouth Syndrome
May 10, 2012

Evan Agostini/Getty Images
Throughout the duration of a player's career, it's not surprising to see him speak out. With the NFL being the nation's most popular sport, players are under a bright spotlight and even once retired we're still interested in their words.
After all, what better way to get an opinion on the current NFL than from former players who have been there? Nonetheless, some former players do attract controversy as we've come to realize.
Cris Carter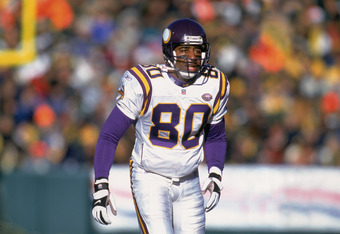 Jonathan Daniel/Getty Images
The New Orleans Saints bounty scandal is not surprisingly a hot topic in the NFL and sports world. This in turn also gave former receiver Cris Carter something to reveal about his playing days. According to ESPN, Carter spoke about it earlier this week:
"'I'm guilty of (bounties)—I mean, first time I've ever admitted it—but I put a bounty on guys before,'" Carter told [ESPN Radio] show hosts Mike Hill and Mark Schlereth. "'I put bounties on guys. If a guy tries to take me out, a guy takes a cheap shot on me? I put a bounty on him right now!'"
When asked whether the bounties carried financial incentive, Carter said: "Absolutely."
Perhaps Carter just needed to get this off his chest, but it's still surprising to see a well-respected player admit such a thing. In addition to this however, Carter also got into a mini-feud with Randy Moss back in February.
In an article by ESPN's Kevin Seifert, Carter said on ESPN's Mike & Mike in the Morning:
"'The one thing you have to address with Randy Moss is not a conditioning thing,'" Carter said. "'It's not an age thing. It needs to be addressed. I believe it's the elephant in the room. It's that thing called quit.'"
"'And Randy, not like any other superstar I've met, he has more quit in him than any of those other players. So I need to address that.'"
It's certainly been an interesting 2012 so far for Mr. Carter, and the upcoming season will be intriguing to watch.
Kurt Warner/Amani Toomer/Merrill Hoge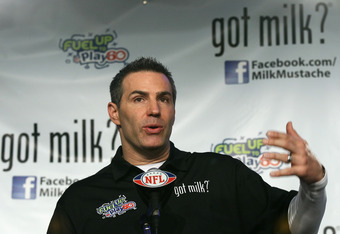 Win McNamee/Getty Images
Another expected future Hall of Famer, Kurt Warner played in three Super Bowls (winning one) and hold the top three passing yards spots in Super Bowl history. So it's safe to say that for as many times as Warner dropped back to sling the rock, he took his fair share of sacks and hits.
Well, with the game fielding bigger, faster and stronger players, Warner expressed concern and then drew criticism. In an article by Nate Davis of the USA Today, Warner stated:
"When I look at as a father, I still have those concerns, and I worry about it when my kids go out to play. And then when you look at the other side, it's not a hate."
'"Scares me. When you hear things like the bounty, and when you understand the size, the speed, the violence of the game, and you couple that with Junior Seau and was that a (ramification) of playing all those years,'" said Warner, "'it's a scary thing for me.'"
Warner's comments were then disputed by Amani Toomer and Merril Hoge who gave their two cents. In an interview with Michael David Smith on NBC Sports Talk, Toomer said:
"I think Kurt Warner needs to keep his opinions to himself when it comes to this. Everything that he's gotten in his life has come from playing football. He works at the NFL Network right now. For him to try and trash the game, it seems to me that it's just a little disingenuous to me."
Along with Toomer, Hoge, according to Smith gave his opinion on NFL Live:
"'I think it's irresponsible and unacceptable,'" Hoge said of Warner suggesting that football is a dangerous game for children. "'He has thrown the game that has been so good to him under the bus. He sounds extremely uneducated.'"
Regardless of whose side you're on, it's certainly easy to see how sensitive the safety issue is when it comes to football at all levels. As fans though, it would be better to see former players get together and discuss one another's viewpoints as opposed to going back and forth via technology.
Let's get everyone together and put it all on the table. This way we get to see former players that like speaking their minds team up and help put the game's safety issues into perspective.
Warren Sapp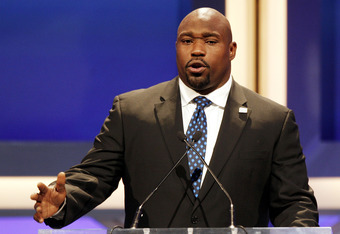 Kevin Winter/Getty Images
Back when the Saints' bounty scandal was in its infancy, Warren Sapp, according to Mike Florio of NBC Sports, revealed his bounty info on TV:
"'My source that was close to the situation informed me that [name omitted] is the one that was the snitch initially,'" Sapp said. "'I trust my source unequivocally.'"
'"That's the information that I got and I trust my source,"' Sapp said. '"I was given that information, and I went with it, by a reliable source."'
Sapp obviously liked using the word "source" here and he gave a name via twitter:
BINGO! RT @elnicastro: Shockey..? RT QBKILLA: Just Heard Who The Snitch Was
—Warren Sapp (@WarrenSapp) March 21, 2012
This turned out to be wrong, but Sapp put himself in that situation so he has to live with it. Considering his other issues, Sapp should instead stay out of putting his perspective on the Bountygate scandal.
Tedy Bruschi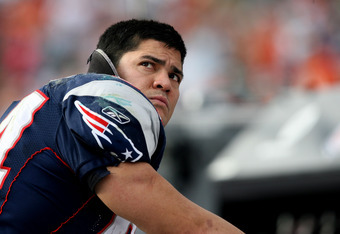 Doug Benc/Getty Images
After the 2012 NFL draft, Baltimore Ravens' head coach John Harbaugh touched a nerve about the New England Patriots' Super Bowls. According to Michael Hurley of CBS Boston, Harbaugh said in an interview with 98 Rock in Baltimore:
"What happens is, even the thing in New England—no matter whether those things had any impact on whether they won their championships or not, they got asterisks now. They've been stained."
Now, Bruschi definitely has every right in the world to be upset and emphatically respond to Harbaugh. He did respond on ESPN stating:
"I don't know what the Patriots organization or coach [Bill] Belichick has to do to prove how good he is as a head coach, or how good those players were, or how good that organization is."
"I'm very surprised about coach Harbaugh's comments because he's a coach who knows how hard it can be to get to that championship game."
All this said, Harbaugh's words were taken a bit out of context as he mentioned according to CBS Boston:
"'My reference [to the stain] was to the perception out there that came as the result of the league's actions,'" Harbaugh said in an official team statement. "'I could have been more clear that I was referring to those viewpoints.'"
If anything, Harbaugh is correct as Spygate (regardless of what anyone believes) does always come up when New England's Super Bowls are discussed.
Bruschi certainly did a good job of defending those Vince Lombardi trophies (as he should have), but there's no denying the controversy that erupted after Spygate was known.
John Rozum on Twitter.