The Avengers and Their MMA Counterparts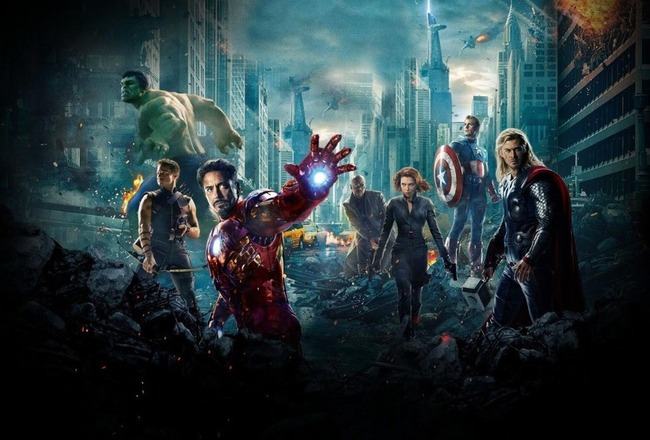 Marvel Studios' blockbuster film The Avengers has taken over the pop culture world since its highly anticipated domestic release last week.
Assembling some of Earth's mightiest heroes together on screen for the first time, this action packed hit is shattering box office records as it closes in on grossing a billion dollars globally.
While these extraordinary characters may only live in Marvel's cinematic universe, that doesn't mean that the real Earth isn't in need of butt-kicking superheroes. In sports, there's no better group to take up this mantle than the world's toughest athletes—MMA fighters.
If Samuel L. Jackson ever decides to start the Avengers Initiative in real life, here are the guys—and gals—that could definitely suit up to stop an alien invasion.
Gina Carano as Maria Hill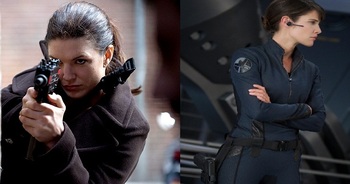 A brunette beauty and agent of S.H.I.E.L.D., don't let Maria Hill's good looks fool you; she can kick some serious butt.
The right-hand woman of Director Nick Fury, Hill is an expert fighter and is also highly skilled with a gun. But her most important attributes are Hill's strong personality and quick thinking in the field.
Like her superheroine counterpart, Gina Carano is deadly at hand-to-hand combat and has a great presence about her both in and out of the cage. Add in her experience with heavy arms—albeit on screen for the film Haywire—and Carano looks like a strong candidate for an MMA-styled Avengers.
Dominick Cruz as Agent Coulson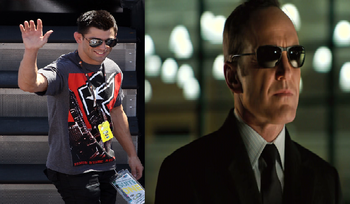 Calm, cool, collected and a bit corny at times, Agent Phil Coulson is normally too busy watching out for the other heroes to get his hands dirty. But when Coulson does get in on the action, there's usually a lot at stake.
UFC champion Dominick Cruz shares Coulson's demeanor and even some of his responsibilities, as Cruz assembles a new breed of budding stars on the latest season of The Ultimate Fighter.
While Cruz is out of action for the time being with an ACL injury, there will definitely be a lot at stake when he returns as his bantamweight belt will be on the line.
Joe Silva as Nick Fury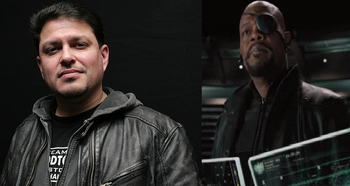 Like Nick Fury, there's something about UFC matchmaker Joe Silva that gives him the uncanny ability to read people before setting up bouts.
Whether it has to do with their personalities, fighting styles or other factors, Silva has been the mastermind behind some of the best fights in MMA history over the years.
There's no better person to pick a real life superhero team than Silva.
Chael Sonnen as Loki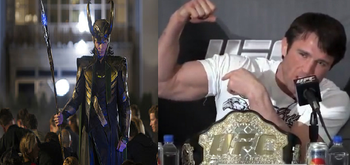 Delusions of grandeur? Check.
Shiny gold accessory? Check.
Love of smack talking? Check.
If Thor's evil brother Loki liked MMA, I'm sure he'd be proud of the work Chael Sonnen is doing.
Georges St-Pierre as Hawkeye

UFC Welterweight champion Georges St-Pierre strikes with pinpoint accuracy. He can place his jab anywhere on an opponent's face like Hawkeye can hit a bulls-eye from any angle with an arrow.
When it comes to their jobs, both men take their work very seriously as they constantly look to perfect their technique. With Hawkeye's wide array of trick arrows and St-Pierre's large arsenal of strikes, either guy is a good choice when facing down an inter-dimensional demigod.
Ronda Rousey as Black Widow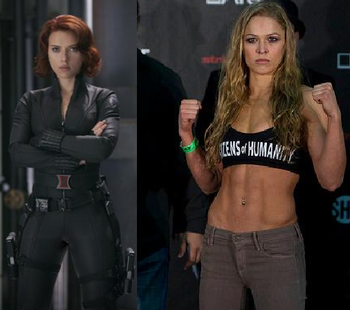 If you haven't seen either Iron Man 2 or The Avengers, then you're missing out on some insane aerial grappling moves by the lovely Scarlett Johansson as the Black Widow.
Throwing crazy scissor leg takedowns while simultaneously trash-talking her foes, there's no better fighter to compare the Black Widow to than Strikeforce Women's Bantamweight champion Ronda Rousey.
With her fiery personality and Olympic-level grappling skills, Rousey would make for a great Natasha Romanoff.
Brock Lesnar as the Hulk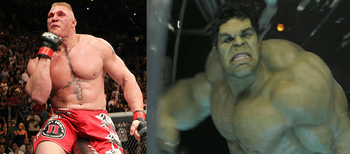 Before retiring, former UFC Heavyweight champion Brock Lesnar was the Hulk in the way he both fought and acted inside the Octagon.
Throwing opponents around the cage while smashing their faces in, Lesnar just needed some green body paint and a Lou Ferrigno voice-over to complete this colossal comparison.
Even outside the Octagon, Lesnar's personality mimics that of the Hulk's quieter alter-ego.
Bruce Banner chose to move away from the Big Apple for personal and safety reasons. Lesnar has shown a similar disdain for city life, trying to escape the media attention over the years by living serenely out in the country with his family.
Alistair Overeem as Thor

Muscly arms and a big, shiny hammer make former Strikeforce Heavyweight champ Alistair Overeem look like Thor's Dutch cousin.
Powerhouses with few who rival their strength and athleticism, Overeem and Thor know how to bring the lightning when their enemies come knocking.
Jon Jones as Iron Man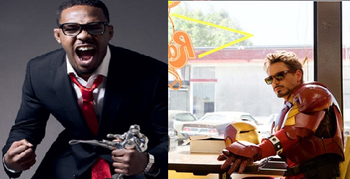 Tony Stark and Jon Jones are just two guys living the dream.
Intelligent, ultra-famous and able to kick virtually anybody's butt, there's a reason why both guys are so cocky all the time.
And look at those suits. Can you say "swag?"
Brian Stann as Captain America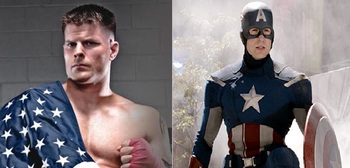 Patriotic war heroes who'll go to no end to protect their country, Brian Stann and Captain America are a match made in heaven.
A captain in the Marines, Stann doesn't need any super soldier serum, as he once helped his an entire platoon escape a vicious firefight during Operation Matador while serving in Iraq.
Unlike Captain America, Stann is a real-life American hero.
Be sure to like me on Facebook or follow @MattJuulMMA.
Keep Reading