The Microscope: Diagnosing the Grizzlies' Late-Game Struggles (and More)
May 10, 2012

The Microscope is your recurring look at the NBA's small-scale developments—the rotational curiosities, skill showcases, coaching decisions, notable performances and changes in approach that make the league go 'round.
Establishing some late-game order in Memphis
Thus far in this year's playoffs, the Memphis Grizzlies' late-game offense has been a bit of a disaster. It's natural to expect any team's efficiency to plummet over the final minutes of a close game, but the Grizzlies are living proof of a team's self-imposed clutch limitations: a typically patient Mike Conley seems to get a tad jumpy down the stretch for whatever reason; there's plenty of wild driving without much productive penetration; the post-centric offense that powers the Grizz is abandoned in favor of some pretty mundane pick-and-roll sets.
As a result, when the game's margin is within five points and there are five minutes or less remaining on the clock, Memphis has posted an offensive efficiency of 77.0 points per 100 possessions—down substantially from the Grizzlies otherwise sterling postseason mark of 105.5 points per 100 possessions.
It's a pretty glaring problem that the endgame Grizzlies—largely by choice—have failed to trigger their most efficient offense, which really is as simple as establishing any of Zach Randolph, Marc Gasol or Rudy Gay in the post.
Gasol seems to have the most frequent mismatch, which has led many to lament his lack of late-game touches and production in this series thus far. That invisibility is indeed problematic, but perhaps not in the way one might think; although Gasol working from the low block is as good an option as the Grizzlies have, he may be even more useful in making post entry passes and orchestrating the offense from the elbow. 
The reason Memphis' offense tends to lag without Gasol in the game isn't because his low-post presence is so crucial, but because of what he does for the team's passing and spacing. Between Gay, Randolph and Marreese Speights, the Grizz have plenty of players who can score in isolation contexts. But those three scorers range from unwilling to incapable in the passing department, an area of the game in which Gasol happens to excel. 
Gasol doesn't need X shot attempts, but he does desperately need touches at any time in which the Grizzlies need offense. Put him on the block or in the high post—regardless, put the ball in the hands of a player with clear designs to get the ball where it needs to go.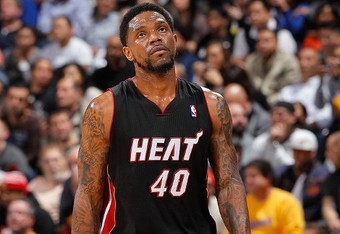 Whatever happened to Udonis Haslem?
Last year, Udonis Haslem missed most of the regular season with a left foot injury and finished Miami's playoff run with a career-low PER (7.1), along with correspondingly dismal marks across the board. It was an understandable letdown for a player who had been hobbled and thrown out of rhythm, and though Haslem's play was abjectly poor overall, it seemed completely excusable and understandable in those particular circumstances. Injuries take their toll, and though Haslem fought his way onto the court in his attempts to help Miami's postseason run, he wasn't able to offer all that much offensively.
This season is a bit of a different story; the post-lockout campaign has brought all kinds of weirdness, but I'm still left scratching my head at the prolonged nature of Haslem's nonsensical drop-off. Haslem doesn't appear physically hindered in any way, and yet he's thus far far capped off the worst regular-season performance of his career (10.9 PER) with an ineffective first-round series (8.8 PER). His defense is still fairly strong, but Haslem's offensive value—typically contributed in the form of spot-up jumpers and simple but effective finishes at the rim—has completely diminished.
He still poses more of a threat than the imminently ignorable Joel Anthony, but already we've seen an opposing defense stray away from Haslem in order to put additional pressure on the Heat's more consistent scorers.
It would be great to see Haslem find the net again, if only because it's nice to see hard workers rewarded in any trade. But more importantly in the context of this discussion, Miami will need Haslem to convert those open jumpers as the playoffs go on—lest they rely more and more on a "small" lineup featuring LeBron James as a nominal power forward.
Mo Williams, savior of possessions
Mo Williams has been a bit of a punching bag over the course of his post-Bucks career, but on Wednesday night he served as the Los Angeles Clippers' bail-out artist, among other things. Williams put together a decent—if not totally efficient—scoring outing (20 points, 21 shots), but many of his makes and attempts came after L.A.'s initial plays broke down. The Memphis Grizzlies are a pretty tremendous defensive team, and upon their many rebuffs of the Clipper offense, the ball was often reversed to the weak side, where Williams was asked to create something on the fly.
This actually turned out to be a pretty effective strategy, as Williams hit a number of contested jumpers and managed to salvage possessions that were nearly smothered by the Grizzlies' rotations and the ticking shot clock.
This isn't the kind of thing that Los Angeles wants to lean on in anyway way going forward, but that doesn't mean we can't appreciate a single night of Williams serving as his team's resident magician.
Statistical support for this post was provided by NBA.com.