MMA: Which Martial Art is Best? We Run Down the Top 5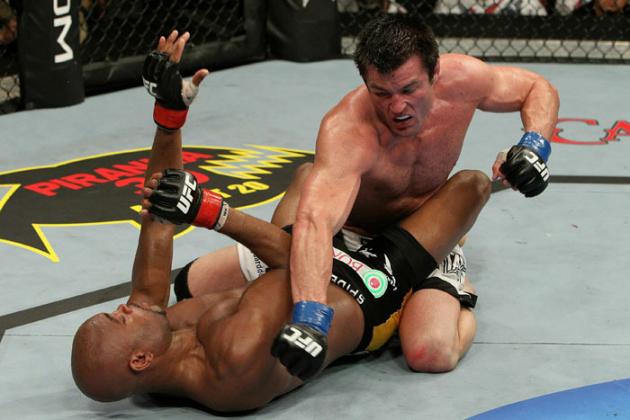 The point of The Ultimate Fighting Championship was to determine which martial art was best of all. UFC 1 had eight talented fighters with skills that included boxing, kickboxing, kempo, wrestling, Brazilian Jiu Jitzu and even sumo wrestling.
These eight men put it all on the line to represent their respective craft, but in the end Brazilian Jiu Jitzu practitioner Royce Gracie proved that his takedowns and submission skills were too much for anybody in the field. And so, two things were born: The aura of Gracie Jiu Jitzu and the legend that is Royce Gracie.
But now—almost twenty years later—is Brazilian Jiu Jitzu the top martial art, or has it been surpassed?
Begin Slideshow

»
When you think Martial Arts, most likely you think of some kind of Karate or Kung Fu style. Karate practitioners usually have very accurate strikes, but sometimes lack in punching power. Because of this, most Mixed Martial artists lean heavily towards other forms of combat.
Champions Who Use Karate/Kung Fu
Georges St. Pierre: Kyokushin, Gaidojutsu
Anderson Silva: Taekwondo
Ben Henderson: Taekwondo
One of the more important aspects of the fight is being able to successfully use leverage to get your opponent to the ground, and gain good position once there.
Judo hip tosses do just that, and Judoka masters usually find themselves having no problem translating to the cage or Octagon.
Champions Who Use Judo
Strikeforce Women's Champion Ronda Rousey
UFC Middleweight Champion Anderson Silva
Bellator Light Heavyweight Champion Christian M'pumbu
If you ask who trains in boxing, the answer would be everybody. However, the guys who use boxing as a primary attack aren't as bountiful.
Champions Who Use Boxing
UFC Heavyweight Champion Junior Dos Santos
UFC Middleweight Champion Anderson Silva
Strikeforce Lightweight Champion Gilbert Melendez
UFC Welterweight Champion Georges St. Pierre
UFC Bantamweight Champion Dominick Cruz
This is where the numbers don't truly tell the full story.
On one hand, having a stifling wrestling game makes you dominant to the point where you can take the fight wherever you want to. On the other hand, it's like Rock Paper Scissors. If you have great wrestling and terrible Jiu Jitsu, you'll most likely get submitted. Just see Sonnen, Chael for evidence.
Champions Who Use Wrestling
UFC Welterweight Champion Georges St. Pierre
UFC Light Heavyweight Champion Jon Jones
Bellator Heavyweight Champion Cole Konrad
UFC Bantamweight Champion Dominick Cruz
Bellator Lightweight Champion Michael Chandler
UFC lightweight Champion Ben Henderson
Bellator Welterweight Champion Ben Askren
Once the best, and still the best.
BJJ is the best base in all of MMA. It's a better base than wrestling because if two guys are fighting and one had great wrestling and terrible Jiu Jitsu—and the other has terrible wrestling and great Jiu Jitsu—most likely the one with the great Jiu Jitsu will win.
The reason is because once the fight hits the ground, the wrestler is all but surely going to tap out. The most impressive stat of this is that of the 16 Champions I've included in this, 11 have a belt in BJJ.
Champions Who Use Brazilian Jiu Jitsu
Gilbert Melendez
Anderson Silva
Georges St. Pierre
Bellator Featherweight Champion Pat Curran
Bellator Bantamweight Champion Eduardo Dantas
Strikeforce Light Heavyweight Champion Luke Rockhold
UFC Featherweight Champion Jose Aldo
UFC Heavyweight Champion Junior Dos Santos
UFC Lightweight Champion Ben Henderson
Bellator Welterweight Champion Ben Askren
UFC Bantamweight Champion Dominick Cruz