NBA Playoff Schedule 2012: Previewing and Predicting Thursday's Matchups
May 10, 2012

Jonathan Daniel/Getty Images
Three Game 6's are on tap for Thursday night, all of which are potential closeout games.
The Atlanta Hawks almost gave away the game and the series at the end of Game 5 against the Boston Celtics, but were able to come up with the win. The Celtics, along with the Philadelphia 76ers, will try to advance to the next round at home, while the Los Angeles Lakers look to close out their series in Denver.
Chicago Bulls vs. Philadelphia 76ers, 7 p.m. EST (NBATV)
The Bulls have been in serious trouble ever since Derrick Rose tore his ACL in Game 1 of this series. The Sixers have a chance to close out the series tonight and move on to the second round, which did not seem likely going into the playoffs.
Spencer Hawes has played great for the Sixers this series and is the difference maker heading into tonight's game. With Noah hurting his ankle, Carlos Boozer may have to guard Hawes, which will be a difficult task for him.
Expect the Sixers to close out the series tonight at home, as they do not want to take this to a Game 7 in Chicago.
Final Score: 91-84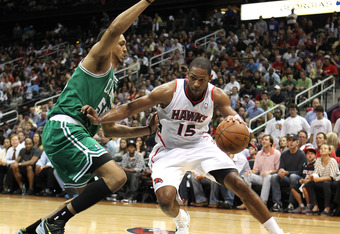 Mike Zarrilli/Getty Images
Atlanta Hawks vs. Boston Celtics, 8 p.m. EST (TNT)
The Hawks have been one of the most inconsistent teams in the playoffs over the past four years. They are either the greatest team we have ever seen or the worst we have witnessed. There seems to be no in between.
The Hawks are too unpredictable and have no offense besides isolating Joe Johnson.
The Celtics have been battered with injuries all year long, and they received news that Paul Pierce has a strained MCL, which he has been playing through the past few games. But, the injuries to the Celtics should not slow them down, as they, too, should be able to close out the series tonight.
Final Score: 97-91
Los Angeles Lakers vs. Denver Nuggets, 10:30 p.m. EST (TNT)
The Lakers failed to finish off the Nuggets in Game 5 despite Kobe Bryant's 43-point performance. The Nuggets have played well this series and have looked like a strong unit. 
Pau Gasol has been irrelevant so far, as the big man has rarely been involved in the Lakers' offense. If they want to dominate the Nuggets, both Bynum and Gasol need to get involved in the offense, with Bryant taking a backseat. 
Playing at home will help the Nuggets prevail tonight over the Lakers and force a Game 7. This will come down to the end, so it could go either way. However, expect the Nuggets to pull out a close victory at home.
Final Score: 104-101
Tonight features three great matchups that all have interesting storylines. With no NHL playoff games on tonight, the NBA will have the spotlight to themselves, and the fans will be in for a treat.