Olympics 2012: 15 Reasons Kobe Bryant Will Lead US to Gold in London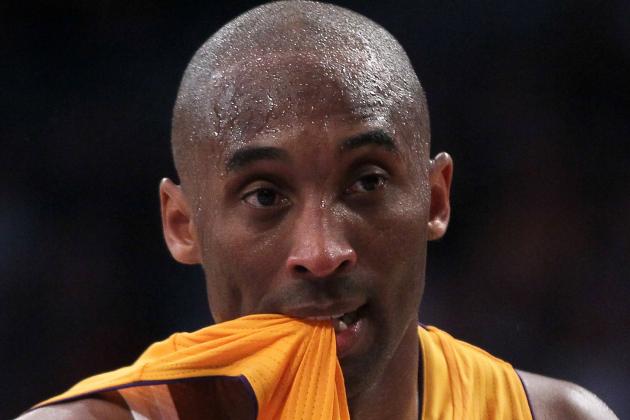 Jeff Gross/Getty Images

This summer, the United States Olympic basketball team will travel to London to compete against the world in the 2012 Olympic games. They will win the gold medal there and will be led to that triumph by Los Angeles Lakers shooting guard Kobe Bryant.
While the Olympics may not seem like a big deal to many, you can bet that a competitor like Bryant will take the games seriously, both because he wants to represent his country well and because he wants to win at all times and costs. He, more than any other player, embodies the rugged individualism and drive that is the American spirit.
Those are just a few of the reasons why he will be the man to lead this Olympic squad to another gold medal in London. Here are the others.
Begin Slideshow

»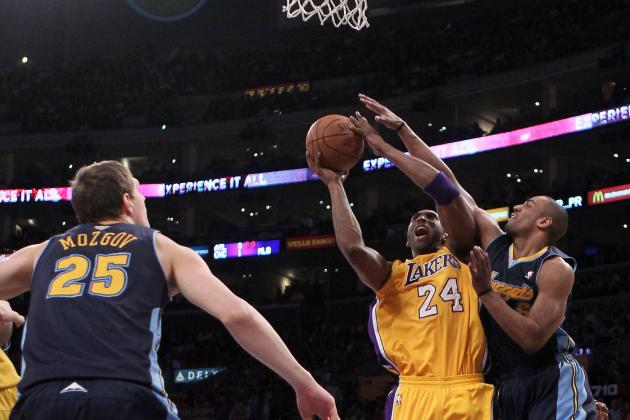 Jeff Gross/Getty Images

At the most basic foundation, the game of basketball at all levels is about scoring more points than your opponent. That concept is something that Kobe Bryant knows quite a bit about.
Very few players in basketball history could average 27 points per game at age 33 after 15 years of NBA action. Bryant is clearly one of the best scorers the game has ever seen, and that ability is still nearly all there.
That will come in handy in London for a USA team that will need someone to take big shots in big moments in front of the entire planet.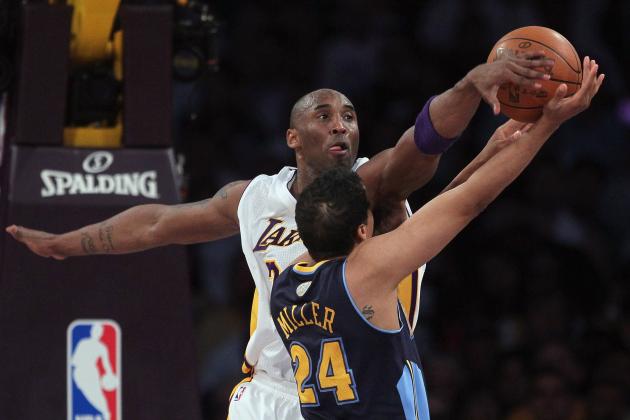 Jeff Gross/Getty Images

Offense is important, but it gets a lot easier if your opponent scores less. It's called defense, and it is something that Kobe Bryant also does well.
Bryant has made the All-Defensive First Team nine times and the All-Defensive Second team twice. That means that Bryant has been considered a Top 10 defender for 11 of his 15 seasons. That's impressive, to say the least.
He's only averaged 1.5 steals per game over his career, but his defense contributes in ways that don't always show up in a box score. Bryant bothers the players he guards with athleticism and intelligence.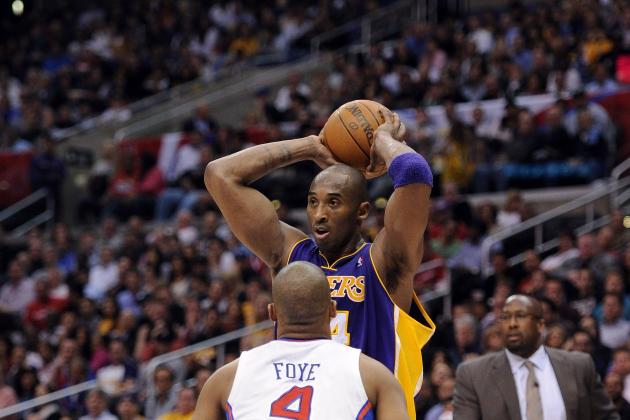 Harry How/Getty Images

Notice how the title of the slide is that he "can" distribute?
Even though Kobe Bryant has earned a bit of a reputation as a ball-hog, the truth is that he can spread the ball around very well when he wants to. Bryant has averaged 4.7 assists per game throughout his career.
That's an impressive mark for a shooting guard considered to be a volume scorer. That ability to hit the open man off a double team will serve the Olympic team well.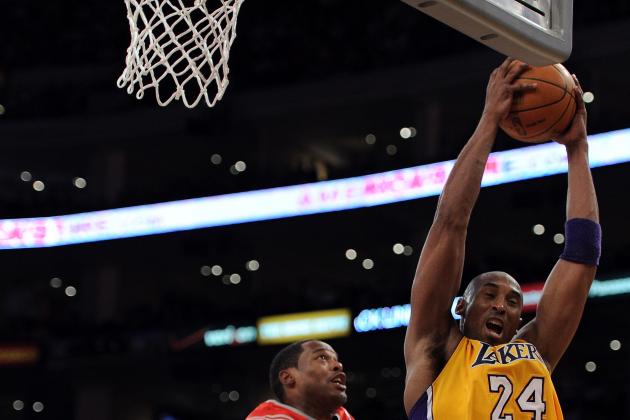 Harry How/Getty Images

By now you should have noticed that Kobe Bryant is a very complete player. It doesn't stop yet.
Bryant has averaged 5.3 rebounds per game over his career and is averaging 5.4 per game during the 2011-12 NBA season. Those are very respectable numbers for a shooting guard in the NBA.
The Laker guard has learned to use his impressive physique at 6'6" and 205 pounds to out-rebound a usually smaller opponent. That will come in handy in London.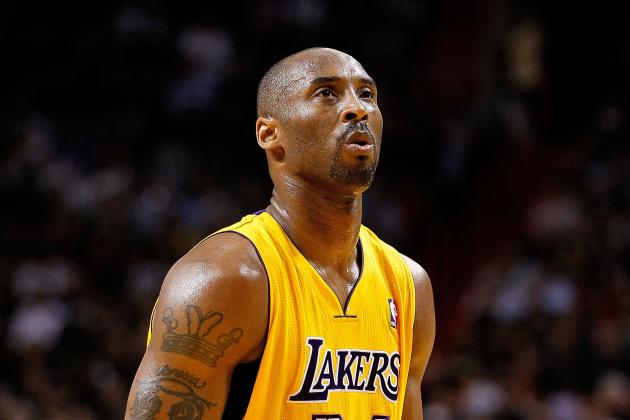 Mike Ehrmann/Getty Images

Free throws are basically free points in the game of basketball, and that truth doesn't change in the international game.
Kobe Bryant understands the value of the free throw and capitalizes on it. This past NBA season, Bryant has shot 85-percent from the free throw line and has gotten there 7.8 times per game. That equates to 6.6 points per game from the charity stripe, or nearly 25-percent of his points.
That type of dependability at the line always helps a team.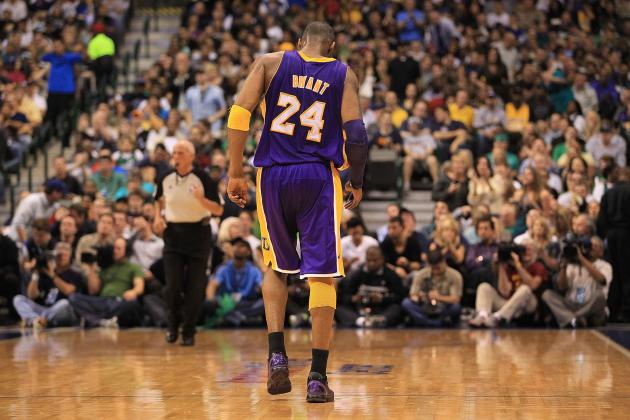 Ronald Martinez/Getty Images

Kobe Bryant has played in 1,161 NBA games since he was drafted into the NBA in 1996. Those 1,161 games encapsulate 22,703 field goal attempts, 6,142 rebounds and 5,418 assists. Through all of that, Bryant has played in at least 65 games each season since 1999.
That streak will end this season, but only because it is a lockout-shortened one. Bryant played in 58 of 66 games in 2011-12, which is incredibly impressive given the mileage on his body.
The physical play that Team USA will face in the Olympics will not be something that Bryant needs to shy away from. He is the most durable basketball player in the history of the game as far as fighting through injury, and he won't back down in London.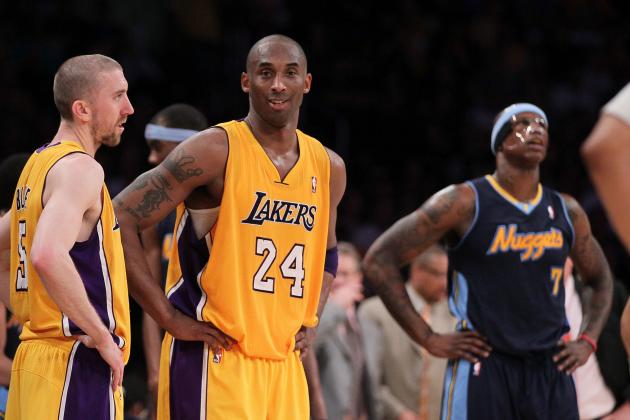 Jeff Gross/Getty Images

Kobe Bryant is a leader of men. Pure and simple. When the question is asked as to who the Los Angeles Lakers are led by, the answer is clear.
You can make the case that Shaquille O'Neal led the team during the championship run of the early 2000s. That's fine. However, it is undeniable that Bryant led the Lakers to their two titles and three Finals appearances in the latter portion of the decade. Those credentials alone make him elite.
Bryant leads and players follow. Olympic basketball isn't easy, and teams without leaders will crumble. Team USA will not be one of the those teams thanks to the presence of Bryant.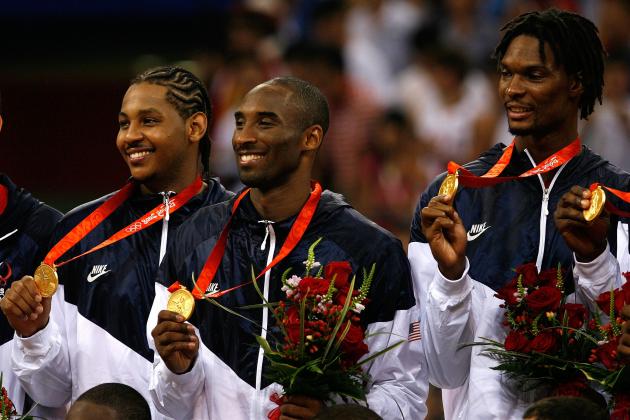 Harry How/Getty Images

Personal issues and injury problems had prevented Kobe Bryant from participating in the Olympics during the early part of his career. However, in 2008 on a court in Beijing, China, Bryant entered the Olympic arena for the first time.
He helped lead the US back to global basketball prominence and dominance. His team did not lose a game and defeated Spain in the gold medal game by 11 points. Bryant scored 20 points and dished out six assists in that game.
This guy has been here before, proving that he won't be intimidated by the stage.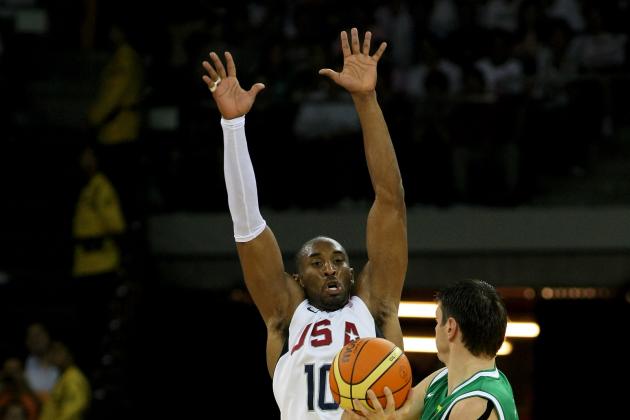 Stu Forster/Getty Images

Despite what we've gone over about how durable and athletic Kobe Bryant is in spite of his age and years played, the truth is that he really is nearing the end of his career.
By the time the next Olympics roll around in 2016, Bryant will be approaching age 38. While he may still be playing at that time, it is unlikely that he'll still be good enough to make the Team USA roster.
When a player knows that this dance will be his last, he always puts even more effort into it. Bryant will be doing that in London.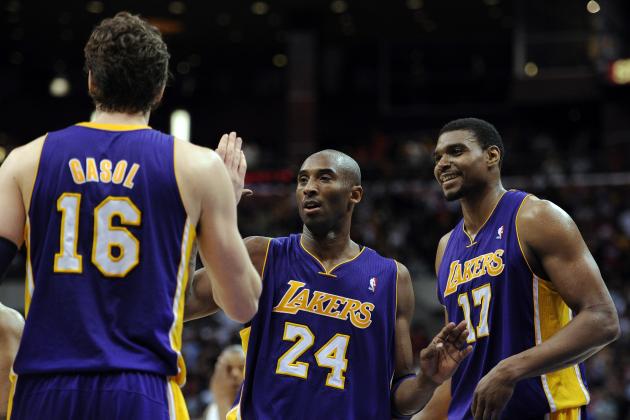 Harry How/Getty Images

Kobe Bryant has proven time after time that he can coexist with other stars of the game. In the early 2000s, he and Shaquille O'Neal led the Lakers to a three-peat of NBA titles. In 2004, he coexisted with Shaq, Gary Payton and Karl Malone and made it to the NBA Finals. In the latter part of the 2000s, he has shared the court extremely well with Andrew Bynum and Pau Gasol.
Bryant knows how to play with other guys who can produce. In fact, you could even say that he relishes it. He only wants to play with players who can make him and his team better.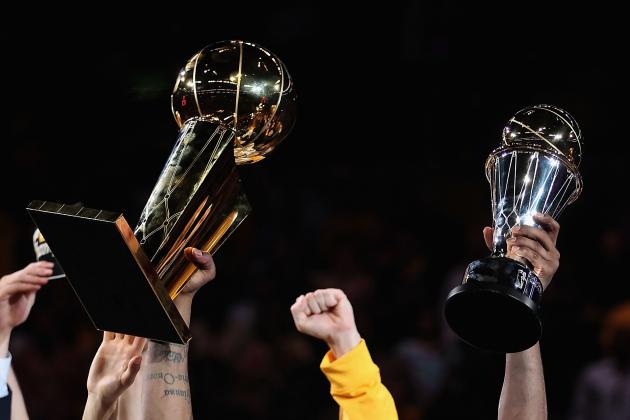 Christian Petersen/Getty Images

Kobe Bryant knows how to win in big moments. There really isn't any solid argument against it.
He may shoot too much, be a jerk at times or even miss a clutch shot or two. But the guy has won five NBA titles and an Olympic gold medal. In the winning of each of those things, Bryant was a key part, if not the part, in deciding the game.
No current NBA player can match the hardware he has to back up his winning reputation. That credibility will help a Team USA with some pretty young players on it.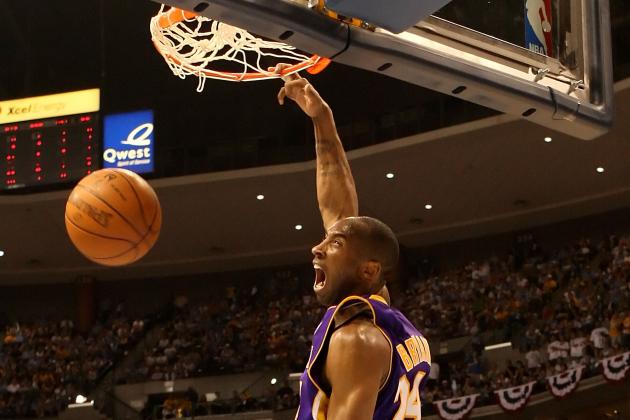 Jed Jacobsohn/Getty Images

Another good thing for this Team USA that Kobe Bryant will bring is his perseverance against adversity. It may not even be right to call it perseverance. It seems that adversity is actually what really fuels Bryant's engine.
Tell him he can't do something or that you are going to beat him. He will do everything in his power to put you in your place and will want to do it specifically against you. He is old-school in that way; he won't back down and taunts will only ignite his fire brighter.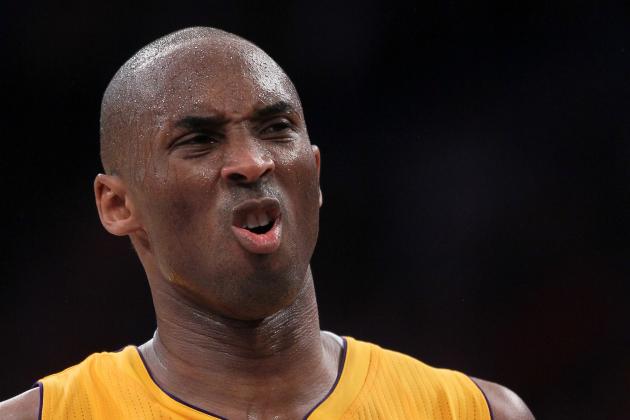 Jeff Gross/Getty Images

It's blatantly obvious from watching him play that Kobe Bryant loves the game of basketball more than anything in the world. That is the highest compliment you can give a player.
Bryant also is a smart guy and knows that this game won't last forever. He will value every moment he has left, especially in this part of his career when he is much closer to his finish than his beginning.
He'll understand better than most what these Olympics really mean in the big picture of life.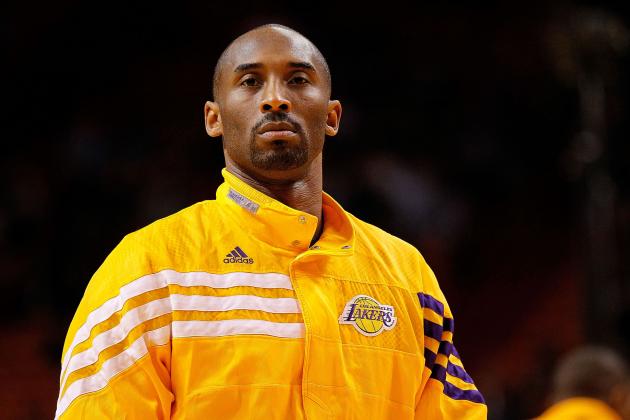 Mike Ehrmann/Getty Images

Better than just about any current player, Kobe Bryant can tune out everything around him and just play his game. It can be a detriment at times, but more often than not it is a huge blessing for his team.
Bryant understands the commitment that the game demands of its greats, and he has a singular focus on those demands, meeting them and exceeding them. He thinks of nothing but what he needs to do on each play.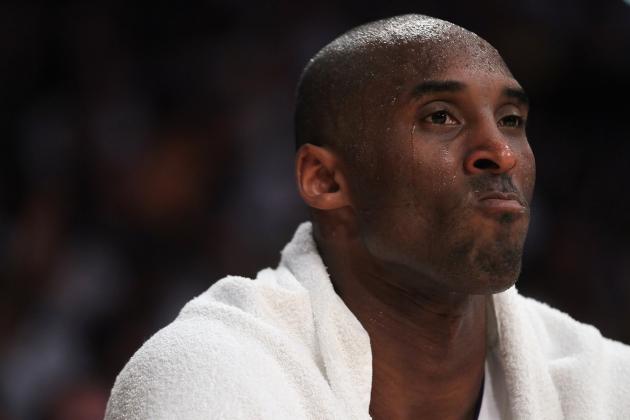 Jeff Gross/Getty Images

This is different from his singular focus that we covered in the last slide. While it is vital to have that focus, it is different than wanting to win above all.
Bryant wants to win no matter what. He focuses on the basketball play at hand, but he is also able to keep the bigger picture of winning in mind. That is his goal and nothing else.
He does not care about stats or awards. He cares about winning. For him, it is a thirst that must be quenched by W's and championships. That thirst is something Team USA will need.