NBA: 10 Stud Rookies Destined for Sophomore Slumps Next Season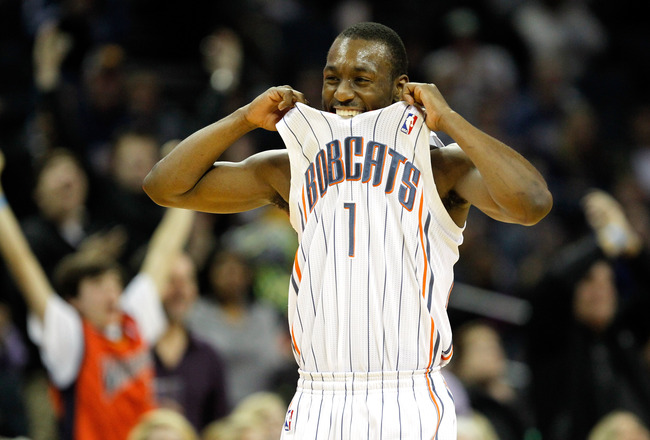 Streeter Lecka/Getty Images
Sophomore slumps are simply a part of professional sports.
Players often hit the big stage with a bang and raise many eyebrows, but in their second season, success doesn't come so readily. Why is this?
Opponents typically figure out effective ways to limit young players, and the truly great youngsters are the ones who can adapt and add new elements to their game.
This is harder for some players than it is for others. This list compiles the players who have shown promise, as rookies but will likely struggle in their sophomore campaign.
Here are 10 rookies who are destined to encounter a sophomore slump.
Isaiah Thomas, Sacramento Kings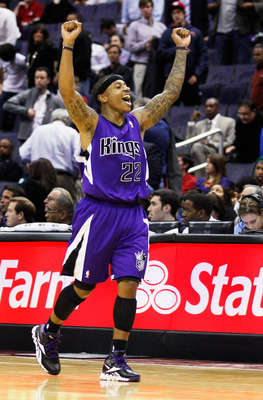 Rob Carr/Getty Images
Rookie Stats: 11.5 points per game (44.8 percent from the field), 4.1 assists per game, 2.6 rebounds per game
At just 5'9'', point guard Isaiah Thomas has been a pleasant surprise for the Sacramento Kings. He was the last selection in the 2011 NBA draft and throughout the year became one of the league's most impressive rookies.
Unfortunately, he'll likely experience some struggles next year. At his size, teams will figure out how to limit his mobility on offense and bigger guards will take advantage of him on defense by heading to the low post.
Plus, the Kings already have Tyreke Evans, the 2010 Rookie of the Year, in their backcourt, as well as hyped prospect Jimmer Fredette. If Thomas struggles, he could very likely find himself merely contributing marginal minutes off the bench.
Thomas could continue to prove people wrong and further develop as a floor general, but this ascension will likely hit a snag at some point.
Kemba Walker, Charlotte Bobcats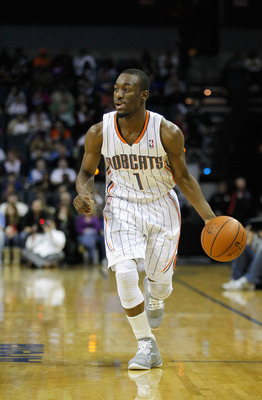 Streeter Lecka/Getty Images
Rookie Stats: 12.1 points per game (36.6 percent from the field), 4.1 assists per game, 3.5 rebounds per game, 0.9 steals per game
Kemba Walker was maybe the only bright spot for the abysmal Bobcats this season. Walker's speed and versatility gives Charlotte a reliable point guard for the future.
But don't expect Walker to leap into the league's top-tier of point guards anytime soon. He still has much to work on, and some of these weaknesses will be exposed next season.
His atrocious field goal percentage will probably lead to less playing time next season, especially if they acquire another point guard via free agency.
His numbers may not decline very much, but his game will look inept compared to the elite guards in the league. His sophomore slump will be more of a realization that he still has a long way to go before he's considered an All-Star caliber guard.
MarShon Brooks, Brooklyn Nets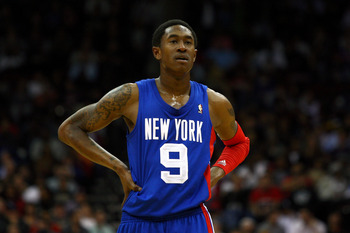 Chris Chambers/Getty Images
Rookie Stats: 12.6 points per game (42.8 percent from the field), 2.3 assists per game, 3.6 rebounds per game, 0.9 steals per game
MarShon Brooks tallied stellar numbers as a rookie, revealing the capacity to score in numerous ways.
But there are many questions concerning the Nets as they move to Brooklyn. There's a good chance they'll bring in a more seasoned and quality shooting guard, such as O.J. Mayo. If so, Brooks' role will diminish as a sophomore.
And even if he's their starter for all of next season, it's premature to say he'll develop into a star next year. Opponents will study his tendencies on tape and he'll have to find ways to diversify his game. This may happen in the future, but don't expect to see it next year.
Greg Stiemsma, Boston Celtics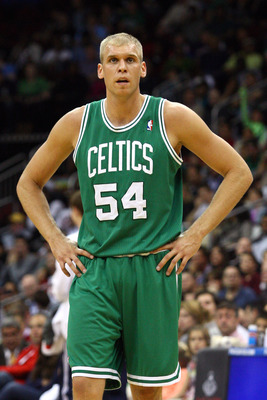 Chris Chambers/Getty Images
Rookie Stats: 2.9 points per game (54.5 percent from the field), 3.2 rebounds per game, 1.5 blocks per game
Greg Stiemsma may not fall under the category of "rookie stud," but he has been an important piece to the Celtics this season.
He hasn't made anyone believe he'll be a star in this league, but he has shown promise as a quality role player, particularly on defense (averaging 1.5 blocks per game).
Next year, he'll likely not receive as much playing time as what he's earned this season. Boston's frontcourt is lacking in depth, and they'll likely add a big man or two come the offseason.
Because of this, it's likely that Stiemsma will possess a very limited role in 2012-2013, potentially even receiving only scrub minutes.
Iman Shumpert, New York Knicks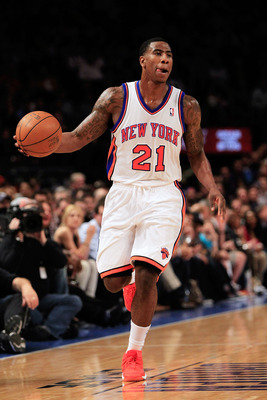 Chris Trotman/Getty Images
Rookie Stats: 9.5 points per game (40.1 percent from the field), 2.8 assists per game, 3.2 rebounds game, 1.7 steals per game
Iman Shumpert's torn ACL inevitably leaves him on this list. The earliest he could return is December, and it's clear that he has a long road of rehab ahead of him.
Because of this, his sophomore season is destined to not be as productive as his rookie campaign. By the time he returns, some of the season will be gone and it will take him time to regain his old form.
This is such an unfortunate injury for Shumpert, but hopefully in time he regains his athleticism and becomes the high-quality guard Knicks fans were excited about.
Derrick Williams, Minnesota Timberwolves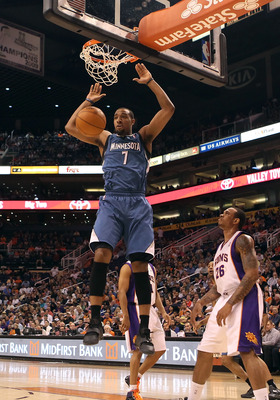 Christian Petersen/Getty Images
Rookie Stats: 8.8 points per game (41.2 percent from the field), 4.7 rebounds per game
Derrick Williams has All-NBA potential. He has size, athleticism and isn't a bad shooter. But the intangibles aren't there.
This could lead to some tension between he and T'Wolves coach Rick Adelman. Williams' field goal percentage was very unimpressive for a man of his size (6'8'', 241 pounds). Plus, he's developed a habit of settling for threes, where he hasn't proven much consistency (26.8 percent from downtown).
With Minnesota possessing a host of quality young players in the frontcourt (Kevin Love, Nikola Pekovic, Michael Beasley—if he returns—and Anthony Randolph), Williams could find himself sniffing the bench for stints next season.
No matter what, he's really going to need to show signs of improvement to declare that he deserves to steadily be on the floor.
Brandon Knight, Detroit Pistons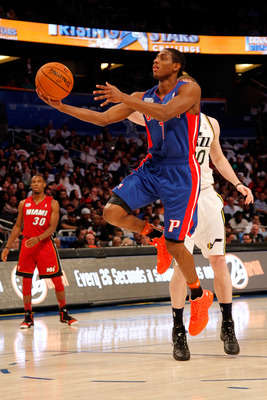 Mike Ehrmann/Getty Images
Rookie Stats: 12.8 points per game (41.5 percent from the field), 3.8 assists per game, 3.2 rebounds per game
Brandon Knight is in the same boat as Kemba Walker. His slump will not so much center around horrible play, but he merely won't take the next steps to solidify his game.
Knight's numbers are a bit inflated from playing for lowly Detroit, and he needs to show more capabilities as a distributor.
His potential is there, but don't be surprised if he faces the sophomore blues at various points next season.
Kawhi Leonard, San Antonio Spurs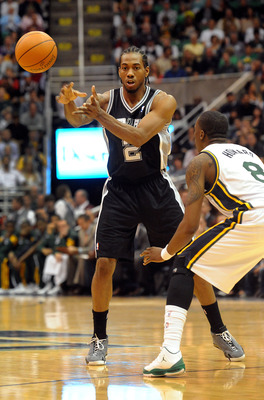 Steve Dykes/Getty Images
Rookie Stats: 7.9 points per game (49.3 percent from the field), 5.1 rebounds per game, 1.3 steals per game
This player was tough to add to this list. He's been a steady contributor all season for the top seed in the Western Conference.
The reason he makes this list is because he'll likely never become a superstar. It's easy to assume that Leonard will one day be the Spurs' superstar after Tim Duncan retires and Tony Parker ages, but Leonard is more of a "great guy to have on the team" rather than a "franchise player."
Because of this, expect him to tally similar numbers next season. He won't necessarily hit a slump, but he also won't become an All-Star anytime soon.
Chandler Parsons, Houston Rockets
Harry How/Getty Images
Rookie Stats: 9.5 points per game (45.2 percent from the field), 4.8 rebounds per game, 2.1 assists per game, 1.2 steals per game
Chandler Parsons was another tough player to add to this list. He's shown remarkable versatility as a rookie and was able to receive consistent playing time late in the season.
Similar to Leonard, don't expect Parsons to suddenly become Houston's "go-to guy" next season. He's a good piece to have, but he's not a budding superstar.
Plus, Houston will likely be active this offseason, and if they land some new players, Parsons could have to battle for playing time.
Markieff Morris, Phoenix Suns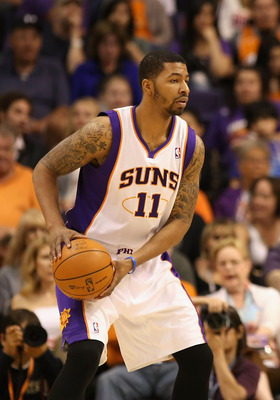 Christian Petersen/Getty Images
Rookie Stats: 7.4 points per game (39.9 percent from the field), 4.4 rebounds per game
It's a stretch to say Markieff Morris was a rookie stud, but he did at times show promise. He's a big man who has the ability to shoot the long range ball.
The problem is that Phoenix already possesses this kind of player in Channing Frye. Morris may notch similar numbers next year, but there's no reason to believe he'll take his game to new heights next season.
Plus, the Suns will very likely be active in the offseason, and one frontcourt acquisition (or a big man selected in the draft) could lead to Morris riding the pine next year.
Keep Reading