NFL 2012: Miami Dolphins Season Outlook
May 10, 2012

Al Bello/Getty Images
Quick Review of 2011
Offense—22nd total, 23rd passing, 11th rushing.
Defense—15th total, 25th passing, third rushing.
The Miami Dolphins had a terrible 0-7 start. They lost quarterback Chad Henne for the year. Matt Moore led the team to a 6-3 finish. Moore was 12th in passer rating, even though his 192 passing yards per game was among the league's lowest.
The Dolphins had a perfect run/pass balance, throwing 469 passes and rushing the ball 469 times. The 6-10 record could have been better, but the Dolphins let four games get away in the fourth quarter—against Cleveland, Denver, Dallas and the Giants.
Despite the late-season wins, coach Tony Sparano was still let go at season's end.
New Additions
QB David Garrard, LB Gary Guyton, LB E.J. Henderson, G Artis Hicks, S Tyrell Johnson, CB Richard Marshall, WR Legedu Naanee, LB Jamaal Westerman.
Draft Choices
QB Ryan Tannehill, T Jonathan Martin, DE Olivier Vernon, TE Michael Egnew, RB Lamar Miller, LB Josh Kaddu, WR B.J. Cunningham, DT Kheeston Randall, WR Rishard Matthews.
Undrafted Free Agents
DT Chas Alecxih, C Terence Brown, LB Cameron Collins, G Derek Dennis, WR Jeff Fuller, RB Jonas Gray, CB Trenton Hughes, LB Shelly Lyons, S Kelcie McCray, WR Derek Moye, DE Jarrell Root, G Josh Samuda, CB Kevyn Scott, DE Derrick Shelby, DE Jacquies Smith, T Dustin Waldron.
Subtractions
LB Ikaika Alama-Francis, CB Will Allen, S Yeremiah Bell, G Vernon Carey, QB Chad Henne, RB Lex Hilliard, DE Kendall Langford, QB J.P. Losman, WR Brandon Marshall, LB Marvin Mitchell, LB Jason Taylor.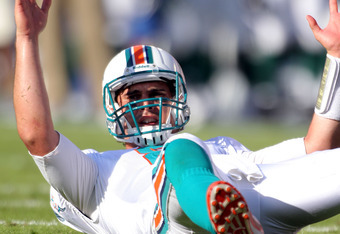 Marc Serota/Getty Images
Outlook For 2012
Most would consider the Dolphins offseason a dismal failure.
After firing Tony Sparano, the team hired Green Bay offensive coordinator Joe Philbin. He hired former Green Bay and Texas A&M head coach Mike Sherman as offensive coordinator.
The team failed to sign Peyton Manning, and also shocked the NFL by trading Pro Bowl wide receiver Brandon Marshall to Chicago. It was later revealed, though, that Marshall had just had another run-in with the law. They also either didn't pursue, or just failed to sign any other big-name free agents. Despite poor pass defense in 2011, they didn't draft any defensive backs in 2012.
In the 2012 NFL draft, the Dolphins selected quarterback Ryan Tannehill from Texas A&M with their first pick. He is familiar with Sherman and his system.
This summer's camp should determine if Tannehill or Matt Moore will open the season at quarterback.
The million dollar question: Is Tannehill the quarterback the Dolphins have looked for since Dan Marino's retirement, or did they "reach" by taking him with the No. 8 pick?
Schedule
Sept.  9 at Houston
Sept. 16    Oakland
Sept. 23    New York Jets
Sept. 30 at Arizona
Oct.  7 at Cincinnati
Oct. 14    St. Louis
Oct. 28 at New York Jets
Nov.  4 at Indianapolis
Nov. 11    Tennessee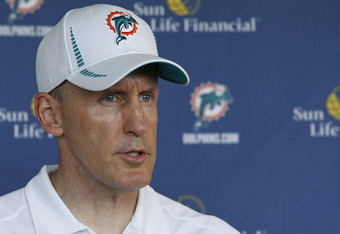 Joel Auerbach/Getty Images
Nov. 15 at Buffalo
Nov. 25    Seattle
Dec.  2    New England
Dec.  9 at San Francisco
Dec. 16    Jacksonville
Dec. 23    Buffalo
Dec. 30 at New England
Evidently the national media doesn't give the Dolphins much respect. All of their games are at 1:00 p.m. ET, except the two games out West—Arizona and San Francisco. Their only prime-time game is Thursday, November 15 at Buffalo.
Prediction
The Dolphins late-season surge last year, though respectable, was not against the top-tier teams.
If Matt Moore is the quarterback, can he lead the new offense, or will he be just a game manager?
If Ryan Tannehill is the starter, the team will have to suffer through his rookie mistakes.
The Dolphins will have to adjust to the new offense, and more than four wins might not be attainable.