College Football 2012: Ranking the NCAA's Top 20 Returning Wide Receivers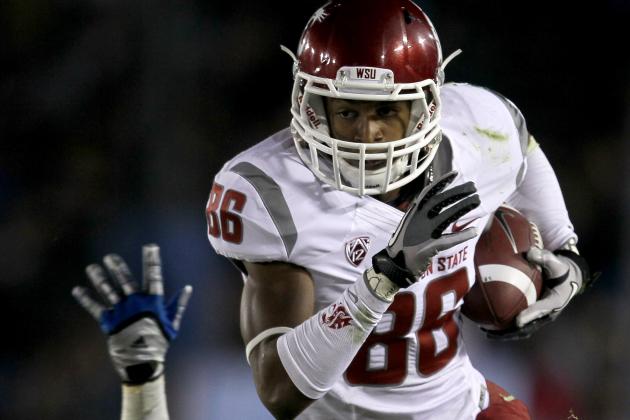 Stephen Dunn/Getty Images

I know it's early to be coming up with positional rankings for the 2012 season. However, if you're anything like me, the dry spell between spring and summer practice is absolute torture. Us college football fans need to look at projections for next season as early as June to keep our sanity.
College football has lost some its best wideouts from a season ago to the NFL, including Justin Blackmon, Alshon Jeffery and Michael Floyd. With that being said, it returns quite a few playmakers on the outside.
I, of course, cannot predict the breakout stars and first-year studs that will surprise the college football world in 2012. These are simply my projected top 20 returning college football receivers based on both their performance in 2011 and their standing for the upcoming 2012 season.
So, without further ado, let's take a look at college football's top pass-catchers for the 2012 season.
Begin Slideshow

»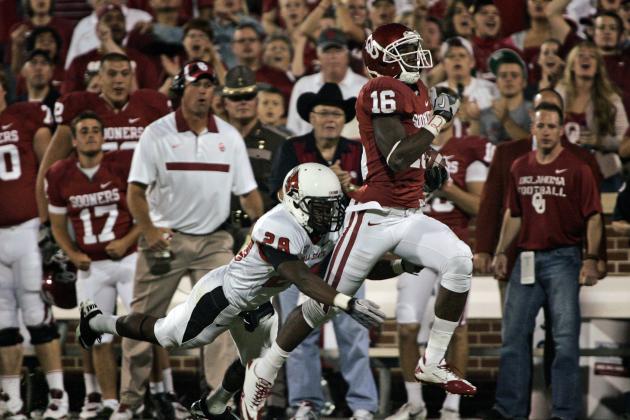 Brett Deering/Getty Images

Narrowing college football's best receivers down to 20 is a tough thing to do. There are several players that barely missed my top 20 whose names you should still remember for the 2012 season.
Jaz Reynolds, Oklahoma: Reynolds could have cracked the top 20 if it weren't for the recent news of his seven-game suspension. He did a great job stepping up in the absence of Ryan Broyles towards the end of the 2011 season. Look for him to pick up where he left off after his suspension.
Quinton Patton, Louisiana Tech: I couldn't quite bring myself to put Patton on the top 20 because of his small-school label. He is an excellent receiver with outstanding numbers, however, so watch for him to continue that success in 2012.
Justin Hunter, Tennessee: Hunter could prove to be one of the country's best receivers in 2012. The main reason he didn't make my top 20 is because he only played in three games in 2011 before he tore his ACL. Look for him and Da'Rick Rogers to form one of the best receiver duos in the nation after his return to health.
Odell Beckham, Jr., LSU: With the departure of Rueben Randle, LSU needs a go-to guy on the outside. Beckham has the potential to be a great No. 1 receiver for Zach Mettenberger in 2012.
Kasen Williams, Washington: Like Beckham, Kasen Williams needs to step up for his team in 2012 with the departure of Washington's top two receivers in Jermaine Kearse and Devin Aguilar. Look for him and underrated quarterback Keith Price to develop a great connection this season.
Jaxon Shipley, Texas: Shipley won't blow you away with his speed or size, but he is a sure-handed asset on the outside. Look for him to pile up the receptions as Texas' young quarterbacks continue to develop.
I also want to make a note that there are several players that could have made this list if not for positional changes. Oregon's De'Anthony Thomas and Notre Dame's Theo Riddick, for example, might have cracked the top 20 but will likely play more running back than receiver in 2012. Georgia's Malcolm Mitchell falls under the same category, as he will be making the switch to cornerback to start the upcoming season.
2011 Stats: 97 catches, 1,425 yards, nine touchdowns
I can't complete this list without including the nation's top returning statistical receiver.
As a sophomore, Harwell ended 2011 with a ridiculous 129.5-yard-per-game average. He earned first-team All-Mid-American honors last year as he absolutely dominated his competition week after week.
Harwell could be higher on this list if it weren't for the small-school label. However, he has proved his skills on the outside over the last two seasons and should be on the watch list for the 2012 Biletnikoff Award.
2011 Stats: 61 catches, 998 yards, nine touchdowns
Josh Boyce may not get a lot of attention on the national stage but showed what he was capable of as a sophomore in 2011.
Boyce received first-team All-Mountain West honors last year on his way to falling only two yards short of a 1,000-yard season. He is an explosive player with a solid frame and great speed.
Returning with his solid quarterback Casey Pachall, there is no reason Boyce shouldn't push 1,000 yards again as TCU's main target in 2012.
2011 Stats: 36 catches, 613 yards, five touchdowns
Auburn's passing game struggled in 2011, finishing ninth in the SEC with 155 passing yards per game. Because of these struggles, Emory Blake's stats won't blow anyone away.
In 2012, Blake will return as Auburn's premier target as its second-leading receiver last season was running back Onterio McCalebb. Though he lacks elite speed, Blake possesses good size and great hands.
Auburn needs to improve on its passing game in 2012, especially after the departure of its leading rusher Michael Dyer. Blake will need to step up and be the reliable No. 1 receiver his quarterback needs.
2011 Stats: 71 catches, 961 yards, five touchdowns
While Sammy Watkins may have received a lot more attention than DeAndre Hopkins in 2011, Hopkins received almost as many passes.
Hopkins is one of the more underrated receivers in the country. He's got good height at 6'2" and possesses excellent hands. He also plays the ball very well in the air, demonstrating good body control.
Hopkins should continue his success with quarterback Tajh Boyd and Sammy Watkins, giving Clemson one of the most dangerous aerial attacks in the country.
2011 Stats: 55 catches, 933 yards, and eight touchdowns
It's not every day you find this kind of production from a walk-on. Jared Abbrederis proved to be one of the most solid receivers in the country in 2011.
Despite the presence of Nick Toon, Abbrederis led the team in receiving yards with 933. He also averaged a ridiculous 17 yards per catch.
Some worry the departure of Toon will put all defensive attention on Abbrederis. He'll also have to deal with the departure of his great quarterback Russell Wilson.
Even with these losses, however, I see Abbrederis having a big year on the outside and in the return game in 2012.
2011 Stats: 38 catches, 596 yards, seven touchdowns
While Rashad Greene's 2011 statistics may not blow you away, his speed definitely will. His 4.37 speed makes him very hard to catch when he gets the ball in the open field.
Though he could afford to put on some muscle, as he only weighs 175 pounds, Greene's elite speed, quickness and hands allow him to slice through defenses with ease.
Greene led Florida State in receiving last season as a true freshman. Look for him to lead Florida State's young receiving corps to even more production in 2012.
2011 Stats: 73 catches, 986 yards, one touchdown
Markus Wheaton has been one of the few bright spots on Oregon State's roster in the last couple of seasons. He led the Beavers in receiving in both 2010 and 2011.
Also a track star, Wheaton proved to be on of the best all-around athletes in the Pac-12 in 2011. He even passed and beat Oregon's De'Anthony Thomas in the 100 meters last month.
He is a great receiving weapon on the outside and could see some time in the return game with the departure of James Rodgers.
He is usually not included in the same conversation as Robert Woods, Marquess Wilson and Marqise Lee. However, I expect him to be one of the Pac-12's elite receivers in 2012.
2011 Stats: 59 catches, 957 yards, 11 touchdowns
We all remember Terrance Williams as the man who caught the game-winning touchdown pass in the final seconds of Baylor's game against Oklahoma in 2011.
Though he was often overshadowed by Kendall Wright last season, Williams' 16-yard-per-catch average shows his electrifying talent on the outside.
With the departure of Robert Griffin III, Williams won't have an elite quarterback throwing to him. However, look for him to remain one of the nation's top receivers as he breaks in a new quarterback.
2011 Stats: 72 catches, 1,279 yards, 12 touchdowns
While Tavon Austin may be the most exciting player for West Virginia, Stedman Bailey is one of the most solid receivers you could ask for.
At 5'10" and 190 pounds, Bailey lacks great size. His 4.5 speed is also not exactly elite. However, Bailey is a great natural receiver. He runs great, crisp routes and displays excellent hands.
The trio of Geno Smith, Tavon Austin and Bailey should be lethal in 2012, as the last time we saw them they put up 70 points on Clemson.
Look for Bailey to push 1,000 yards again this season.
2011 Stats: 89 catches, 1,207 yards, 11 touchdowns
While Jeff Fuller entered the 2011 season as Texas A&M's projected leading receiver, Swope proved to be the more productive of the two.
Though he lacks elite size or speed, Swope has excellent hands. He is built almost like a running back at 206 pounds and is quite tough to bring down in the open field.
Swope could afford to improve on his route-running. However, his production cannot be denied. Look for him to continue to improve his draft stock in 2012.
2011 stats: 47 catches, 705 yards, eight touchdowns
With Malcolm Mitchell making the switch to cornerback in 2012, Tavarres King should be Aaron Murray's distinct No. 1 target.
King has a lot of talent on the outside. He has great 4.4 speed and solid hands. His 33-yard catch in Georgia's spring game shows the strong connection he has with Murray.
The senior Georgia receiver should join Cobi Hamilton and Da'Rick Rogers as one of the SEC's leading pass-catchers in 2012.
2011 stats: 101 catches, 1,186 yards, eight touchdowns
Tavon Austin was one of college football's most exciting players in 2011. His versatility allowed him to excel in the slot, out of the backfield and returning kicks.
Less of a natural receiver than some of the others on this list, Austin is only 5'9" and 175 pounds. However, his lack of size does not take away from his talent.
A truly explosive player, Austin has amazing quickness and acceleration. He is nearly impossible to stop in the open field. His vision and toughness allow him to play bigger than he is.
With his versatility and playmaking ability, Austin deserves spot near the top of this list.
2011 stats: 61 catches, 849 yards, eight touchdowns
With the suspensions of Jaz Reynolds, Trey Franks and Kameel Jackson, Kenny Stills will be Oklahoma's only experienced receiver to start the season.
Stills did his best to take over for Ryan Broyles when he went down with a torn ACL in 2011. After the suspensions of his fellow receivers, his role as the Sooners' No. 1 receiver will be even more important in 2012.
He is a natural receiver with great speed, hands and route-running ability. He could use a little more bulk, but Stills has long arms that allow him to reel in any pass thrown near him.
Landry Jones should rely pretty heavily on Stills in 2012, so look for him to pile up some great numbers this season.
2011 stats: 34 catches, 542 yards, four touchdowns
Hamilton could be higher on this list had he had caught more than 34 passes in any of his first three seasons. However, his low reception count is understandable considering the presence of fellow receivers Jarius Wright, Joe Adams and Greg Childs.
In 2011, Hamilton will be Tyler Wilson's main target and should dominate on the outside. Like Rogers, he has great size at 6'3" and 209 pounds.
Hamilton has great speed, hands, and big-play ability. With one of the best quarterbacks in the country under center, the Arkansas receiver should see some great production in 2012.
2011 stats: 67 catches, 1,040 yards, nine touchdowns
Da'Rick Rogers is quite a force on the outside. At 6'3" and 215 pounds, he is capable of going up to catch jump balls at the highest point and is very tough to bring down in the open field.
Jarius Wright was the only SEC receiver to tally more receiving yards than Rogers in 2011.
Because of his large frame and physical strength, he is very tough to take on off the line of scrimmage. He is also nearly unstoppable in one-on-one coverage.
What was really impressive about Rogers last season was that 85 percent of his 67 catches went for first downs or touchdowns. Look for him to continue that success in 2012.
2011 Stats: 98 catches, 1,343 yards, six touchdowns
Keenan Allen is an all-around playmaker and was one of the few bright spots on Cal's offense last season.
He has excellent hands and seems to always find gaps in coverage to get open. Cal's quarterback, Zach Maynard, is Allen's half brother, and the two developed an obvious connection last season.
As one of the most highly touted recruits ever to land in a Golden Bears uniform, Allen has not disappointed in his first two seasons. His 98 receptions in 2011 show just how important he is to Cal's offense.
Look for the Allen-Maynard connection to become even more lethal in 2012.
2011 Stats: 73 catches, 1,143 yards, 11 touchdowns
As an Oregon fan, I remember Marqise Lee as the true freshman who absolutely torched the Ducks' secondary last November and handed them their only conference loss.
As much as I hated watching him terrorize my favorite team's defense that night, I have to appreciate this kid's talent. Lee has great hands and speed and makes a lot of the tough catches look easy.
Lee shared Pac-12 Offensive Freshman of the Year honors with Oregon's De'Anthony Thomas in 2011. With Matt Barkley throwing to him, and Robert Woods on the other side requiring the attention of defensive backs, Lee should dominate his opposition again in 2012.
2011 Stats: 83 catches, 1,225 yards, 12 touchdowns
To be honest, I see Marqise Lee and Sammy Watkins as 3a and 3b on this list. The two young studs both did amazing things in 2011.
With that being said, Watkins absolutely exploded onto the scene as a true freshman. On top of earning All-American honors, the Clemson star was college football's Freshman of the Year according to Sporting News.
Watkins certainly deserved those accolades. His speed and playmaking ability proved hard to stop in 2011, and his immediate impact helped Clemson to a 7-0 start.
Though he was arrested last month for drug possession, I don't see him serving a suspension of more than a couple of games. Even if he does miss some time, Watkins' talent on the outside cannot be denied. Look for him to continue his role as a playmaker in 2012.
2011 Stats: 82 catches, 1,388 yards, 12 touchdowns
Marquess Wilson has been one of the few good things in an otherwise terrible Washington State offense over the last few years.
Wilson proved to be one of the most underrated players in 2011. As a sophomore, he consistently dominated his competition, averaging a staggering 115 yards per game.
Washington State's quarterback situation was unstable last season with Jeff Tuel's nagging injuries. Even with this trouble under center, Wilson earned All-Pac-12 honors. Imagine what he would be able to do with a consistently healthy Tuel at quarterback.
Wilson should put up even more ridiculous numbers in Mike Leach's offense in 2012.
2011 Stats: 111 catches, 1,292 yards, 15 touchdowns
I want to be creative and original with my number one selection, but Robert Woods is just too good.
Woods was one of the most lethal receivers in the country in 2011. He has electrifying speed, great hands and exceptional route-running ability. He broke the single-season Pac-12 record last season with 111 catches.
The versatile USC receiver also shows great skill returning kicks.
Woods will join Marqise Lee to create what is likely the best receiver duo in the country. It doesn't hurt that they have Matt Barkley throwing to them either.
He was an All-American and Fred Biletnikoff Award finalist last season. Look for him to pile up more video game numbers and accolades in 2012.