Manchester United Transfer: David Villa to Old Trafford?
May 10, 2012

David Ramos/Getty Images
On 15 December, David Villa suffered a broken leg from which he still hasn't recovered. Sir Alex Ferguson has made no secret in the past of his admiration for the striker when he was at Valencia. Would the Scottish knight take him if he was offered now?
According to Guillem Balague, there's never been a better time for Sir Alex to buy him, probably at an affordable price.
And only last week he reported that Barcelona are prepared to listen to offers
The United manager appears to have suffered serial disappointment in the last few summers, as one after another of his reported transfer targets has gone to various rivals.
Villa went to Barcelona a couple of years ago and his teammate David Silva was snapped up by City, along with Sergio Aguero.
It's difficult to know what mind games Sir Alex was playing this week when he accused City of spoiling the transfer market. Was he trying to appeal to their better nature and leave him some crumbs on the table? Not likely.
Was he smoke-screening—as he has done in the past—in an attempt to lull the potential vendors or his targets into believing he hasn't got the money to spend, so they come to a quick decision?
Or was he already preparing the way for disappointment among United fans when no marquee signings turn up?
City's clear-out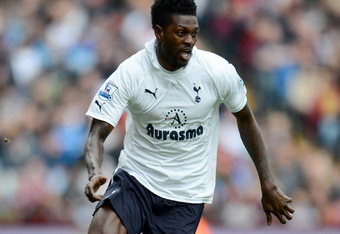 Shaun Botterill/Getty Images
The Mirror carries an article suggesting a massive car boot sale of players making room for marquee signings at City. That may be easier said than done.
Did you know, for example, that Roque Santa Cruz is still on City's books? And Wayne Bridge? More important, Emmanuel Adebayor is on a reputed £180,000 a week, of which Spurs were only paying £80,000. Who is going to take him off City's hands?
So for all the speculation about signings, Financial Fair Play is casting a looming shadow over even the richest clubs as they fight to modify their spending while maintaining their competitive edge.
Indeed could Fergie be playing a canny game of trying to inflate the prices City have to pay by implying they have loads of money?
United's spending power
There are two reasons why United's spending power might actually be greater than City's. The first is the latter's massive losses; and the second is their massive wage bill. Both are indeed connected.
City lost more than £194 million last year on turnover of £153 million. This is the second year running they have had massive losses, having spent £460 million on players, according to the BBC. Irrespective of FFP, surely they need financial realism, starting now.
From UEFA's (and indeed FIFA's) perspective, it is not just about a level playing field, it's about putting most of Europe's clubs at risk of financial failure through trying to compete. 
I confidently predict that we are standing on the precipice of a tsunami of financial failure across football unless some sanity is restored. (Sorry about the mixed metaphor).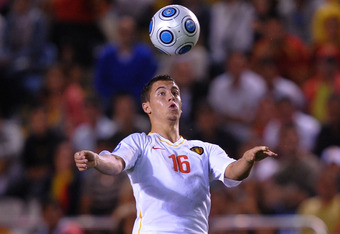 Denis Doyle/Getty Images
Everybody has the right to do what they want with their own money and some clubs will always be richer than others. Manchester United are hated almost as much as City, but they have had a footballing model (and now a business model) that has worked since the days of Busby.
It's not rocket science. It's built on people's wish to be entertained and to enjoy the fruits of success. Barcelona have reinvented football in the way that Busby did and millions of new devotees have marvelled and enjoyed.
United will not compromise their footballing values nor their financial and business model.
But if City want to buy new players they have to sell, not just to get the wages off the books but also because the transfer fees will be written off over the duration of the player's contracts. That includes the players that remain on their books that they cannot sell.
However, the wage bill is clearly a key factor, both because the current total includes the players they want to offload; added to the likely massive demands of players coming in (it is reported that City are baulking at Eden Hazard's wage demands); and a possible backlash from their existing players demanding parity with new signings.
Sir Alex has publicly voiced fears about clubs such as City creating loopholes in the FFP rules (which will bite from next season), probably to keep UEFA on their toes to avoid clubs making the rules a nonsense and trying to maintain a level playing field.
It is not that United don't have the cash—they do—and are widely expected to be the big club that finds it easiest to meet FFP. But no doubt he wants to turn FFP into an advantage. He rightly believes that clubs should grow their own talent more as United and Barcelona do.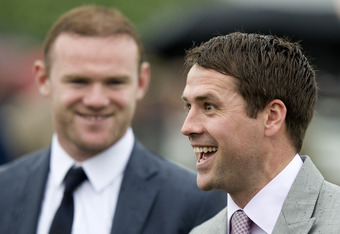 Alan Crowhurst/Getty Images
United supporters persistently suggest that the Glazers are inhibiting big money spending, but Ferguson and David Gill are at the forefront of keeping United economically sound. Their wage structure was challenged by Wayne Rooney, but they found a way to resolve the crisis through image rights.
United have money to spend, but like Arsene Wenger at Arsenal and Daniel Levy at Spurs, they want the club to remain commercially sound, i.e. make a profit. It doesn't matter how much cash Sheikh Mansour can throw at City, if they make persistent and growing losses they will be thrown out of European competition. The Sheikh knows this and financial realism is creeping in.
So why David Villa?
Don't misunderstand me, I'm not suggesting that David Villa is the answer to United's problems, but I do think Sir Alex at last has a chance to sign the player he coveted so much. Irrespective of Villa's age, he might seriously consider making an exception this time.
And he wanted him again in 2010. And Villa wanted to come, apparently.
People would be quick to point out that Sir Alex doesn't buy players over 27. Dimitar Berbatov was 27 when he arrived at Old Trafford.
David Villa is 30. He may not fully recover from his leg injury. He would be a gamble.
But it looks like Barcelona are prepared to sell.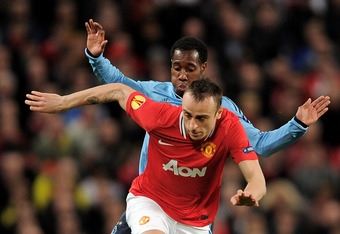 Michael Regan/Getty Images
He went to the Nou Camp for £35 million. He wouldn't cost that much now. He is likely to miss out on the European Championships and become something of a forgotten man.
But he is a natural born predator, like Michael Owen, Robbie Fowler, Andy Cole, Dwight Yorke, Ole-Gunnar-Solskjaer.
United have Will Keane, John Cofie and Jack Barmby coming through. Chicharito should be coming into his prime. Like playing alongside Michael Owen, the chance to train and play with David Villa would be like gold dust to United's young players.
And he would score goals.
Some of Italy's most talented strikers like Francesco Totti, Fillippo Inzaghi and Alessandro del Piero are still playing beyond 35.
So yes, Fergie, City have the cash, but they will need to unload players first. The last season has shown that United are in need of some further renewal, alongside the young talent coming through. Giggs and Scholes should be no more than squad players next season.
There is a crying need for a play-maker and therefore if Modric or Hazard cannot be signed, whether on price or because they choose somewhere else, compromises may have to be made to land Wesley Sneijder, even though he is 28 in June.
And indeed, United wouldn't have to bust the wage structure to accommodate him. Nobody—not even Wayne Rooney—would object if the Dutchman slotted in alongside the ex-Evertonian on pay and perks. You can't put a price on class.
And David Villa would be a bargain—even at £25 million.
Finally, for a long-shot in the mould of Henrik Larsson and Michael Owen, how about Raul. Fergie has also admired him for a very long time. On the same terms as Michael Owen accepted to come to Old Trafford, he would be a more than adequate replacement for a year or two--especially as fifth striker.