5 Most Infamous Two-Handed Forehands of All Time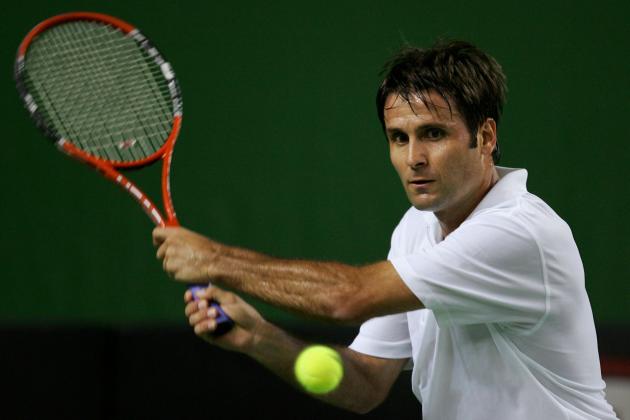 Cameron Spencer/Getty Images

It is always a fun task to name the tennis players with the best single groundstroke or weapon.
Though these players do possess all the shots necessary to win big tournaments, it is obvious that one is a far superior "muscle" than the others.
For Rafael Nadal and Samantha Stosur, it's the forehand. For John Isner and Serena Williams, it's the serve.
However, people often overlook the unusual strokes since they seldom exist on the tennis court.
The two-handed backhand has evolved over time, though it is strange to see where the two-handed forehand has come from.
Here are the top five most infamous examples of that unorthodox groundstroke.
Begin Slideshow

»
Peng Shuai has recently been able to latch onto a wagon of success.
She is now a consistent Top 20 player and seems to be moving rapidly towards the Top 10 ranking.
Using two hands on both sides has helped her to defeat and challenge many top players, such as Maria Sharapova here, though she was not the victor in this match.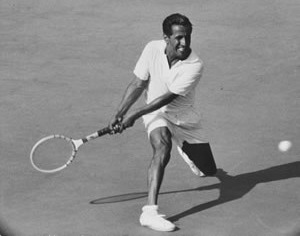 http://www.berkeleytennis.com/history.php
Pancho Segura, once ranked No. 1 in the world, had both a pure forehand and backhand.
He ran around many backhands to hit his two-handed forehand and perhaps started the trend of running around the less capable backhand (although his was certainly as good as his other shot).
Otherwise known as The Magician, Fabrice Santoro was one of the craftiest players on the ATP tour.
His two-handed forehand and constant slices, along with his scrambling during baseline points, made him one of the most-loved personalities in the tennis realm.
Check out his forehand in slow-motion here.
Marion Bartoli is a different player, to say the least.
Each of her shots is unique and never seen before by human eyes, but we will talk solely about her forehand here.
After following advice from her father (Dr. Bartoli) and feeling motivated by another all-time great, she developed this shot and it has paid off for her in a fairly successful career.
And here is the inspiration for Marion Bartoli's game—the most recognized dual-handed forehand and two-hands-on-both-sides player in history.
Monica Seles was not only talented for hitting with two hands on both sides, but she also created unprecedented angles on the court, which seemed impossible due to the nature of her rally shots.
Follow Bleacher Report Tennis Community Leader and Featured Columnist, Jeff Cohn, on Twitter.