Could Mets Pitching Prospect Matt Harvey Be Called Up Sooner Rather Than Later?
May 9, 2012

It is safe to say that the New York Mets' starting pitching has exceeded expectations so far. The starting rotation was one of the biggest question marks coming into the season for the Mets this year, but it has surprisingly turned out to be a strong reason for the Mets early success.
Mike Pelfrey followed suit and was putting together an unexpected successful string of starts. Pelf seemed to have found his groove, but he suffered an injury that required him to go under the knife for Tommy John surgery. The surgery was successful, but Pelfrey won't be back in a Mets uniform for about a year.
Pelfrey's absence has created a hole in the Mets' rotation that is hard to fill. Chris Schwinden got the first shot at nailing down Pelf's old spot, but he was quickly sent back down to the minors due to his ineffective pitching.
Miguel Batista, AKA El Poeta, is currently the team's fifth starter. Batista has had an up and down stay with the Mets this year. He isn't getting any younger, at the age of 41, but he still possesses a rubber arm.
With that said, he is a much better fit in the Mets bullpen. 
Batista can make for a respectable spot starter, but he does not belong in a major league starting rotation at this point in his career. 
Mets manager, Terry Collins, has already said that Batista will be getting another start. It looks as if the team is going to stick with Batista for a couple more starts and hope that Chris Young can get healthy soon. 
However, an alternate option is to bring one of the Mets' top prospects up, Matt Harvey. Many Mets fans and analysts have been talking about this very topic as of late.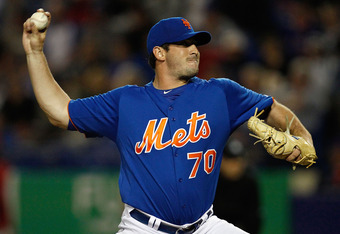 Sarah Glenn/Getty Images
Harvey is currently playing in AAA Buffalo. He had a rocky start to the season, but it looks as if he is beginning to get his desired results. Harvey's last start was arguably his best. He allowed five hits over six innings, while striking out five and walking three.
He is 3-0 in his last four starts and he has thrown 61 percent strikes in that span. Harvey has also held hitters to a microscopic .195 BA. Harvey seems to be getting things going in AAA and it seems like the perfect time for the Mets to call him up, right?
Not so fast.
Despite Harvey's recent and encouraging success in AAA, he is still not ready for "The Bigs." He is right on track though, and Sandy Alderson is smart enough not to mess with that. It is no secret that Harvey is close to making his way to Queens though, but he will have to wait a little bit longer. 
Sandy Alderson and Co. are strong believers in their policy that a pitcher should throw about 140 to 150 innings in the minors before he gets called up. Harvey currently has close to 100, so that means that he will be on the Mets radar around the All-Star Break.
The Mets are hoping that Harvey can correct some of his minor flaws in his time left in Buffalo. Harvey needs to command his fastball better and get better control of his secondary pitches. If Harvey makes the necessary tweaks to his game and manages to stay healthy, he will be in Queens soon.
The Mets are hoping that their pitching situation doesn't go too bad before Harvey comes up. The old Mets front office made the mistake of rushing Jenrry Mejia to the big leagues and that set him back a bit.
Sandy Alderson had this to say regarding Harvey according to Andy Martino of the NY Daily News, 
Aside from Matt himself—and I love that he thinks this way—there is no one in the organization who feels he is ready to be in the major leagues He also said this, When we bring him up, we hope to do so and not have to send him back. This is not about filling an immediate need. This is about the long-term stability of the organization and the team. 
Alderson has the right idea about Harvey and I totally agree with him. This team isn't in a position to mess with one of their top prospect's development. I would rather sacrifice a few games than have Harvey rushed to Queens.
This is all very exciting for the Mets and their fans, though. The team is winning and more importantly, they are an exciting ballclub to watch. Alderson is doing a good job of putting a fun and competitive product out on the field.
The majority of the Mets players making impacts are homegrown too, so that makes this whole experience even better. Omar Minaya deserves a shoutout for his prospects coming up and making a difference. 
Harvey is on the fast track to the MLB, and I can't wait to see him suit up for this team. The Mets and their fans will have to wait a month or two, but Harvey will be well worth the wait.