What the Cincinnati Bengals Should Expect from Rookie TE Orson Charles
May 9, 2012
Scott Cunningham/Getty Images
It's a sign of the times—no longer is a single, playmaking receiving tight end good enough. Now, teams need to have at least two of them not just on the roster, but on the field at any given time.
The Cincinnati Bengals finally caught up to this trend by taking Georgia's Orson Charles in the fourth round of the draft to complement Jermaine Gresham, their current starter.
At least for the time being, Gresham is in little danger of losing his roster spot to the rookie, but Charles looks like he has the talent and aptitude to make a major impact in his rookie season.
What Charles brings to the table that Gresham lacks is big-play ability. Of Gresham's 61 receptions last season, 40 of them were on routes of 10 yards or less. Comparatively, Charles averaged 15 yards per reception over his three seasons in college at Georgia.
That's not saying his production will be similar to what he had in college, especially in his rookie year. There's a learning curve that goes along with becoming familiar with an NFL offense, though it does seem like the Bengals' offense is pretty rookie-friendly, considering the successes of both quarterback Andy Dalton and wide receiver A.J. Green.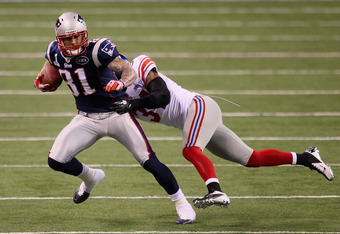 Jeff Gross/Getty Images
It's hard to judge exactly how much of an impact Charles will have in his rookie year. From 2009 through 2011, nine tight ends have been taken in the fourth round, and only two—Aaron Hernandez and Dennis Pitta, both drafted in 2010—have done much of note as receivers.
In that span of time, the nature of the position has changed drastically. Many teams looking for a boost in their passing games are looking beyond taking tight ends, whose primary duty is to block.
Though blocking is still an important skill (and Charles is quite good at it), some teams are looking to players like Hernandez, Rob Gronkowski, Jimmy Graham and Kellen Winslow Jr. to be the new template of what a tight end should look like.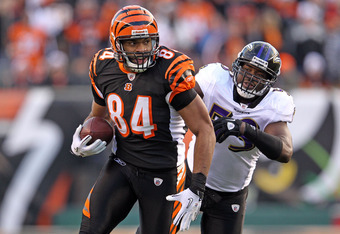 Andy Lyons/Getty Images
Charles is more in the mold of these receiver-type tight ends (as is Gresham). The Bengals are also putting even greater emphasis on their passing game this offseason, choosing to load up on receivers in a manner that suggests they want to make the aerial game their hallmark.
Expect Charles to get his fair share of passes thrown his way in his first season, but look for Gresham to remain the most-targeted Bengals tight end yet again.
Charles' targets should increase as the season wears on, and he'll likely end the season with around 400 yards and at least three touchdowns to his name, if the way they've been using Gresham is any indication.
It's clear the Bengals want to move in the direction of becoming one of the more elite passing offenses in the league. Charles may yet become a centerpiece of that, and flashes of that should shine through in his rookie season.