Mel Kiper 2013 NFL Draft: Top Snubs from ESPN Guru's First Big Board
May 9, 2012

Ronald Martinez/Getty Images
The ink on the 2012 NFL draft is barely dry, and we're already looking ahead to 2013. The draft season truly has no end—once the last picks were in the books two Sundays ago, it was on to next year's projections. 
Such is life for "draftniks" like ESPN's Mel Kiper. 
Less than two weeks removed from completion of the 2012 first round, Kiper already has his 2013 Big Board up and running at ESPN. He lists just 25 players, as usual. But Kiper also readily admits that a lot of prospects narrowly missed making his top 25. He provides an expanded list of players who didn't make the original Big Board here. 
Of the players he lists in the "just missed" section, here are the four biggest snubs from the Big Board.
Marquess Wilson, WR, Washington State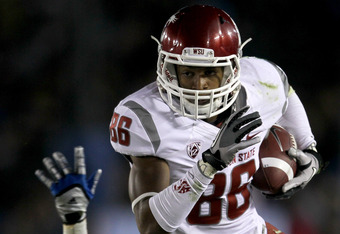 Stephen Dunn/Getty Images
I find it hard to believe that a tall and highly productive receiver like Wilson would fall out of the top 25 if he stays on his current collegiate career path. At 6'4" and 185 pounds, Wilson still has a big frame to fill out as he matures and gets stronger. 
But even with his lanky frame, Wilson has been a terror in two seasons in the Pac-12. He followed up a 1,000-yard, six-touchdown true freshman season with 82 catches for 1,388 yards and 12 touchdowns his sophomore year.
Wilson is also a legitimate deep threat, as his career yards-per-catch average currently sits above 17. He had two games of more than 200 yards and two others with at least 10 catches. Simply put, Wilson does it all at the receiver position. 
With a strong junior season and some added weight, Wilson could be in the running to be the top receiver off the board. 
Tyler Bray, QB, Tennessee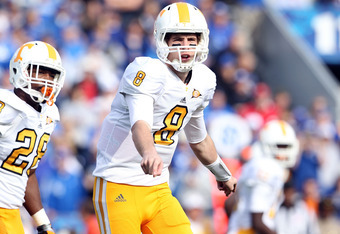 Andy Lyons/Getty Images
At 6'6" and 215 pounds, Bray has the prototypical size to be a starting NFL quarterback. His arm is also elite for the college level. That combination of physical skills will likely have Bray considered as a first-round prospect for the 2013 draft. 
Where Kiper dings Bray is in his erratic play on the field. In two seasons, Bray has never completed over 60 percent of his passes or thrown 20 touchdowns. His quarterback efficiency rating has been in the middle of the pack. 
As far as next year's draft is concerned, there's no way Bray shouldn't be projected in the top 25 right now. If he can put it all together—overall physical attributes and on-field performance in the SEC—we're looking at a potential top-10 pick. 
Landry Jones, QB, Oklahoma
Christian Petersen/Getty Images
Jones was smart to come back to school, but that doesn't necessarily mean he wouldn't have been a first-round quarterback had he left Oklahoma after last season. Most mock drafts prior to his decision had him in the middle-to-late first round, and given the weight the position carries come draft time, it's unlikely he would have fallen far off that mark. 
I'm guessing Kiper struggled to keep him out of the final 25. The talent and size are all there for Jones to be a top pick next season, and the tale of the tape from his sophomore season (38 touchdowns, 65.6 completion percentage) is very good. 
He obviously needs to improve upon a down year in 2011, but there's no reason to think his stock is going to fall out of the first round, even with another average season. The position is simply too important to pass on Jones' ceiling. 
T.J. McDonald, S, USC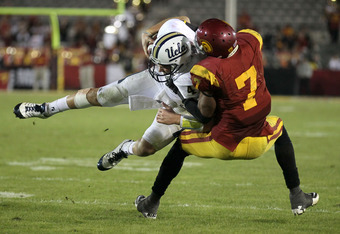 Stephen Dunn/Getty Images
Where have all the safeties gone? For at least the third straight season, the safety position looks weak at the top. However, that isn't a rip on McDonald, who was likely going to be a late first-rounder had he left USC for the 2012 draft.
Another year of seasoning in the Trojans secondary should ensure he's the best safety in the class next season. He might not be the seventh overall pick in 2013 like Mark Barron was a couple of weeks ago, but McDonald is good enough to be considered in or near the top 25.