Mayweather vs. Pacquiao: Failure to Commit to Dream Fight Is Destroying Boxing
May 9, 2012

Al Bello/Getty Images
Boxing has been waiting forever to see Floyd Mayweather Jr. and Manny Pacquiao will fight. 
But the problem is, this fight may never happen, and it leaves boxing at a crossroads.
Sure, there are some young stars coming up who could make things exciting, like Saul "Canelo" Alvarez, but what else is there beyond that? We have Miguel Cotto, who just gave Mayweather the test of his career, but you don't see many stars in the younger generation yet.
Boxing needs Mayweather and Pacquiao now. It could propel boxing until the young guns get their feet underneath them. Then, by the time the excitement of the Mayweather-Pacquiao bout wanes, you have some new promising fighters looking to give Alvarez a run for his money. It would set things up well, not to mention give us a fight that would go down in history.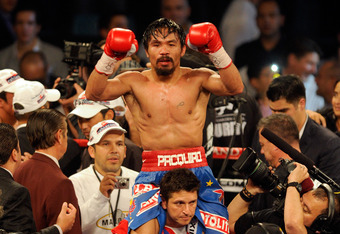 Ethan Miller/Getty Images
You just hope that both sides can come together and understand how much this fight means to boxing. It would be such a positive thing.
If Mayweather is worried about his undefeated record, he shouldn't be. He just fought one of the greatest fights of his career. If Pacquiao loses, we'll still consider him a top-two boxer of this generation. Pacquiao's legacy wouldn't be damaged with a loss to Mayweather. We all know what he's done throughout the years and his place in history.
This fight needs to happen, and both sides need to make some concessions to make sure it does. In my opinion, a 50-50 split is fair. Mayweather is undefeated in 43 fights. He deserves that. He's established himself as a premier boxer.
Pacquiao and Mayweather would give the boxing world something to talk about for ages. They would both go down as legends in boxing's illustrious history. What's there to argue?
Follow me on Twitter. We can talk about boxing together.